On September 10th, Lisa Marie added her second video blog to her official YouTube page. She took time to clarify about her first video and answered a few more questions. You can video the video above or read the transcript by reading below.

Lisa Marie Varon Video Blog 2 – September 10, 2011
Lemme start off with an apology, because I insulted a couple people on my last YouTube video.

I hope you guys know I was kidding when I said Chavo Guerrero was hired because he was ugly, by WWE. Chavo comes from one of the greatest wrestling families in the business, and obviously, Chavo got hired because he's a great wrestler. And Tommy Dreamer, is a hardcore wrestling legend. He ruled ECW, and it was a pleasure and an honor to work with him in TNA and WWE. So when I said Tommy tongue-kisses sailors, on a pier, for rent money… it's not true. Tommy tongue-kisses sailors, for fun. Now, on with our questions…

Every year PWI Magazine ranks the top fifty female wrestlers, I was ranked number eight, and a lot of you have asked me what my thoughts are on it. I'll tell you what I think, I think it's seven spots too low. I think I should be #1. But I also think any female wrestler who works hard, at her craft, and believes in her abilities, should think that she should be #1.

ODB was ranked, #32. That's because I'm four times better than her. I'm just kidding. ODB was ranked #32, and I think you can make a case for her… being #1. She is a great wrestler.

So an independent worker named Madison Eagles, was ranked #1, and I tweeted her "If I see you on the street, it's go time." Just kidding. I tweeted her "congratulations."

When I was younger, I used to fire off angry emails at PWI if I wasn't ranked #1. As I matured, I realized the ranking was subjective, and it's an honor to be included in the mix. So, I think, I should be #1, but any girl on the list that doesn't think she should be #1, needs to be in a different business.

I have a question from YouTube: "Before you go into a wrestling match, what steps do you take to ensure your own physical safety and that of your opponent?"

How do I ensure my own physical safety? I've trained twelve years in this business, I have a rigorous weight training regimen, I stretch and warm up well before each match, and I say a little prayer, before I go to the ring. How do I ensure the safety of my opponent? It's simple. I give 'em the opportunity, not to step in the ring with me.

I have a question on Twitter: "Where is your favorite place to perform?"

I have been in hundreds of cities, on five continents, and that's an easy answer. Madison Square Garden. It's historic, it's a loud building, and the fans are great. My father went to Madison Square Garden when he was a kid. I won my first WWE championship, in Madison Square Garden. The Godfather put me through my first table, at Madison Square Garden. And hands down… that is my favorite place, my #1… place to perform.

I have a question from Jeff on Facebook: "I am a teacher in the Chicago public schools, I see that you live in Chicago now. Will you stop by my class and talk about the importance of education?"

Jeff, send me the contact information for the school, if it's legitimate, I'll be there next week. Actually… I'm wrestling most of next week, I will be there… the following week.

Special Thank You to The Salesman for writing the transcript for the video!
On September 2nd, Lisa Marie added her first Question & Answer video to her official YouTube page. She took questions from fans and answered 5 of them. You can video the video above or read the transcript by reading below.
5 Questions with Lisa Marie Varon aka Tara from Impact Wrestling – YouTube Video Blog September 2, 2011
The first question is from subzerowarrior1, from YouTube. "What would be your dream wrestling match, and who would you like to compete against?"
Well I was really excited when Chyna came to TNA, I've always wanted to face her. She's a legend in our business. Unfortunately she's no longer with us, and I don't see her participating in wrestling any time in the future, and I practically have faced everyone that is out there, except Eve, Eve Torres. We're pretty good friends, and you're question is "which opponent would you like to compete against?" and what would my dream match be? Well, it kinda wouldn't matter, because the end result with Eve, is her, tapping out.
Next question is from Stratusfied88, from YouTube: Have you ever faced anyone that was unprofessional in the ring, someone maybe didn't let you shine, or someone being wrong-kind of rough? If so, how have you handled those situations?
Yes I have. It was back in OVW, Ohio Valley Wrestling, and was one of my first singles matches. She was being especially.. aggressive, in the ring. Ah.. got out of character, got up, punched her in the face, went back to wrestling, finished the match. Thought I was gonna be in.. big trouble when I got backstage, um.. went through the curtain, everybody high-fived me.. and, I honestly think it was a test to see.. how much of a pushover I can be in the ring. And you know what? This girl's not a pushover, so.. handled it my own way.
The next question is from Niko, from MySpace: What profession would you like to attempt, and what profession would you not like to attempt?
I can really see my.. self involved in politics, in the future. I think I have a great personality for it, and I realize how important it is to be involved in our community. Which profession would I not like to attempt is, a window washer. Cause I am deathly afraid of heights.
Next question is from Estelle MaiVia Drizzy from Facebook: What was the reaction of your parents when you told them you wanted to be a pro wrestler?
The reaction was "Oh no, what is she getting herself into now?" Basically. I was pre-med in college, and every parent's dream was that one of their kids become a doctor. And I think when I told 'em I want to be a pro wrestler, it wasn't a good "substitute". But, they are my biggest fans now, and they're very proud of me, and guess what? I'm a doctor of destruction.
Next question is from Twitter, NathanImvAngels: How do you become a wrestler?
This one's a toughy, cause there's really no.. right answer, right way, to get to the business. Um, some people work really hard in the independent wrestling circuit, for years. Um, some people are just approached, because they have a.. the right look. Some people go to wrestling school. And some people are just sooo physically unattractive, that WWE.. takes pity on them, and hires them anyways, Chavo Guerrero. Um, but the important thing is, is to have something to fall back on. I always preach education. You never know how long your career's gonna last in this. Some people make it really big in this career, uh, some people.. don't make it to the big leagues. Some people are cut short, due to injuries, you never know. Um, but it's important to have options. Uh, you don't wanna end up on.. on a pier, tongue-kissing sailors for fifty cents a pop, just to pay rent, Tommy Dreamer.
Special Thank You to The Salesman for writing the transcript for the video!
Check out the TNA Photoshoot #33
Check out the TNA Photoshoot #34
ImpactWrestling.com added some new photos of Tara lately. There are two photos from her Title Shoot with Ms. Tessmacher and there are five photos of Tara sporting her Chicago Cubs baseball gear. All the photos are stunning, so be sure to check them out in the gallery by clicking on the links above. Enjoy!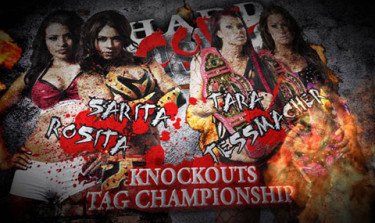 Backstage, Jeremy Borash is with Tara and Miss Tessmacher. They cut a promo about their upcoming match. Mexican America come out first.

Knockouts Tag Team Title Match
– Tara & Ms. Tessmacher (c) vs. Rosita & Sarita

It's Tara and Rosita working in the ring. Rosita hits a hurricanrana on Tara but walks into a boot off a counter. Rosita rolls Tara out of the ring and gets involved with Miss Tessmacher. Rosita finally tags in Sarita. Lots of tagging by the women of Mexican America. Miss Tessmacher and Sarita.

Tessmacher tags in Tara and she goes after Sarita, bringing her down to the mat. Rosita gets in and makes the save. Tara and Sarita are in the ring with Miss Tessmacher wanting a tag. Rosita is lurking on the outside. She pulls Tessmacher off the apron. Rosita gets on the apron and kicks Tara in the face. Sarita throws Tara down and tags in Sarita.

Tara and Rosita are the legal Knockouts. Tara attempts Widow's Peak but Rosita rolls through and has leverage from Sarita from the apron. They break it up and Tara ends up press slamming Rosita. Rosita counters and goes to make tag but Miss Tessmacher throws Sarita off the apron.

Back in the ring, Tara hits Widow's Peak on Rosita and follows it with the pinfall.

Winners & still Knockout Tag Team Champions: Tara & Miss Tessmacher
Check out the August 7, 2011 TNA Hardcore Justice Digitals




[ Screen Captures ]


Winter's music plays as she comes out. Angelina Love is at her side. As they are in the ring, Tara rides out on the motorcycle. Ms. Tessmacher is riding behind her. They get to the ring as they are TNA Knockout Tag Team Champs.

As Winter and Tara are in the ring, Earl Hebner sends Angelina Love and Ms. Tessmacher away as he wants a fair one on one match.

Winter vs. Tara

As Earl is still outside, Winter and Tara go at it. Earl gets in the ring and now the fight is on. Winter goes after Tara as she whips her in the corner. Winter runs to her, but Tara slides around. Tara is in control for a tad, but Winter comes back with the power and force. She does a neckbreaker to Tara and then works on the back. She drops knees right to Tara's lower back. She then grabs her arms back, but Tara gets up and fights Winter off. Winter comes back and hits a huge backbreaker. She covers, but Tara kicks out. Winter now gets on Tara and does multiple punches and then a choke. Winter gets up and goes back to Tara, but Tara punches Winter in the gut. She then gets to her feet and hits her in the head and then whips her in the ropes. She knocks Winter down with clotheslin eafter clothesline. She then does her standing moonsault. Tara gets Winter up to finish it. She goes for the Widow's Peak… but Winter slides out of it. She then grabs Tara up, but Tara slides out. The referee is pushed and Winter low blows Tara. She then gets Tara up and spins her around for a spinning side slam.
Winner: Winter




[ Screen Captures ]


The camera changes to Ms. Tessmacher and Tara are backstage. As they are walking to the ring, Rosita and Sarita run up from behind and attack them.

– Commercial

The show returns and the brawl is still going on. They are all fighting backstage as no one is stopping them. Rosita is going after Tara and Sarita is after Tessmacher. Just then, Madison Rayne comes in the shot and she is going after Tara. Referees now come and try to break up the fight.

– Later in the show

Ms. Tessmacher and Tara vs. Sarita and Rosita, Champs, for the Knockout Tag Team Titles

Tara and Tessmacher come out first and hide around the side of the stage. As Sarita and Rosita come out, Tessmacher and Tara come out and attack the both of them on stage. They brawl all the way down the ramp and then they get in the ring. The bell sounds.

Tara and Rosita start out the match as Rosita hits Tara with a jawbreaker. As they fight, Sarita and Tessmacher are fighting in the ring. Tara gets knocked out of the ring. Rosita is in the ring and she is attacking Tessmacher. Rosita puts Tessmacher in her corner and she tags in Sarita. She comes in and keeps the momentum going as she attacks Tessmacher. She then tags Rosita back in and she continues the assault. Tessmacher tries to crawl away, but Rosita punches her right in the head. As Tara gets on the apron, Sarita gets in the ring and kicks Tara right down. As Rosita continues the assault on Tessmacher, Tara gets back on the apron. Sarita comes in and knocks her off again. Tara then comes in as she is furious. The referee yells at her to get out. Rosita tags in Sarita and they do a double team move to Tessmacher. Tara then comes in and knocks both of them down. She drags her partner to the corner. Tara gets on the apron and tags herself in. She gets in and goes after both of them. She then gets Sarita up for the widow's peak. As she has her up, Madison Rayne sneaks in and attacks Tara as the referee is dealing with Rosita and Tessmacher in the corner. Sarita calls over the ref. She counts but it's only a two. Tara and Tessmacher come back as Tara pins Sarita and they win!

Winner and New Knockout Tag Team Champs: Ms. Tessmacher and Tara

They celebrate in the ring as Sarita and Rosita leave.
Monday Night Mayhem's Exclusive Interview With Impact Wrestling's Tara (TNA BaseBrawl: Buffalo, NY) Transcript
The Big Mosh: Members of Mayhem Nation, the Summer of Mayhem 2011 continues. We are indeed live, well not necessarily live from Coca Cola Field getting ready for TNA's BaseBrawl. Talk about an intimate setting with former TNA Knockouts Champion Tara joining us right here right now. Mayhem Nation you know that you want to be me. Tara we appreciate you reserving some time for the Mayhem Nation.
Tara: Absolutely, no problem.
TBM: How are you?
Tara: I'm great. I'm excited. I'm.. First time I've ever done this kinda, show.. I think.
TBM: I was just going to mention you've of course been to Buffalo many times with your time in the WWE.. coming back to western New York, the fans here, what's it like for you?
Tara: It's.. It's awesome, I feel like um, it's weird cause I've never taken a long break, from wrestling. My longest was my three month…? stint.. ? away, when I retired. Well, not retired.. my last match. And uh, I feel still like it's.. just I'm on tour for twelve whole years, I've been touring. But it's always exciting going back because.. you always remember certain people.. do you know what I mean?
TBM: Absolutely.
Tara: And the arenas and locker room. But I don't remember this, have I performed here before?
TBM: I don't believe so. Probably across the street at the HBCS Arena a couple times..
Tara: Yeah, I know that, yeah yeah.. I know that, I know that. But it's great, always great to see our fans back here in New York.
TBM: Now to be able to get back to your fans again..
Tara: Buffalo, New York…
TBM: ..a chance to have that.. to have that intimate setting…
Tara: Yeah! That's pretty cool. Isn't it?
TBM: Absolutely.
Tara: Did you go out there and see it?
TBM: Fantastic. Just saying was great.
Tara: Amazing. I mean.. it's gonna.. it's gonna be very fan.. we're always fan friendly. That's what the difference here.. which I noticed, the difference, we're so like kinda.. in contact with everyone. Very.. like.. family oriented, fan interaction.. to the core. But uh.. this gonna be a really intimate.. moment and um, I love baseball too, and it's.. anything to do with baseball, to be on the field, anything.. you get that excitement. I don't know about you, but I…
TBM: Without a doubt.
Tara: I do. I do, big time. So, I'm super excited about this. And I'm facing uh, Winter.. tonight. And we've never.. had a singles match together. This is the first time her and I ever have a match together.. you know.. and it's on a.. house show. (laughs)
TBM: We had a chance…
Tara: Via BaseBrawl..
TBM: We had a chance to interview Winter a couple weeks ago and she was adamant about.. not only working with you but getting her shot at the Knockouts Championship. Now one of the things I always admired about you is the fact that.. back.. many years ago you had that.. that knee injury if I'm not mistaken..
Tara: Yeah.
TBM: ..and you just.. you just continue just to gut it out, so what does it say about your.. your.. your.. your intestinal fortitude just.. just really gutting through something like that.
Tara: You know I think it's craziness honestly. I, when I tore it I thought, you know.. I remember snapping it, I heard it snap and stuff like that, but I don't have pain, in it, to be honest with you. It doesn't hurt, at the moment.. I had to wear the brace, to prevent certain angles.. You know, steel cage match, Mickie James, I tore my ligament here (elbow), was gonna pursue MMA but.. the doctor, you know.. I need Tommy John surgery, eventually, but I'm gonna try not to get.. it. I just don't want arthritis and stuff like this, and Stone Cold Steve Austin was the one that told me don't get surgery, it ends up getting worse sometimes with arthritis. So I kinda feel a little badass with my knee brace, like Stone Cold..
TBM: (laughs)
Tara: .. so I'm like kinda going "Yeah, I'm a vet" you know, that kinda thing? It's kinda.. I don't know, I'm goofy like that.
TBM: Now of course going into the summer, Destination X just a couple of weeks away, after that is Hardcore Justice. All the Knockouts it seems has got their eyes on the gold, you've of course had your problems with Mickie James, would you really want to tell the fans out there, especially the Mayhem Nation, really what they can expect from you during the course of the summer? Some gold around your waist could be really nice.
Tara: I'm hoping that, I'm hoping that. You know, we are friends, we get along now, but she does know that I'm looking at her belt and she has to watch her back on that. I'm looking forward.. I hope to have another… match with her, she's very fun to work. Her and I are.. hardcore big time, uh.. it's.. we are sore after a match, it's just… But anything for the fans, to entertain. You wanna make it as entertaining as possible and her and I have an agreement, uh.. we're gonna kill each other out there. You know what I mean? So…
TBM: Lastly, if you can share with our viewing and listening audience especially the comradery that you've had with Trish Stratus, Mickie James and.. and Winter, sounds like you had a hell of a weekend…
Tara: We did! We did.
TBM: .. up in the Toronto area. What does it really say about, you know.. that people in the WWE, TNA they can still get along. Just the relationships that you've bonded and formed over many years…
Tara: It's weird that you mention that, because.. Trish came to the Toronto show, she just hung out backstage to watch out match, and um.. we're driving back and I go "This is so cool how, how awesome it is that we can have friends…"
The Pope: (off camera) Hello everybody!
Tara: 'Ellooo!
TBM: And there's The Pope ladies and gentlemen.
Tara: The Pope daddy-o!
TBM: You never know what to expect on The Mayhem.
Tara: You never know.. and he was my travel partner in Louisville. So uh, we're pretty tight. But uh, we were saying how.. it's just awesome that we can walk away.. and still make, you know have really really tight, close friends. And um, you know Tommy Dreamer always told me you're lucky to leave this business with more than five friends. You know what I mean? You're lucky, usually you end up not keeping contact and stuff like that. And uh.. it's super.. it's awesome that.. you know, when we do see each other it's like we haven't left. You know like those high school friends you were really tight with..
TBM: You just pick up where you left off.
Tara: Exactly. And we've been having a great great weekend. And um, gonna keep an eye on Winter cause she's kinda strange one.
TBM: (laughs)
Tara: So um, it was really odd. Last night we did something really cool in Toronto, and we went to a Greek festival, um.. well Greek, we went to Greek Town, had a Greek meal.
TBM: Okay.
Tara: Nutritious Greek, and went to this bar that opened at 1, and they had performers. It's all Greek, people did.. all Greek. And we danced.. it was unbelievable. I had an amazing time, and it's really.. we don't get to do that on the road. I mean it's go go go, what our lifestyle is. You perform, get in the car, head to the next town, lucky to get a meal, you know, something that's open.. you know wake up in the morning, get a gym.. you know go to the gym, freakin'.. it's just a routine. And it's nice to be able to get out of that routine.. once in a while. You know it's not all glamorous, you know that…
TBM: Absolutely.
Tara: and um.. it's.. it's awesome. And I'm.. pretty close with Trish, I mean that's a friend I'll be.. we'll be the Mae and Moolah of the future. (laughs)
TBM: From.. and from the way things are sounding.. in ring, outta the ring, retirement.. not even crossed your mind in any way, shape or form?
Tara: No, and I never, ever.. WWE put the label that I was retiring, and that wasn't my.. you never say never in the business. You never know when you're gonna come back for a special appearance, and I hate that when people say that when people say "I'm retiring" and they end up coming back. Um, I made sure in my last match, if you watch my last match at WWE, I said it was my last match "in WWE".
TBM: Mmhmm.
Tara: And uh, I never.. I always watched TNA, I was a big Kong fan.. and Gail Kim, you know, their feud, that's when I started really watching the product. And uh.. I planned on being a little off of.. from wrestling for a while, longer than when I was and um, they called me and I said I don't know if I can do that travel anymore, and I wanna be with my family, uh.. it was my families turn. I mean you miss a lot, people are like "Oh I wanna wrestle, I wanna wrestle" they don't know what you give up. You give up a lot of family time, you know.. anniversaries, deaths in the family. It's just this.. it's really hard, grueling life and I said "I don't think I'm ready to come back", and they said "Well, we have a really easy schedule." And I was like "Well let me think about it" but I needed to give them a decision, in four hours..
TBM: Wow.
Tara: And um.. talked to my family about it, and I was like "I think I wanna do it one more year", then another year, and then I.. just re-signed another year. So um.. I do year to year, because um, I'm 40.. and you never know..
TBM: You don't look it.
Tara: Thank you.
TBM: She doesn't look it. Absolutely not.
Tara: I think I don't act it, that's the key.
TBM: That's the point, I guess.
Tara: But um.. you never know when your body is gonna give out, I.. I don't wanna be that.. that female wrestler that, well you feel sorry for me coming down the ramp. I still wanna be that badass.. ass kicker, you know.. wrestler, and.. I wanna be true to my art. I don't wanna be.. felt sorry for?
TBM: Uh huh.
Tara: So.. that's why I do year to year. You never know what's.. what injuries are gonna occur, you know?
TBM: Very true.
Tara: It's safety. I'm.. I'm not.. I'm not that one to go "You have to lock me up for five years", you know? If I'm happy.. I'm gonna re-sign again. You know what I mean.
TBM: Absolutely.
Tara: I'm not that high maintenance of a person. I don't think.
TBM: You can see Tara and all of the rest of the Knockouts of Impact Wrestling every Thursday on Spike TV and 9 PM Eastern, 8 PM Central and Destination X on Sunday, July the 10th, call your local cable or satellite provider for availability ah.. enjoy the rest of your time in Buffalo.
Tara: I will, and if you guys every want to chit chat I'm "@REALLiSAMARiE" on Twitter. So, tweet me. Tweet tweet tweet.
TBM: She loves to tweet.
Tara: I love to tweet! (laughs)
Big thank you to The Salesman for typing this up!

Exclusive videos of the IMPACT WRESTLING stars talking about why Wrestling Matters To Them. From a personal and professional point of view, each star will discuss what drives their passion and dedication for the sport of wrestling. The above video is Why Wrestling Matters to Tara.




[ Screen Captures ]


Angelina Love & Winter vs Knockouts Champion Mickie James & Tara

Winter and Tara start out the match. Winter controls with an armbar but Tara reverses out and tags Mickie in, who hits a top rope double axhandle and catches a short armscissors to get a two count. Tara is in and hits a double back elbow with Mickie, and Winter tags Angelina in. Angelina points at Mickie, but Tara decks her and hits a spinning side suplex, then tags Mickie in and they do a double team wheelbarrow splash for a two count. Angelina no-sells the maneuver and tags in Winter, but Mickie gets a modified armdrag into a two count and goes for her headscissors out of the corner. Angelina grabs her coming off the ropes and Winter powerbombs Mickie for two. Mickie tries to fight her way out of the corner, Winter yanks her down by the hair, but Mickie wipes both Winter and Angelina out with a neckbreaker/dropkick combo. Madison Rayne comes out and yanks Tara off the apron and rams her into the ring steps, and Angelina gets a neckbreaker over the knees and pins Mickie.

Winners by pinfall: Winter & Angelina Love
Check out the TNA Photoshoot #27
TNAWrestling.com added 5 new photos of Tara. The photos are a St. Patrick's Day theme and she poses with SoCal Val in a few. You can check them out by clicking on the link above.
Check out the TNA Photoshoot #25
Check out the TNA Photoshoot #26
TNAWrestling.com added 4 new photos to Tara's Photo Gallery recently. Two photos from her 25th set feature her in a sexy white top and two photos from her 26th set feature her looking badass & beautiful in black. You can check them out by clicking on the link above.




[ Screen Captures ]


Elimination Match: Sarita, Madison Rayne & Tara vs Mickie James, Angelina Love & Velvet Sky

Winter grabs Angelina on her way to the ring to try and keep her from going out there without her, and Angelina finally lays down the law and says that Velvet is her BFF and Winter will have to deal with it. The Beautiful People leave and Winter throws a fit and starts banging on the walls and screaming. The match starts out as a pier six brawl with all the girls fighting it out in the ring. Mickie and Madison go to the floor, as do Velvet and Sarata, and they leave Tara alone in the ring with Angelina as the legal participants. Tara's still selling the elbow so Angelina twists the arm with a wristlock but Tara kicks Angelina and tags out to Madison. Angelina goes through her as well and tags to Mickie, but Madison runs and tags Sarita in and the two of them do a chain wrestling sequence until Mickie tags out to Velvet, and Velvet now beats Sarita up, sweeping the legs and then hitting a diving dropkick, but Sarita counters a flying headscissors into a backbreaker. Velvet gets a straitjacket drop and goes for the cover, but Madison comes in and nails Velvet and holds her so Madison can nail Velvet with the loaded glove but Velvet moves and Madison nearly nails Sarita but stops at the last second. Velvet sends Madison to the floor but Sarita gets a rollup to eliminate Velvet and then all hell breaks loose in the ring and Mickie somehow knocks Madison out with her own glove to eliminate her, and then Sarita immediately cradles Mickie and eliminates her as well. So now we're down to a 2-on-1 with Angelina by herself against both Sarita and Tara as we go to commercial.

We come back and Angelina nails Sarita with a leg lariat for 2 as we take a moment for an instant replay to see that Madison knocked herself out by falling on her own glove right before she got eliminated. Speaking of head trauma, we continue our break in the action to look backstage at Velvet Sky writhing around on the floor holding her head. Now why would she be doing that? Angelina continues to hold her own against both heels until Tara nails Angelina with her elbow brace and Sarita covers for 2. Tara and Sarita now tag in and out on Angelina and continue to work her over with Tara continuing to sell her elbow on every single move she performs on Angelina. Angelina suddenly hit the Botox Injection out of nowhere on Tara to eliminate her and then Sarita comes right in with an O'Connor Roll and then Angelina reverses to one of her own for the come from behind victory.

Winner: Angelina Love




[ Screen Captures ]


Knockouts Tag Team Title Match: Winter & Angelina Love vs Knockouts Champion Madison Rayne & Tara

Tara's still wearing the elbow brace here, but stays out on the apron as Angelina and Madison start us off and Angelina gets a couple of quick rollups that get her some 2 counts, then Angelina gets an inverted bulldog and a spinkick. Madison goes and complains about something to referee Jackson Jablonski as Tara yanks Angelina down by the hair from the outside. Winter tries to get in the ring and Jackson escorts her out of the ring as Mickie James comes out and drags Madison to the floor and chases her to the back, leaving Tara alone with both champions. Angelina ducks a clothesline and hits the Botox Injection, then tags Winter, and Winter comes off the top rope with a missile dropkick and traps her in a rear choke with a little bit of Camel Clutch thrown in and the referee stops the match when Tara passes out.

Winners: Winter & Angelina Love

Angelina looks totally taken aback by what she just saw Winter do, but just takes her belt and gets her hand raised in a smile and nod moment.
Lisa Marie posted a new blog called "Thanks everybody!" You can read the blog below.
Date: Friday, Dec 17, 2010
Subject: Thanks everybody!
Hey WPF's !

I just want to reach out to everyone who has expressed their concern over the fire at Black Widow Customs. First, thanks so much! The most important thing is that no one was hurt. Also, our window tinter Justin walked in on the fire. He acted heroically by first warning the neighbors, then attempting to put it out himself, and assisting the fireman as they scrambled to the scene. And for those who weren't aware, there was an ice storm the previous night, and the roads were covered in sheets of ice, but the fire department arrived very quickly and kept it from being a VERY bad situation. So much thanks to them as well. The damage looks a lot worse than it is. The weeks leading up to Christmas are obviously a very busy time of the year for any retailer, and BWC will reopen ASAP. It may be as soon as Monday, although we'll know better later today.

A local news station has also focused on an unhappy customer recently. I know the guys at BWC work hard and and take pride in what they do. I'm confident that they did the right thing, and anyone who knows me knows that I believe that the best defense is a good offense. You'll be hearing more on this once BWC takes action.

More importantly right now, BWC has some hard working, dedicated employees that are suddenly out of work ten days before Christmas through no fault of their own. I will personally make sure that their hard work is rewarded, and that they have a happy holiday season.

And finally, yesterday morning I was having some tumors cut out of my breast. I have had them before, and they always turn out to be nothing. But they have to be checked. They had always been tiny little biopsies. Unfortunately, this time I had to be completely put out. When I came to in recovery, I was pretty groggy. I was going through my phone, and I got a text from former WWE Superstar Domino. He asked 'are you okay?'. So I replied, 'yes'. Then he said,'Good. Saw the news and was wondering'. And I was thinking, how is it on the news that I'm getting my boob cut on? Obviously, he was talking about the fire, which I didn't know about yet…

Anyway, thanks for your support, but I am fine. I am actually better than fine. Although it's appreciated, show your concern for those who need it. This holiday season I'm counting my blessings, and I hope you are too.

Later Holiday Taters, Lisa Marie : )




[ Screen Captures ] [ Digitals ]


During AJ Styles and Douglas William's brawl, they enter Tara and Madison's dressing room. Tara and Madison throw shoes at them and tell them to get out.

MADISON RAYNE & TARA vs. MICKIE JAMES & MS. TESSMACHER
Knockouts Tag Team Championship Tournament Match

Mickie comes out and the crowd is alive for Mickie to start. Rayne asks for Ms. Tessmacher, and Mickie gives her a chance. Rayne tries to tease her by offering and then withdrawing a Test of Strength, but Tessmacher shoves her. Rayne shoves back, and Tessmacher nails a trio of Arm Drags. Rayne runs at her but she ducks and nails a hip toss followed by a dropkick. Rayne, annoyed, shoves Tessmacher into the corner and chokes her with her boot. She thrusts some shoulders and locks in a cravat. She shoves Tessmacher down and yanks the hair then locks in some chokes, always breaking on four. She wraps up Tessmacher's head between her legs and smashes her into the mat repeatedly. She teases Mickie with the possibility of the tag, and Tessmacher takes advantage for a quick roll-up for one. Rayne wrenches her face. She tries to hit a Cross Body Block off the middle rope, but Tessmacher dodges and makes the tag. Mickie hits a series of clotheslines and a beautiful reverse Neck Breaker. Rayne tries to kick but Mickie ducks below it and gets the Lou Thesz Press. Mickie hits her side kick and signals for the DDT. Tara looks like she's going to get involved so Mickie goes over to her, but Tara whacks her with her braced elbow (from last week's cage match). Madison follows up with a right hand to the face for three.

Winners: Madison Rayne & Tara
Check out the TNA Photoshoot #24
TNAWrestling.com added 8 new photos from Tara's 24th Photoshoot set. She's dressed up sexy as ever in a Christmas theme shoot. You can check them out by clicking on the link above.




[ Screen Captures ]


We go backstage to Tara as she practices her singing, and Generation Me (who will apparently be her dancers) tell her she did good. Tara says they're outfits aren't TNA enough, so she takes their shirts off and likes that better. She sends them out to the ring and slaps them on the asses on the way out.

We now head out to the entrance ramp where Tara performs Broken, her entrance song. Watching her badly lip-sync while she and Generation Me attempt to dance is hilarious. Mickie James walks out and nails Tara, but Generation Me grab her and Tara takes a couple of free shots. The music continues to play as Eric Young comes out to make the save and chase off Generation Me while Tara and Mickie fight down the rampway and to ringside until security comes out to separate them. The crowd chants "let them fight", so Mickie obliges by breaking free and going after Tara again. Security pulls them apart again, but they break free and continue fighting. Mickie rolls into the ring and motions for Tara to join her, and grabs a mic and says that enough is enough and she's tired of this. She says that neither of them likes the other, so there's only one way to settle this. It's obvious she can't do anything by herself, so she challenges Tara to a steel cage match. Only one of them is walking out, but they don't need to wait for Genesis, they can do it tonight. Hardcore Country starts playing, so Mickie takes it as a cue to jump out of the ring and go after Tara yet again.

Backstage, Tara says that if Mickie James wants a cage, she's got it because there's no escape from the cage. It's the first ever Knockouts cage match, and she's coming out on top. Then Generation Me says that they were getting their dance on when Eric Young came out and ruined it, so Max Buck suggests Young gets his girlfriend Orlando Jordan (his words) and they'll face them next week on Impact.

Cage Match: Mickie James vs Tara

Mickie goes after Tara on the floor before she even gets in the ring, but Tara fires back on her and they exchange blows on the floor until Micke rolls over her with a clothesline. Mickie tosses her into the cage and the bell rings.

Tara picks Mickie up for a TKO, but keeps swinging her past the TKO position into a side suplex and covers for 2. Mickie tries to reverse a whip into the cage but Tara blocks, so Mickie just yanks back on her hair and hits several clotheslines, then a snapmare and a diving dropkick to the face for 2. Tara Tullys Mickie into the middle turnbuckle and gets a snap suplex into a front choke, but Mickie gets to her feet and rams Tara into the corner and rams in several shoulderblocks. Tara turns it around and tosses Mickie over the top rope to the apron, wedging Mickie between the ropes and the cage and, with nowhere to go, Tara hits a high kick to the face. Mickie fires back and rams Tara into the cage and climbs up the cage to the top rope, but Tara recovers and follows her up, and Mickie looked like she was trying for a Frankensteiner off the top, but something went wrong somewhere and they crash hard at a really awkward and scary angle. Tara gets up and rams Mickie to the cage, then picks her up and rams her to the cage again. Tara limps over and tries to escape the cage, but Mickie nails her from behind and drags her back in as Impact comes to an end.

We're into Reaction now and Tara tries for the Widow's Peak, but Mickie slipped out and rammed Tara into the cage, then does it again and the second time, Tara comes down badly on her arm and visibly injured herself. Mickie tries to choke her with the boot to buy Tara some time, then rams Tara to the corner turnbuckle. Tara tries to climb out but she's only got one working arm and can't make it out, so Mickie follows her to the top rope and kicks Tara off the top rope. Tara lands in the ring and Mickie goes to the top of the cage, which is a long way up and way higher than the WWE cage, and hits a Thesz Press off the top of the cage for the win.

Winner: Mickie James




[ Screen Captures ] [ Digitals ]


Generation Me & Tara vs Mickie James vs Ink Inc & Mickie James
Jesse Neal & Jeremy Buck start, Jeremy takes Jesse to the corner, but Jesse gets a crossbody out of the corner for 2. Tag to Shannon Moore who comes in with a rolling senton and goes to an armbar. Mickie and Tara start going after each other and distract the ref while Shannon sunset flips Jeremy, and he ends up only getting 2. Jesse tags in and Shannon hiptosses him onto Jeremy, but Jeremy tags to Max so Neal gets a boot to the gut and a swinging neckbreaker for 2. Max backdrops Jesse to the apron and Tara grabs him while Max gets a headscissors on Jesse and Jeremy dropkicks Neal in the face. Awesome spot. Generation Me works Jesse over in the corner, and Max gets a great dropkick and tags out to Jeremy, who gleefully puts the boots to Neal. Jeremy sends Neal to the floor where Tara waylays him with a forearm and then throws him back in where Max covers him for 2. GenMe with some more quick tagging action, but they accidentally collide and Jesse makes the hot tag and Shannon comes in and cleans house. Mickie crotches Max on the top rope and then goes up top and gets a top rope Frankensteiner on Max. Shannon skeeballs Jeremy to the floor and then backdrops Shannon onto Jeremy, then gets a moonsault on Max, but Tara breaks up the pin so Mickie comes in with a Thesz Press and she and Tara start going at it. Max goes after Mickie, but Mickie rolls under him and gets a Mick Kick and Shannon hits the Mooregasm for the win.

Winners: Mickie James & Ink Inc

Tara and GenMe attack them from behind and Tara claws at Mickie's face as GenMe puts the boots to Ink Inc. Now it's their turn to celebrate.
Check out the TNA Photoshoot #23
TNAWrestling.com added 3 new photos from Tara's 23rd Photoshoot set. She's dressed as a sexy Vixen Pirate Wench for Halloween. You can check them out by clicking on the link above.