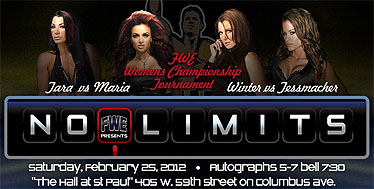 FWE Women's championship Tournament: Maria Kanellis vs. Tara
This is Maria's first match since leaving WWE. Tara said that she said it was a huge honor to see that Maria wanted to wrestle her in her comeback match since WWE. She noted that it was also Maria's birthday and sanf Happy Birthday to her, then attacked her. That was great. Tara worked her over in the corner and drilled her with shoulderblocks.

Maria came back with a series of armdrags and a twisting headscissors. Maria nailed her with the Bronco Buster in the corner. Tara rolled out of the ring to clear her head. Maria followed her to the floor. Tara took the mic and ripped on NYC. She returned to the ring and kicked Maria, who was on the apron, hard in the gut and Maria flew off to the floor. Back in the ring, she covered Maria for a two count.

Tara mocked her, telling Maria to smile as she worked her over. She used an over the shoulder backbreaker. Tara locked her in a side chinlock, trying to force a submission. Maria fired back with several elbows but was nailed and sent back to the mat. She whipped Maria into the ropes and went for a clothesline but Maria nailed one at the same time, so they both landed on the mat, out of it. The referee began counting them both out but they returned to their feet and began battling back and forth.

Maria got the better of the exchange, nailing several clotheslines. She went to the top and nailed a flying bodypress for a two count. Tara cut her off and nailed a TKO for a two count. Tara went the Widow's Peak but Winter ran out and grabbed Maria's leg, preventing the move. Tara and Winter had a faceoff and Winter backed out of the ring. Maria rolled up Tara for the pin.

Your winner, Maria Kanellis!

Later on during the show, it was the FWE Women's Championship Tournament Final match with Winter vs. Maria Kanellis. During the match, Brooke Tessmacher came out and distracted the referee, which allowed Tara to hit the ring and nail The Widow's Peak on Winter. Kanellis covered her for the pin to become the first-ever FWE Women's champion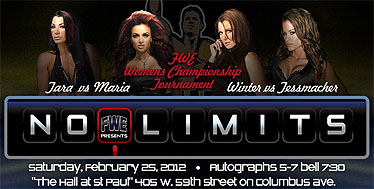 TARA vs MARIA
FWE Wrestling
February 25, 2012

If you are in the NY area, don't miss your chance to see Tara in action against Former WWE Diva Maria at the FWE No Limits Wrestling Event.

For more info and to order tickets, check out http://www.fwewrestling.com/

If anyone attends the show, please feel free to send in your photos for the site at dani@victoria-web.org and I will gladly add them to the gallery!

Madison Rayne won a Knockouts Battle Royal to become the Number One Contender for the Knockout's Championship in 6:32. ODB eliminated Winter and Brook Tessmacher almost instantly. ODB then lifted Rosita and threw her over the top rope.

Mickie James ascended the ropes only for ODB to shove her to the floor. The remaining women swarmed ODB and she was quickly eliminated. Sarita eliminated Tara.

Angelina Love and Sarita double-teamed Velvet Sky. Angelina Love had Velvet Sky hung up on the top ropes, but Sarita attacked Love. Love and Sarita went back to attacking Sky and Love hit the Botox Injection on Sky. Sarita eliminated Love.

Sarita charged Sky, but Sky pulled the top rope down and Sarita went crashing to the floor. Sky began to celebrate, but Madison Rayne ran in and threw her over the top rope. Rayne celebrated her victory.
TNA Knockout Tara on Getting into Wrestling, Tarantulas and MMA
by Joshua Modaberi
Tara, also known as as Victoria during her time with the WWE, is one of the most decorated women's wrestlers of all time and is a six-time Women's Champion, winning the title twice with the WWE and four-times in TNA.
The 41-year-old has been in the business for 12 years now, having made her debut for the WWE at WrestleMania XVI, but it was a chance meeting that got her into wrestling in the first place.
Sportsvibe.co.uk caught up with Tara to discuss how she got into the wrestling industry, wrestling over in the UK and tarantulas, plus much more.
Q. How did you first get into wrestling?
I was a fitness competitor back in the '90s. Torrie Wilson and myself used to take part in fitness competitions together. Torrie was working at WCW at the time and she brought be backstage and she was walking a guy out to the ring. I said to her 'you get paid to walk a guy out there, that must be awesome'…

Here are the spoilers for the February 16, 2012 episode of Impact. Click on Continue Reading to see them. Please only talk about Spoilers in this comment section so it's not ruined for anyone else that doesn't want to know them.
This past Saturday before the Against All Odds Pay-Per-View IMPACT WRESTLING Superstars Tara and Crimson made an appearance at a Direct Auto Insurance location in Orlando, FL. Val caught up with the superstars and talked about their upcoming matches. But little did Tara know that the fans of IMPACT WRESTLING worked together to make her birthday a memorable experience, upon her arrival she was greeted with a birthday celebration with cake and everything!

On Sunday at "Against All Odds", Gail Kim successfully defended the Knockouts Title against Tara! On Thursday's IMPACT on SpikeTV, a new #1 Contender will be determined in a 10-Knockout Battle Royal! The winner of the Battle Royal will get the next shot at the Knockouts gold. The participants are: Sarita, Rosita, Brooke Tessmacher, Winter, Tara, ODB, Mickie James, Velvet Sky, Madison Rayne and Angelina Love!

Don't miss Thursday's TNA IMPACT WRESTLING broadcast on SpikeTV at 9/8c – featuring the aftermath of the "Against All Odds" Pay-Per-View event! If you can't watch it on Thursday night, make sure to set your DVR to record it so you don't miss any of the Total Nonstop Action!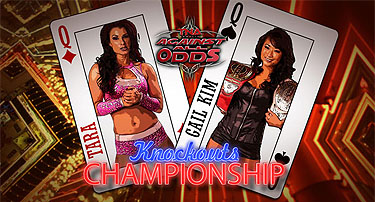 Knockouts Championship
Gail Kim vs. Tara
We get a quick video package detailing the history between these two women over the past couple of weeks. This leads into Mike Tenay giving us a couple of bullet points.
Tara is the first woman to make her way out to the ring, and she gets a warm reaction from the crowd. Gail Kim is the next woman to make her way out, with Madison Rayne in tow, and they don't seem too happy with each other, arguing on their way to the ring. They both get a poor welcome from the crowd.
The bell rings and Tara ambushes Kim in the corner, hitting her with chops and tossing her by the hair around the ring before picking her up by her hair and hanging her. Kim fights off Tara and continues to argue with Rayne, which allows Tara to get the upper hand. Tara sends Kim out to the apron, and Kim is able to hit a neckbreaker, hanging Tara up on the top rope. Kim heads back into the ring and hits Tara with a boot to the face before hitting her with a big right hand. Kim launches Tara into the middle turnbuckle, hard.
Kim sends Tara into the corner again and charges after her, clotheslining her hard. Kim heads to the top and hits a missile dropkick. Rayne yells something and walks away from the ring, waving to Kim on her way out. Kim sends Tara into the corner hard again, before jumping to the middle rope with a springboard cross body. Gail goes for the pin but only gets two. Gail locks in the stretch muffler, but Tara is able to fight her off.
Tara attacks, but Kim is able to lock in the octopus hold, bringing Tara to her knees. Tara struggles to the ropes, but she makes it, forcing Gail to break the hold. Kim kicks at Tara in frustration. Kim seats Tara on the top rope, heading up after her and hitting a hurricarana, but she gloats, takes too long, and turns around into a powerslam from Tara.
Tara fights off Kim with a series of rights, sending her into the ropes and hitting a big clothesline. Tara shoulders Kim and drops her down and out into a side slam for a two count. Kim rolls to the apron and heads to the top, but she's stopped by Tara. Tara heads up after Kim and back body drops her from the top down to the mat. Tara heads up and hits a moonsault from the top, but she's grabbing her knee in pain immediately.
Tara struggles to makes the pin, and when she does, she's only able to get a two count. Tara gets to her feet and picks up Kim, but Kim responds with a knee breaker, and then eat defeat. Kim pins Tara and gets the three count to retain her title.
Winner and STILL TNA Knockouts Champion: Gail Kim
Results from WrestlingInc.com
Tara spoke with Brian Fritz of Between The Ropes on Saturday regarding the Against All Odds pay-per-view. She also touches on other topics such as her dedicated fans, her birthday, fitness, and more. It's a great interview, so be sure to click on the video above to watch and listen to it.
Above is a fun little video from Tara & Crimson's autograph signing they did in promotion of Against All Odds PPV. SoCal Val was on hand to talk with both of them and it looks like everyone was having a lot of fun.
I'd like to personally wish Lisa Marie a very Happy Birthday! You are such an inspiration to so many people. You are simply amazing. May your birthday bring you as much happiness as you give those who know you.
Feel free to leave your birthday wishes for Lisa Marie to read in the comment section of this post.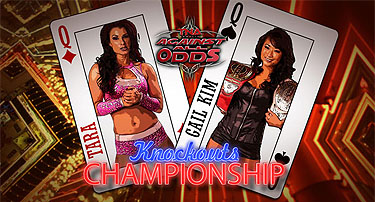 KNOCKOUTS TITLE MATCH 
Gail Kim (champion) vs Tara
This Sunday, February 12, Direct Auto Insurance presents "Against All Odds" live on Pay-Per-View and online around the world at TNAOnDemand.com! The epic event takes place from Universal Studios in Orlando, Florida.

ImpactWrestling.com added 6 new photos to Tara's Photo Gallery recently. They are 6 photos to her 40th photo set. Be sure to check out how stunning she looks in her Valentine's Day Lingerie. You can check them out by clicking on the link above.
Well, in honor of Lisa Marie's birthday being tomorrow, February 10th, I've updated the site with a brand new design!
We went from Cutenews to WordPress now. So you won't be seeing anymore of those annoying error messages from Cutenews.
I've been working hard on getting all the pages moved over to WordPress and didn't get as far as I hoped, but don't worry, everything will be moved as soon as possible. So if some pages aren't up yet, they will be soon, so just hang in there please.
I'd like to thank Cristy from DaxStudios.net for the amazing working on the coding and theme.


Valentines Day Knockouts Video (She Loves Me)


Valentines Day Knockouts Video (Someone for Everyone)

TNA's Tara: I want to be a Page 3 girl
By Phil Allely
Published: January 18, 2012
She's won championship belts in both WWE and TNA and is generally recognized as one of the best female wrestlers in history.
But there's only one thing Tara really wants — to appear in The Sun.
In an exclusive interview to promote TNA's upcoming UK Tour, Tara told SunSport: "I'd love to be a Page 3 Girl!
"I'll pack my swimsuit for the tour and wait for you guys to call me."
The brunette, who was known as Victoria in WWE, added: "I love the fact that the TNA Knockouts Division are making such a mark on wrestling fans and I appreciate the fact that many people tune in to see us sexy girls.
"I love that we get a lot more ring and interview time than other companies offer their ladies.
"I mean we get to main event TV tapings and house shows. I see the ratings and our segments are often the most watched parts of impact shows."
Having started her career as a member of the Godfathers Ho Train, Tara can relate to the cynics who belittle the females who get high paid jobs in wrestling for their looks alone.
She said: "I was signed (to the WWE) with no wrestling experience, I was in the right place at the right time and my look and my fitness training background helped me get that job.
"I paid my dues though. I spent three years going to wrestling school, working my way around the indy and developmental leagues.
"You know I'd never bad mouth girls who have got an opportunity in this business without any in-ring ability.
"The big thing though is that they need to realize just how hard you have to work and bust your butt to get the recognition you deserve."
After leaving WWE, many felt that Tara would head to TNA — but she said it wasn't an obvious decision to her and that she considered retirement.
Looking back at that time, Tara revealed: "When I left the WWE I really did think that was it, I was through with wrestling.
"It seemed like I was not good enough to hold a title or get a good storyline anymore, but yet I was used as a tool to help new girls improve and gain confidence, I'd lost my interest.
"I knew about TNA and I first started watching it when Awesome Kong and Gail Kim started tearing the house down with their classic matches.
"It wasn't until I spoke to them that I realized that the schedule would be so much easier on my body. TNA offered me a deal of no house shows and only TV tapings initially.
"I couldn't resist that. I'm so glad now as I see the division being as hot today as the WWE glory days of myself, Trish, Lita and Mickie."
The upcoming TNA UK tour is poised to be the biggest yet for the company, with Sting and Hulk Hogan confirmed for the shows. Tara is excited about rubbing shoulders with the legends.
She said: "The fans are so amazing in the UK, we get engulfed in their enthusiasm and it makes us work harder too.
"We'll be having fun out there and with Mickie James, Gail Kim, Madison Rayne and Velvet Sky there we are sure to have some great matches.
"It's unbelievable to think of how successful we are as a brand in the UK, you know we were always compared to the WWE, but we are not the same and never have been.
"I think we are really standing out as ourselves now."
Source: http://www.thesun.co.uk/
Check out the Photos from TheSun.co.uk Article
TNA wrestling prepares for Impact in Plymouth
By David Wolcott
Wicked Local Plymouth
Posted December 31, 2011 @ 10:00 AM
PLYMOUTH — For someone who has played a person teetering on the edge of insanity for large parts of her career as a professional wrestler, it'd be hard to imagine a person more grounded than Lisa Marie Varon.
No arrests or stints in a rehabilitation facility for her, Varon, better known as TNA Knockout Tara, will bring her brand of controlled insanity to Memorial Hall when Total Nonstop Action Wrestling presents the TNA Impact Wrestling World Tour in Plymouth Saturday, Jan. 21.
"I guess I'm just a lucky girl who eats, breathes and sleeps professional wrestling," Tara joked during a recent phone interview. "But really, the reason I'm so grounded is I truly love what I do with all of my heart. I've had a passion for this business forever, and that's what still drives me today. I absolutely love what I do, and I want to be able to enjoy every single second of it."
Tara, 40, is one of the few female wrestlers who's made a rather lengthy career for herself in the business. While not in the veteran realm of Mae Young or the Fabulous Moolah quite yet, 12 years in the business does make her a true veteran of the sport.
"The average female wrestler is in the business for maybe five or six years, but like I said before, I really love what I do," she explained. "When my music hits, I cannot believe or explain the rush I still get from the crowd every time I walk through the curtain. It absolutely still sends a jolt right through me."
"The good thing is I've been able to save my money and start to look at what life's going to be after my wrestling days are over," added Tara, who recently opened a restaurant in Chicago with her husband. "I love this life, and it's still so much fun for me, but I'll know when the time is right to step away."
And, fortunately, that time has not yet arrived.
"I love working with TNA," Tara said. "The events are so much more than just a wrestling match. I love the fact that we really get the chance to get out there and meet with the fans. The TNA events are very family-friendly, and we try the best we can to make every card a special event for the fans that pay their money to see us."
Born and raised in California, Tara was an All-American cheerleader in high school before moving on to study biology at UCLA. She entered some fitness competitions, and that's where she caught the eye of former World Wrestling Entertainment (WWE) divas Chyna and Torrie Wilson, who thought Tara had the athletic ability and the attitude to make it as a professional wrestler.
A fan of the sport, she decided to follow their advice and give pro wrestling a try. She started her training in California in 2000, eventually picking up a developmental contract with WWE and moving her training base to Memphis and then Louisville. She got the call to join the WWE full-time in June of 2002 and made the most of her opportunity, famously feuding with Trish Stratus, Molly Holly and Gail Kim among others on the way to winning two WWE titles.
She eventually parted ways with WWE and made her debut in TNA, where she has been ladies champion several times, most recently holding world tag-team titles with Brooke Tessmacher.
"I'm still having a great time in the business, and, knock on wood, besides a torn elbow and a torn ACL, I've been pretty healthy over the years," Tara said. "I've been lucky to remain fairly healthy for most of my career."
At this point, Tara is not only keeping her own career going, she's also trying to impart what she's learned to the next generation of women wrestlers.
"Brooke is getting better in the ring every day," Tara said about her tag-team partner, who she will team up with in Plymouth to take on the tag team of Rosita and Sarita. "Someone I really like is Rosita. She's so young, but you watch her in the ring and you can see how far she's come in such a short period of time. Check back in three or four years, and with that much more experience, she's going to be something special to watch."
Source: WickedLocal.com
Check out the Photos from WickedLocal.com Article

Saturday night, Lisa Marie added two new videos to her official YouTube page. The first one features her and Brooke Adams and the second gives us a sneak video peak at an upcoming photoshoot that will be released on ImpactWrestling.com. Check out both videos above.