Tara takes a crack at getting on the list and she seems to have a different perspective than Robbie T but may perhaps be just what she needs to persuade Robbie E to put her on the list.
Jeremy Borash sits down with Tara to get the scoop on the Knockouts division as well as female wrestlers in the business, touring and more. Check out the video above!

SoCal Val interviews Tara before tonight's No Surrender Pay-Per-View event – Tara faces Miss Tessmacher for the Knockouts Championship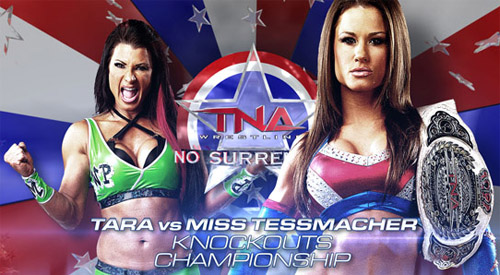 Backstage: JB brought in Knockouts champion Miss Tessmacher for a good-length interview discussing her desire to beat her "teacher," Tara, with the Knockouts Title on the line tonight after Tara beat her on Impact last month.

Knockouts champion MISS TESSMACHER vs. TARA — Knockouts Title match — Taryn Terrell referee

Before the match, Tenay reviewed the Tale of the Tape for this title match. Tara was out first, followed by the Knockouts champion ready for her "test" against her teacher. Tessmacher wanted to be friendly early on, but Tara slapped her, indicating it's time to wake up and wrestle. The match turned into a back-and-forth with multiple stalemates to sell an even match-up. Tara took control, then went for the Widow's Peak, but Tessmacher rolled through for a decisive pinfall to "prove herself" against Tara.

WINNER: Tessmacher to retain the Knockouts Title.

Backstage: Brooke Hogan talked to Tara. She made the Knockouts Title match between Tara and Miss Tessmacher official for No Surrender. Gail Kim then jumped into the conversation and complained about Taryn Terrell being brought in as referee. Brooke waited out Gail's complaints, then booked Gail vs. Tara tonight. Gail and Tara argued going to break.

TARA vs. GAIL KIM — Taryn Terrell special referee

Taryn was already in the ring back from break. Gail, then Tara made her way to the ring to start tonight's Knockouts match. Gail took control early on and taunted Taryn by using full five-counts while wearing down Tara. Tara then made a comeback and finished off Gail with a clean pinfall.

WINNER: Tara. Fine tune-up for Tara ahead of her Knockouts Title shot against Tessmacher on Sunday.

Broke Tessmacher makes her way to the ring. She says that she thanks Brooke Hogan for righting a wrong last week. But tonight is personal, she wakes up every day and looks in the mirror, can she beat the one person that has taught her everything in wrestling. Her mentor and best friend. So tonight, she challenges Tara.

Non-Title Match: Broke Tessmacher vs. Tara with Taryn Terrell as guest referee

And here we go, lock up to begin and Tessmacher with the arm drag. Lock up, and an arm drag by Tara. Another, and then a botched one from Tessmacher. Headlock by Tara, rights by Tessmacher, off the ropes and a shoulder block by Tara. Hip toss by Tessmacher, then one by Tara. Slam by Tara, into a cover for 2. To the corner they go, and as we get a break forearms by Tessmacher. Big right by Tara drops Tessmacher. Back elbow by Tessmacher, and then a clothesline. Another, and then a dropkick. Tessmacher holds up on corner rights, and then delivers shoulder blocks. Facebuster out of the corner by Tessmacher, and then heads up top. Tara up to stop that, follows her up and gets a superplex and covers for the win. That was not good.

WINNER: Tara

Tara and Tessmacher hug after the match. But Tessmacher leaves upset.

A Dream Match will come true! On September 21st 2012 at Centre Pierre-Charbonneau, the Super Hardcore Anime LuFisto will have the opportunity to face a former WWF Women's champion and former TNA Knockout champion in veteran TNA Knockout Tara!

This match will take place in Montreal, Quebec for TOW X Stardom, presented by Top of the World Wrestling. People are already taking about a "Mainstream Veteran Vs Independent Veteran" confrontation… And you don't want to miss it!!

You can get your tickets by contacting LuFisto by visiting her website at Lufisto.com
Q. Compare and contrast working with TNA and WWE, your thoughts on leaving WWE and at the time you talked about leaving pro wrestling. How seriouswere you about that and what changed your mind?
A. The only comparison between TNA and WWE are that they are both based on pro wrestling. They are different in every possible way. I could spend a day contrasting the two. All I will say is that they each have their pros and their cons.
I left WWE for two reasons. First, I was fried. I really needed time off. I had pretty much been on the road for seven years straight. Don't get me wrong, it was incredible. But for those seven years, I was either on the road or getting ready to be on the road. It gets exhausting. The fact that I was able to do it that long is a testament to how much I loved it.Second, once you are in the spotlight, it's hard to play a supporting role. I was tired of waiting for an opportunity to be the focus again. So if you combine being worn out, and not being happy with my role, I just felt like it was time to go. After my final match, I bawled little girl tears. I thought that was it.But you can't go from being busy non-stop to having nothing to do. After a couple weeks, I was stir crazy. I started MMA training on a more regular basis. But after a few months, I was contacted by TNA. They sold me on the idea of wrestling part time, 3-5 days a month. Plus they had some girls I really wanted to work with. Especially Kong. And by that point, I really missed wrestling.
TNA did not have to work hard to sell me.

Gut Check: Tara vs Taeler Hendrix

Taeler extends her hand to Tara, Tara slaps it away so Taeler takes a swing and Tara ducks, takes Taeler down with a waistlock, and fired forearms across her nose. Tara with a snap suplex and stands over Taeler to talk trash, but Taeler gets a sunset flip for 2. Tara quickly regains control with a clothesline and then gets the hanging choke in the corner. Taeler kicks up over her head and cartwheels up the corner to give Tara a top rope Frankensteiner. Joseph Park is moving around in the crowd as Taeler gets Tara with a series of clotheslines, then takes Tara down with a waistlock drop and crossfaces Tara like Tara did to her earlier. Taeler goes for a high kick, Tara ducks and gets Taeler up in the Widow's Peak and hits it for 3.

Winner: Tara

Tara helps Taeler back to her feet, then we go to the back where we see the remaining competitors in the BFG Series.
[ Photo Session #41 ] [ Photo Session #42 ] [ Photo Session #43 ] [ Photo Session #44 ]
I got a little behind on posting about these, but you can check out the newest TNA Shoots that Lisa Marie has done with Lee South. Click on the links above to check out each set. Enjoy!

Gail Kim, Rosita, Sarita, & Madison Rayne vs. Brooke Tessmacher, Tara, Mickie James, & Velvet Sky

Velvet starts off as the other team tags in and out. Velvet dominates. She gets attacked in the enemy corner as Gail tags in and takes control. Gail plays to the fans and Velvet catches her with kicks. Gail escapes and tags Madison. Mickie tags in and takes control. She goes to the top but is thrown off by Sarita. Madison drags Mickie to the corner and tags Rosita.

Rosita hits some moves and makes a cover for a 2. Mickie counters and makes her way to her corner and tags Tara who slams Rosita and backflips on top of her for a near fall. The action continues as Brooke face- plants Sarita into a pin attempt that is broken up by Madison. Gail tags in as Brooke dominates and makes another cover which is again broken up by Madison.

All 8 women brawl in and out of the ring. Gail attempts to pin Brooks with her feet on the ropes but Velvet quickly pushes them off. Brooke rolls Gail up for the pin.

Winners by pin: Brooke Tessmacher, Tara, Mickie James, & Velvet Sky
Chicago Personal Trainers and Owners of Morph Personal Training LLC Marcus Warren (Mr. Natural Australia 2001) and Joey Thurman (WBFF fitness model) show how to work your triceps feauturing pro wrestler Lisa Marie Varon TNA Knockout and former WWE star. Stay tuned for more videos! Visit us on Facebook at Morph Personal Training LLC or on Twitter @GetMorphedNow

Christy Hemme is in the ring as she announces this next match. Mickie James comes on stage first and makes her way to the ring. After her, Winter walks out and makes it to the ring, Tara comes out. Angelina Love makes her way down the ramp next. After her, Madison Rayne appears with her crown intact. She makes her way down the ramp. Finally, Velvet Sky shows up. She comes down the ramp and enters.

– Commercial Break –

Mickie James vs. Winter vs. Tara vs. Angelina Love vs Madison Rayne vs. Velvet Sky to determine the #1 Contendership for the Knockout Title

Winter and Tara start the match off. They lock-up and Winter works on the arm of Tara but Tara switches it to work on Winter's. Winter switches it back. Tara is able to whip Winter into the ropes and she knocks her down as she comes back. Winter gets up and Tara hits a body slam. She then does a standing moonsault. Tara covers and the others interrupt the pin. Tara goes to the apron as Love enters the match. Her and Winter walk around. They go to battle but Winter tags Mickie in. They lock-up and are both equal. They lock back up and Love applies a side headlock and then takes her over to the mat. Mickie gets out of it and applies the scissor lock around the head. Love gets away. Both get up and Mickie applies a side headlock. Love pushes her away. Mickie goes into the ropes and does a cartwheel and then a dropkick to knock Love down. Both get up and Mickie does a neck breaker. She covers but Rayne enters and breaks it. Both get up and Love hits a side walk slam. She covers and Tara breaks the hold. Love walks over to Rayne and talks some trash. She turns around and Mickie does three uppercuts. Mickie bounces off the ropes and Sky tags herself in. Sky enters and hits Love on the mat. Mickie is forced to go to the apron. Sky continues with kicks to the chest. Love comes back as she body slams Sky. Love slaps Rayne hard on the hand. She complains as she doesn't want to e touched. Tara tags herself in with Mickie. She enters and hits Rayne against Love. Love falls out while Tara continues to go after Rayne. She spins her and plants her on the mat. She covers while Rayne kicks out. Sky is back in the ring by tagging Tara.

Rayne is able to knee Sky on the back of the head and Sky rolls out of the ring. Love enters and hits Rayne with a knee to the back. Tara enters and hits the widows peak. After Tara, Winter enters and knocks her down with her finisher. Mickie enters and plants her famous DDT. Sky enters the ring again and knocks Mickie down for a cover and a win. Winner: Velvet Sky
Chicago Personal Trainers Joey Thurman and Marcus Warren feauturing TNA Impact knockout and former WWE star Lisa Marie Varon, demonstrate different ways to hit your biceps inside and outside of the gym.
Check us out on twitter @GetMorphedNow, www.Morphpersonaltraining.com
More videos to come, Terrific Triceps on the way!
This video features Lisa Marie Varon current pro wrestler with TNA Impact Wrestling Tara, and former WWE Diva Victoria! Watch as Lisa demonstrates and Joey describes a proper lunge and progressions of the lunge form the most basic to most difficult. Stay tuned for more videos!!
www.Morphpersonaltraining.com
Twitter: @GetMorphedNow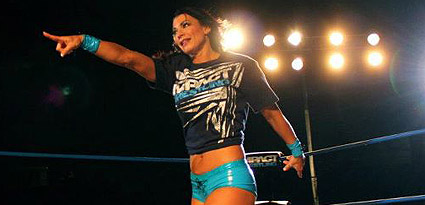 [ VIEW 9 DIGITAL PHOTOS FROM THE SHOW HERE ]

Tara vs Gail Kim for the TNA Knockouts title – Tara was obviously hurting. She kept adjusting her knee brace and tape. Of course, they spent a good chunk of the match working the knee. Kim won. It was a short match.
Have a little news on the website today. We will be around for another full year. I just made the payment for the site for another full year. So be sure to check back for all the latest and greatest on the one & only Lisa Marie Varon!!!
If you have any photos, news, etc to send into the site, you can e-mail me at dani@victoria-web.org.
Thanks for visiting!
Are YOU up for taking the Geek Fit Challenge?
BY GEEKTOME · Monday, February 27, 2012 3:30pm
TAKE THE GEEK FIT CHALLENGE!
Whenever the seasons start changing from winter to spring, I start thinking about what I'm going to be wearing as the weather gets warmer. Since I'll no longer be able to hide my considerable girth under layers of clothing, I always resolve to shed a few pounds so I don't look like I'm smuggling a beach ball under my Green Lantern tee shirt. Of course, finding the motivation to lose weight is always a challenge. Since it never hurts to have some friends to help you out, I asked female pro-wrestler – and Chicago resident – Lisa Marie Varon to act as my trainer. After she graciously agreed to put me through my paces, we both thought, why not put the challenge out to other geeks and nerds in Chicago? So to that effect, we present to you the GEEK FIT CHALLENGE!
Here's how Lisa puts it:
Hello everyone! I'm Lisa Marie Varon, but you may know me as "Tara" on SpikeTV's TNA Impact Wrestling, or formerly as WWE Diva "Victoria." When Elliott asked if I would help him get "geek fit" I thought it was a great idea! I'm a fan of geeky things myself, especially video games, and the idea of living a fit lifestyle is a real passion of mine.  And, as a former Professional Fitness Competitor; former Nationally Recognized Personal Trainer; former Medical Industry Professional; and 7 Time World Champion Professional Wrestler, who better to lead the GEEK FIT CHALLENGE?
The thing that I want you all to know is that there are many ways to be "fit." You don't have to be buff like a pro-wrestler, or have six-pack abs to be fit. Everyone is different and there are lots of ways you can feel "fit" and happy with yourself.
Elliott and I are looking for a 'few good geeks' who want to get into 'geek fit' shape! Over the next 3 months we'll be working out together and getting active. I'll even be sharing tips for things you can do to enjoy all the geeky-fun things you like while living a healthy lifestyle.
To be a part of the Geekfit Challenge you must:
Live in the Chicago area (group meetings will be held in a Chicago facility)
Be approved by your physician to undergo an exercise regimen
Be willing to complete the full program (3 months)
Be ready and willing to keep a diary of your progress and share it with Geek To Me readers.
At the end of the 3 months, we'll be awarding a prize to the one who's made the most progress, but everyone is sure to be a winner!
We're looking for 3 guys and 3 gals to take the challenge. Do you think you're up for it? If so, drop us a line at geekfitchallenge@gmail.com!
UPDATE: The deadline to submit yourself as a candidate is Monday, March 5th, 2011.
You can also follow Lisa on Twitter!