The following contains spoilers for the upcoming Knockouts Pay Per View, Knockouts Knockdown. The pay per view is apparently being shown sometime in May.
– Tara w/Jessie Godderz defeated Mia Yim via Widow's Peak.
– Battle Royal. Rules were wrestlers entered every two minutes. Over the rope eliminations but the final two face off in a match. Gail Kim won the match to become the "Queen of the Knockouts."
Entrants
1) Hannah Blossom
2) Gail Kim
3) Lei'd Tapa
4) Tara
5) Mickie James
6) Brooke Tessmacher
7) Jackie Moore
8) ODB
9) Velvet Sky
Eliminations
1) Hannah Blossom
2) Lei'd Tapa
3) Jackie
4) ODB
5) Velvet
6) Tessmacher
7) Tara
When it came down to Gail and Mickie, Gail faked an injury and rolled up Mickie for the win. Winner, Gail Kim. Madison Rayne then came out to the ring with a crown and put it on Gail's head. Gail forced Madison to leave the ring and posed for the crowd. Norah's interviewed her after the match.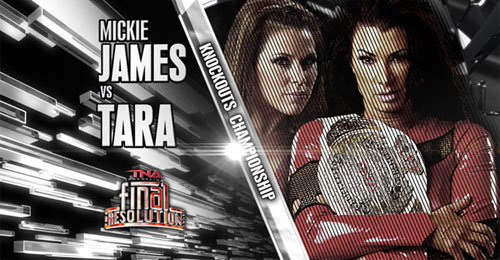 Jeremy Borash interviewed TNA Knockouts champion Tara. She said the focus should be on her win tonight, not her. They claimed all these celebs were congratulating Tara. Tara mocked Mickie James' medical problems and told her the big problem is going to be what Tara does to her. Tara was getting distracted by Jessie Godderz' body doing the promo.

TNA Knockouts champ Tara vs. Mickie James

They went back and forth working over each other's arm early. Tara grabbed at the arm and snapped it several times. Mickie almost scored the pin with the Backlund Bridge. Tara caught her in the corner with some elbows but was kicked off and James elevated herself into a rana.

James went for a DDT but Tara shoved her into the ropes. Godderz pulled Tara out and hugged her to save her. James hit a sliding kick on both. Tara cut off James on apron and sent her to the floor. Tara dropped her face-first on the apron.

Tara grabbed James by the hair, slammed her down and grabbed her in an over the shoulder backbreaker. James rolled through for a sunset flip but Godderz distracted the referee. Tara nailed a sidewalk slam for a two count and cinched in a body scissor.

Tara locked in a full nelson but James fought her way out. Tara went to snapmare her over but James landed on her feet. Tara yanked her to the mat by her hair but James kicked her away. James nailed a series of clotheslines and went for a kick. Tara grabbed her leg so Mickie turned it into an enziguiri. James covered her for a two count.

Tara went back to the floor but James hit a Thesz Press from the top to the floor. She rolled Tara back in the ring. Godderz tried to grab her on the apron but was kicked away. Tara used the distraction to nail Mickie and drill her with the Widow's Peak and score the pinfall.

Your winner and still Knockouts champion, Tara!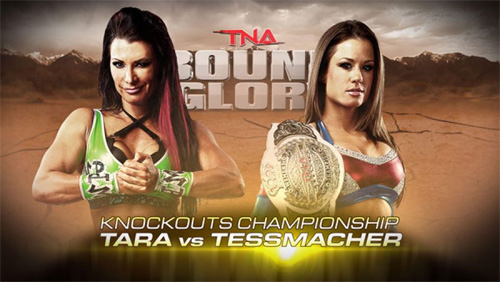 JB interviews Brooke Hogan. She predicts Tara vs. Miss Tessmacher will be really awesome. Tara walks up and wants to make sure her green room is right because her Hollywood boyfriend is here to celebrate with her. Tara calls her the worse boss ever and walks off.

TNA Knockouts Title Match: Tara vs. Miss Tessmacher

We go to the ring and out comes the challenger Tara. The TNA Knockouts Champion Miss Tessmacher is out next.

They start the match with an intense staredown. Taryn Terrell is the referee. Tessmacher shoves Tara and here we go. Tessmacher with an early pin attempt. Tessmacher drops Tara and pops her rear above her. More offense from Tessmacher as Tara goes to the floor to regroup. Tara turns it around and kicks Tessmacher out to the floor. They go at it at ringside now. Tara brings it back in the ring and keeps control. Tara chokes Tessmacher and throws her into the corner for shoulder thrusts now. Tessmacher counters with a roll up but Tara takes her back to the mat and mounts her. Tara rubs her face into the mat and pulls her hair now. 2 count for Tara.4

Tessmacher fights back and nails a DDT. Tara comes back and slams her face in the mat again. Tessmacher turns it around in her favor this time and slams Tara's face. More offense from the champ. She goes up top and hits a head scissors on Tara. Tara blocks a move and takes Tessmacher to the top. Tessmacher shoves her to the mat. Tara comes back and hits Widow's Peak for the win and the title.

Winner and New TNA Knockouts Champion: Tara

After the match, Tara takes the mic and says she has been so inspired lately. Tara says she didn't do this for the fans, she did it for her sweet, sexy, handsome and perfect Hollywood boyfriend, she says. She says we may have seen him on TMZ because he's kind of a big deal. She introduces her boo… Jessie Godderz from Big Brother. Out comes Mr. Pec-tacular and they make out in the ring. The fans chant "who are you?" Godderz puts the belt around Tara's waist before kissing some more.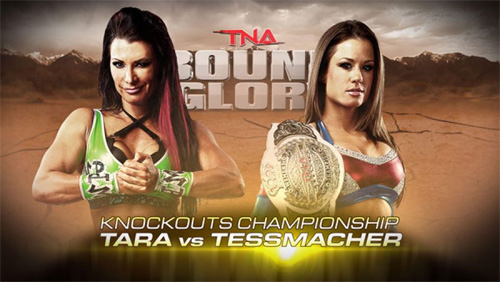 An entire year of dedication, pain, and perseverance will culminate on Sunday at "Bound for Glory." But our biggest event of the year transcends the hype and means more than just a night of competition. "Bound for Glory" represents legacies formed and memories made; and it is about friendships weathering the storm of adversity. More so than ever before, this year's card highlights the lasting value of friendship, but also recognizes just how fragile they can be. In one match, six men will enter the ring as tag teams rooted in the trust that friendship brings, while in another match, former friends and tag team partners will face off with such visceral animosity that a special enforcer needs to be present to intervene.

Another championship match pits former friends against each other, too. TNA Knockout Champion Miss Tessmacher will face her mentor Tara in a career-defining bout. Miss Tessmacher rose through the TNA ranks quickly from personal assistant to Eric Bischoff to Tara's tag team partner. The superstars known as TnT collected championships seemingly without difficulty, all the while humbly praising the efforts of the other tag team member. The veteran Tara continued to teach her new protégé how to compete on the biggest stage, resulting in a TNA Knockout Championship win for Miss Tessmacher just a few short years into her career. Still friends despite Tessmacher's sudden rise, TnT faced each other as opponents for the first time in September at "No Surrender" with mutual respect resonating throughout the match. But the feeling wouldn't last much longer.

As quickly as Miss Tessmacher's rise to prominence came, so, too, went her friendship with Tara. Both women look to the future, but the scars of TnT remain. Tessmacher (@BrookeTess) even told her #TESSFLOCKERS on twitter that she "had bad dreams about a wicked witch all night" and called Tara (@TARALiSAMARiE) a "psycho" last week. What will happen when these two competitors face off on TNA's biggest stage with all of the glory on the line? Watch us make history this Sunday, live from Phoenix, as Knockout Champion Miss Tessmacher takes on her former mentor, partner, and friend Tara, only at "Bound for Glory!"

SoCal Val interviews Tara before tonight's No Surrender Pay-Per-View event – Tara faces Miss Tessmacher for the Knockouts Championship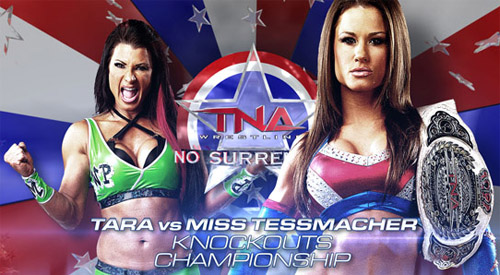 Backstage: JB brought in Knockouts champion Miss Tessmacher for a good-length interview discussing her desire to beat her "teacher," Tara, with the Knockouts Title on the line tonight after Tara beat her on Impact last month.

Knockouts champion MISS TESSMACHER vs. TARA — Knockouts Title match — Taryn Terrell referee

Before the match, Tenay reviewed the Tale of the Tape for this title match. Tara was out first, followed by the Knockouts champion ready for her "test" against her teacher. Tessmacher wanted to be friendly early on, but Tara slapped her, indicating it's time to wake up and wrestle. The match turned into a back-and-forth with multiple stalemates to sell an even match-up. Tara took control, then went for the Widow's Peak, but Tessmacher rolled through for a decisive pinfall to "prove herself" against Tara.

WINNER: Tessmacher to retain the Knockouts Title.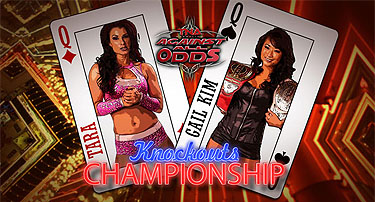 Knockouts Championship
Gail Kim vs. Tara
We get a quick video package detailing the history between these two women over the past couple of weeks. This leads into Mike Tenay giving us a couple of bullet points.
Tara is the first woman to make her way out to the ring, and she gets a warm reaction from the crowd. Gail Kim is the next woman to make her way out, with Madison Rayne in tow, and they don't seem too happy with each other, arguing on their way to the ring. They both get a poor welcome from the crowd.
The bell rings and Tara ambushes Kim in the corner, hitting her with chops and tossing her by the hair around the ring before picking her up by her hair and hanging her. Kim fights off Tara and continues to argue with Rayne, which allows Tara to get the upper hand. Tara sends Kim out to the apron, and Kim is able to hit a neckbreaker, hanging Tara up on the top rope. Kim heads back into the ring and hits Tara with a boot to the face before hitting her with a big right hand. Kim launches Tara into the middle turnbuckle, hard.
Kim sends Tara into the corner again and charges after her, clotheslining her hard. Kim heads to the top and hits a missile dropkick. Rayne yells something and walks away from the ring, waving to Kim on her way out. Kim sends Tara into the corner hard again, before jumping to the middle rope with a springboard cross body. Gail goes for the pin but only gets two. Gail locks in the stretch muffler, but Tara is able to fight her off.
Tara attacks, but Kim is able to lock in the octopus hold, bringing Tara to her knees. Tara struggles to the ropes, but she makes it, forcing Gail to break the hold. Kim kicks at Tara in frustration. Kim seats Tara on the top rope, heading up after her and hitting a hurricarana, but she gloats, takes too long, and turns around into a powerslam from Tara.
Tara fights off Kim with a series of rights, sending her into the ropes and hitting a big clothesline. Tara shoulders Kim and drops her down and out into a side slam for a two count. Kim rolls to the apron and heads to the top, but she's stopped by Tara. Tara heads up after Kim and back body drops her from the top down to the mat. Tara heads up and hits a moonsault from the top, but she's grabbing her knee in pain immediately.
Tara struggles to makes the pin, and when she does, she's only able to get a two count. Tara gets to her feet and picks up Kim, but Kim responds with a knee breaker, and then eat defeat. Kim pins Tara and gets the three count to retain her title.
Winner and STILL TNA Knockouts Champion: Gail Kim
Results from WrestlingInc.com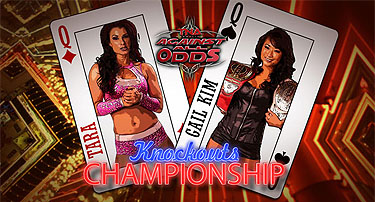 KNOCKOUTS TITLE MATCH 
Gail Kim (champion) vs Tara
This Sunday, February 12, Direct Auto Insurance presents "Against All Odds" live on Pay-Per-View and online around the world at TNAOnDemand.com! The epic event takes place from Universal Studios in Orlando, Florida.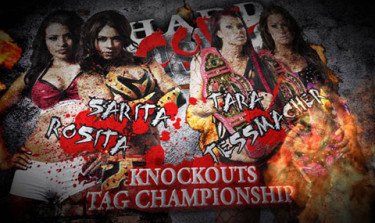 Backstage, Jeremy Borash is with Tara and Miss Tessmacher. They cut a promo about their upcoming match. Mexican America come out first.

Knockouts Tag Team Title Match
– Tara & Ms. Tessmacher (c) vs. Rosita & Sarita

It's Tara and Rosita working in the ring. Rosita hits a hurricanrana on Tara but walks into a boot off a counter. Rosita rolls Tara out of the ring and gets involved with Miss Tessmacher. Rosita finally tags in Sarita. Lots of tagging by the women of Mexican America. Miss Tessmacher and Sarita.

Tessmacher tags in Tara and she goes after Sarita, bringing her down to the mat. Rosita gets in and makes the save. Tara and Sarita are in the ring with Miss Tessmacher wanting a tag. Rosita is lurking on the outside. She pulls Tessmacher off the apron. Rosita gets on the apron and kicks Tara in the face. Sarita throws Tara down and tags in Sarita.

Tara and Rosita are the legal Knockouts. Tara attempts Widow's Peak but Rosita rolls through and has leverage from Sarita from the apron. They break it up and Tara ends up press slamming Rosita. Rosita counters and goes to make tag but Miss Tessmacher throws Sarita off the apron.

Back in the ring, Tara hits Widow's Peak on Rosita and follows it with the pinfall.

Winners & still Knockout Tag Team Champions: Tara & Miss Tessmacher
Check out the August 7, 2011 TNA Hardcore Justice Digitals