[ Screen Captures ]


Before we head to the Impact Zone, we start out backstage where Mickie James and Tara are having a brawl backstage at catering. The cameraman gets knocked out so all we see is Tara getting knocked on her ass and then getting dragged out into the parking lot where, luckily, we have another cameraman. Mickie gets the upper hand on Tara when Madison Rayne comes out of nowhere and attacks Mickie from behind. Mickie fights valiantly, but can't overcome the odds. Madison and Tara go for a double suplex on the concrete, but the Beautiful People come out of nowhere to make the save. Now Sarita comes running in and jumps in as well on Madison and Tara's side. Angelina and Madison brawl out of the back as Velvet Sky works Sarita over with a broom and chokes her on the steps up to the broadcast booth. They head all the way up the steps and Velvet tries to suplex Sarita to the floor, but Sarita blocks by kicking Velvet low. Tara and Mickie continue to duke it out backstage and make their way out into the crowd where Mickie tosses Tara into a wall and then over the guardrail, and follows her with a Thesz Press over the rail and to ringside. They head in the ring where Tara gets the upper hand and the other girls follow them into the ring and continue brawling, but now Ric Flair comes out with Overzealous Security, but as Flair comes in to try and calm this down, Mickie punches him in the face. Flair makes like he's going to punch Mickie so Mickie nails him two more times. Flair grabs a mic and asks them all what the hell they're doing, and tells Mickie that if she ever slaps him again he's going to make a woman out of her, and asks her who she thinks she is, his ex-wife? The brawl breaks out again, so Security pulls them apart again. Flair says if they want to fight, then they're going to fight: he makes the Beautiful People & Mickie James against Sarita, Tara, and Madison Rayne. He says no more right now, so they start fighting again.

Mickie James & Beautiful People vs Madison Rayne, Sarita & Tara

The Beautiful People and Mickie jump Madison's team on their way to the ring, and a huge brawl breaks out, so AGAIN Overzealous Security comes out and pulls them apart. Earl Hebner wants two girls in and everyone else out, so we start with Angelina and Madison and Hebner rings the bell. Angelina lays Madison out with a series of clotheslines, so Madison tags in Tara, who immediately eats a chinbreaker. Angelina tags in Velvet and they hit a double Russian legsweep and Velvet covers for 2. Velvet gets a chop and a big flying headscissors for 2 and tags in Mickie, who goes up top and then thinks better of it and drops into the ring. Tara tags in Sarita, who shoves Mickie, so Mickie responds by stiffing her with a forearm and gets a flying headscissors. Mickie with a neckbreaker for 2, but Tara kicks Mickie in the face from the outside and Sarita rolls her up for 2. Madison tags in and chokes Mickie on the ropes, then does that move where she repeatedly humps her opponent's head into the mat. Tara tags in and hangs Mickie over her back by the hair, but Mickie recovers and hits a neckbreaker and makes the hot tag to Angelina. Angelina with a series of clotheslines to Sarita and goes for a slam, but Tara nails her from the outside, so Angelina tags Mickie, who hits a Thesz Press off the top onto Sarita and nails Madison and Tara off the apron. They come running back in and nail her anyway and go for a double backdrop, but Mickie tosses Tara to the floor and nails Madison, and Velvet hit a DDT on Sarita for 2. A Pier Six brawl breaks out and Mickie hits a DDT on Madison, then turns around and Tara catches her with the Widow's Peak. The Beautiful People come in and double kick Tara, but Sarita nails Angelina out of the ring and hits a Tiger Driver on Velvet Sky for the win.

Winners: Madison Rayne, Tara & Sarita

Later in the show, Tara vs Mickie James is announced for Turning Point PPV.




[ Screen Captures ] [ Digitals ]


Madison Rayne comes out, with a referee in hand. Sunday night was the biggest night in company history, and she had a plan. That plan involved her becoming a three time champion, but that didn't happen, since her title is around Tara's waist right now—the same Tara who has Rayne to thank for getting her job in TNA. So she's demanding that Tara come out and give her what she deserves—a Knockouts Title Match. Tara comes out to mostly cheers. Rayne wants to remind her of one thing she thinks Tara forgot on Sunday—she's the reason Tara's even here. If it weren't for "me", she wouldn't even have been in that match on Sunday–"me me me!" They had a deal, and Tara owes her. Tara takes off the belt, nodding, and hands it to the ref.

MADISON RAYNE vs. TARA (c)
Knockouts Championship Match

Rayne points to the mat, and Tara lies down. The ref looks confused for a moment, then makes the count.

WINNER (and new Knockouts Champions): Madison Rayne in 5 seconds.

Rayne has a huge celebration, jumping for joy and giving a shout-out to her mother. She says that she has to give her credit. She knows that was the hardest match she ever had to…she's interrupted by Mickie James's music. Mickie can't believe that Rayne calls herself a champion. That's disgraceful—not just for her and anyone who ever held a championship. Rayne tries to talk over her, but Mickie shuts her up. How dare she make a mockery of any championship. Mickie said she was coming to make history, and she'll do it right now. Rayne invites her down, but then hides behind Tara. Tara attacks, and Mickie tosses her from the ring. Rayne bails, but drops the belt. Mickie hoists it up for a moment before giving it back.
Check out the TNA Photoshoot #21
Check out the TNA Photoshoot #22
TNAWrestling.com added 6 new photos from Tara's 21st and 22nd Photoshoot set. You can check them out by clicking on the links above.
TNA Knockouts "Mad Sexy Volume One" PPV Coming October 1st, 2010
TNA Knockouts – Mad Sexy Volume One is set to debut October 1, 2010 on Comcast, TimeWarner, Brighthouse, Cablevision, Cox, Directv, Dish Network, AT&T, Verizon, Viewers Choice, Bell TV or on your local cable system.
This one of a kind pay-per-view special is hosted by Playboy cover girl and TNA Knockout Christy Hemme. Mad Sexy Volume One will feature matches involving TNA Knockouts: Angelina Love, Velvet Sky, Taylor Wilde, Awesome Kong and Gail Kim. This one hour special will be available on a pay-per-view basis at just $9.95 until December 31st on your cable or satellite provider.
Check out the TNA Photoshoot #19
Check out the TNA Photoshoot #20
TNAWrestling.com added 7 new photos from Tara's 19th and 20th Photoshoot set. You can check them out by clicking on the links above.




[ Screen Captures ] [ Digitals ]


We get a video package of The Beautiful People vs Madison Rayne and bicker chick feud.

Madison Rayne and Biker Chick vs The Beautiful People (Velvet Sky and TNA Knockout's Champion Angelina Love)

JB introduces the Beautiful People, and Madison Rayne and Biker Chick make their way out through the crowd instead. Angelina and Velvet make their way out anyway. We get a huge brawl on the outside of the ring to start things off. Velvet throws the biker chick into the guardrail. Madison backs off from Angelina in the ring, and turns into Velvet. They keep her from exiting as Madison tries to beg them off. They both trade shots on her. Angelina grabs Madison in a front face lock and tells Velvet to spank her, but the biker chick runs in and breaks it up. The bell rings and here we go. Angelina grabs Madison and stomps her in the nether region. Pin but only two. Velvet gets the tag and takes down Madison with clotheslines. Pin but only two. Angelina gets the tag and stomps Madison in the gut. Front slam by Angelina. Velvet gets the tag. TBP take out the biker chick on the apron. Double suplex to Madison. Pin but the biker chick breaks it up. Angelina takes her down with a spear. They brawl on the outside. The biker chick grabs the helmet. Velvet goes to hit Madison with a DDT or something, but the biker chick clocks her from behind with the helmet. Madison covers and wins.

Winners: Madison Rayne and the Biker Chick

Angelina grabs Madison but the biker chick clocks her with the helmet too. Madison and the biker chick continue beating down the Beautiful People. The biker chick takes off the mask, and it's Tara.




[ Screen Captures ]


Angelina Love (with Velvet Sky) defeated Madison Rayne (with the motorcycle chick) to retain the TNA Knockouts Championship.

Angelina made her entrance and was joined by Velvet Sky. A fight broke out between the four on the floor before the match officially began. The biker chick tried to interfere, but Velvet thwarted said interference. Angelina hit a bicycle kick on Madison for the win.

Afterward, Love and Sky raised their arms in the air in a sign of unity. Madison and the biker attacked them from behind and left them laid out.
Lisa Marie posted a new blog called "Catching Up" You can read the blog below.
Date: Sunday, August 15, 2010 at 6:54 PM
Subject: Catching Up
Hey MySpacers !!!

I prefer to keep in touch with tweets or status updates, but I have a lot going on, so I thought I'd blog about it.

I was shocked and saddened to hear about Lance Cade passing the other day. I saw him not too long ago, and he seemed perfectly fine. I get the question often about how to get into wrestling. My first response is that it is important to have something to fall back on, and you've got to love to wrestle. Professional wrestling can be an amazing experience. But it takes a tremendous physical toll on a person. Through my WWE training, I spent about a year at Memphis Championship Wrestling. Lance is the third wrestler under 30 to pass who I knew from MCW. They were all great guys, and they will all be missed.

I want to talk about former WWE Diva Dawn Marie. I have heard through the grapevine that she created a charity, and there have been some questions about it. First, I never worked one of her shows, and I don't even think that I know anyone who has worked her shows. But I want to say this: I worked with her at WWE. She was always a friendly and positive person, and I have nothing but good things to say about working with her. I hope whatever questions are out there with her charity are answered in a positive way.

I think I mentioned that I went to the Bellator MMA fights in Louisville a couple months ago along with my BJJ coach. I met with their matchmaker, and not too long ago they offered me the opportunity to fight at their September show. I appreciate the opportunity. Some parts of what they were offering were very intriguing. Some parts, not so much. Bottom line, I just notified them that since we don't have a deal in place at this point, we are too close to the date for me to be ready the way I want to be ready. But we are continuing to talk, and I hope to come to terms for a Spring 2011 fight.

Finally, I will be at the Chicago Comic Con Friday, August 20th through Sunday, August 22nd . I have lived in Chicago before. I love that city. I'm going to stick around a couple days afterward and do a little house hunting for a possible move.

Keep in touch. Talk to you laters, Taters.

Lisa Marie : )

[ Screen Captures ]
Angelina Love defeated Madison Rayne to win the TNA Knockouts Championship. Love was in control of the match when mystery biker chick drove her bike to ringside and then walked around the ring. "Get out of here," the referee yelled. Velvet Sky came out and hit the mystery woman from behind with a chair. Velvet removed the helmet, but mystery chick had a mask on and ran to the back without revealing her identity.

[ Screen Captures ]
Hamada and Taylor Wilde defeated Velvet Sky and Lacey Von Erich to win the TNA Knockouts Tag Titles.
During the match, biker chick came to the ring on her motorcycle and stood at ringside as Madison Rayne came out and stood on the stage. The ref was bumped. Biker chick gave Lacey a chair. Taylor to dropkick the chair into Lacey's face. Taylor covered Lacey and got the win.

[ Screen Captures ] [ Digitals ]
After Angelina Love and Taylor Wilde defeat Madison and Sarita, the mystery biker shows up again. She comes up to ringside. Lacey and Velvet are on the entrance ramp. Sarita and Madison attack Angelina and Taylor. The mystery woman joins in on the action too. They start to leave. Madison tells Lacey to come with them, and she doesn't know what to do. She leaves with Madison, and Velvet looks pissed. Angelina and Velvet make eye contact.

[ Screen Captures ]
We go back to the ring where Madison Rayne is in the ring, and formally protesting the outcome of the Knockouts Title match at Victory Road. The rules said that if Velvet or Lacey interfered, then she could lose the title on a DQ, but since neither of them were involved, she is demanding that within seven days, either the decision is reversed and she has the title returned to her, or she will sue TNA for every penny it's worth. Velvet Sky and Lacey Von Erich come out, and Velvet is pissed. Velvet asks Madison what makes her think she can bring in someone new, not only without their approval, but without even asking them first. Madison tells Velvet to relax and that she's obviously been taking her dumb blond pills again. Madison did what she had to do and took matters into her own hands. Velvet says it's not just about Madison making a decision without either of them, it's about Madison saying that she didn't need them anymore, and asks Madison to explain herself. Madison says fine, she doesn't need them. Velvet says how about she kicks Madison's ass all over the ring right now. Lacey gets between them to break them up, and now Angelina Love comes out and asks Velvet if she honestly thinks Angelina believes anything she's saying, because she recognized her big fake boobs in the motorcycle outfit. Velvet says if she thinks that was Velvet on the motorcycle, she was mistaken, because she obviously didn't see the dumpy ass on that person, because clearly, it wasn't her. Velvet says that if she doesn't believe that, then believe this: that bitch (indicating Madison) is all hers, and tells her to have at it. Velvet walks out, and Madison stands in the ring yelling at Angelina to come down and give Madison her belt back. Angelina enters the ring and asks if she wants her belt back, then tells her to come get it. Madison nails Angelina with a forearm, but Angelina drops the belt and goes after Madison. Suddenly the Bike Girl comes out on the bike and goes after Angelina ramming her to the corner and then choking her out with her boot. Madison brings a chair into the ring and picks Angelina up and DDTs her on the chair as Lacey stands helplessly on the rampway looking heartbroken over this whole unfortunate series of events. Madison and Bike Girl get on the bike and ride away.
Lisa Marie posted a new blog called "Hot! Hot! Hot!" You can read the blog below.
Date: Tuesday, June 22, 2010 at 9:50 AM
Subject: Hot! Hot! Hot!
Hot! Hot! Hot!
What's Up, MySpacers ?

Is anyone else experiencing the heatwave that we have in Kentucky? It is supposed to be 100 degrees here today. It's definitely a good day to be near some water…beach, pool, you name it.

I thought I'd post a blog and update you on my goings on.

After I wound down with TNA, I took a nice long vacation with my family in California.

I noticed that I am back on the WWE.com Alumni page. I had a long run with them, and it's always nice to be recognized along side of some of wrestling's all time greats. I heard that I'm supposedly talking to WWE about a return. There are a lot of things that I loved about working with WWE. But at this point, there are other things that I'm trying to do while I still have the opportunity. I think we all feel that Victoria ran her course at WWE.

I also noticed that the wrestling websites picked up the fact that I had some money stolen while working at the Philly Comic-Con. I probably shouldn't have posted that on my twitter account, but I was letting people know that I was staying around an extra day. It was actually the second time I was robbed in two weeks. Shortly before that, I had a set of $3000 wheels stolen off a car outside my house. Then I had the money stolen at the show. It wasn't so much the lost money, but it doesn't feel good to be the victim of a crime. But get this…about a week after I got back from the show, I get a call from the guys at Black Widow Customs. Apparently a customer had come in asking how to get a set of wheels on his vehicle that weren't made for his vehicle. The Wheel Tech went to his car to look at the wheel. Guess what ?! You got it…it was my wheel !!! The tech played it cool, took the wheel in the back, and found the markings that we put inside our wheels for just such an occasion. They then called the police, and "politely requested" that the customer wait for the police. He confessed to the police to taking the wheels. He was arrested, and I got my wheels back

I will be going to the Bellator MMA show on Thursday Night. Don't read too much into that. I'm going with my coach, who will be cornering the Main Event. But I do have a meeting with their matchmaker before the show. We'll see what he has to say.

After that I'm going to visit Michelle McCool, Torrie Wilson, and Sharmell in Texas for the weekend. Lookout Texas, it's gonna be a girls night out.

At Black Widow Customs we are currently building a vehicle that is unlike anything on the road today. I don't want to overhype it, but we are very excited about it. I will put the first pics on my MySpace page.

Finally, we are selling some cars that we had built for shows. The first two are already on the Black Widow Customs eBay page. We are also going to put a couple more up there as well as some t-shirts and some other products later in the week. They are re-opening the old "Victoria" ebay store, so the web address is…
http://stores.ebay.com/Victorias-Goodies. We will change the name soon, and I'll let you know when that happens. Or you can check out the ebay item numbers 250655064211 and 250655071787 .

Wow, I didn't realize how busy I was until I wrote this blog. I better get going…

Later SuperHot Potaters, Lisa Marie : )
Lisa Marie posted a new blog called "Retirement? Not even close…. " You can read the blog below.
Date: Wednesday, April 28, 2010 at 10:23 AM
Subject: Retirement? Not even close….

Hey Gang!!!

It's been a while since I've posted a blog. I'm more into the daily updates. But the following is too long for an update.

It appears that I'm winding down at TNA. Unfortunately some organizations "leak" information to wrestling websites to put their spin on a situation, to make sure they come out in the best light. Not me. I'm gonna say it. I'm gonna put my name on it. And I'm going to stand behind it.

I came to TNA last year because I still had a lot of wrestling left in me. I was paid a fraction of what I thought I deserved. But I wanted to show I was still at the top of my game. Now my contract is up in May. I want a modest pay increase. They don't want to pay me what I think is fair. I have no problem going my own way.

But about 12 hours after the conversation where we didn't agree on pay, unnamed sources claim that I am hard to work with and that I don't give my best effort. My only response is that TNA made an aggressive effort to re-sign me, among other things saying that they want to build the women's division around me. And I think wrestling fans see, both on TV and at live events, that I always give 100%. I take pride in that. Smearing me on the way out the door is an act of second rate character.

I take pride in making my best effort to elevate my own wrestling and the entire TNA Women's Division. If people were rubbed the wrong way in the process, I stand behind my work and my positive intentions.

In closing I will say this. In the few weeks that I have left in TNA, I will be the same wrestler that you have seen for the past ten years. After that, I haven't decided if I will stay in wrestling, or finally make the jump to MMA. I do have a lot of irons in the fire. We'll see where life takes me. But wherever that is, there's gonna be competition, and I'm gonna give it my all.

Thanks For All Your Support!!!

Later Taters, Lisa Marie Varon : )

[ Screen Captures ]
JB is in the back with Angelina Love. Love says that the Leather & Lace match is a joke—she came here to wrestle, and show that women's wrestling is for real. Tara storms in, wondering whether Love's idea of taking women's wrestling seriously involves winning a title with a key. JB points out that they'll have to work together, but Tara says she's happy to keep her enemies close (I guess this is a themed segment). Love gets in her face, taunting her and asking what she's gonna do about it.
Angelina Love vs Velvet Sky. During the match, Lacey Von Erich and Madison Rayne came to help Velvet Sky beat down Angelina Love. Tara came out to help Angelina and unlock her from the cuffs. The Beautiful People took off. Angelina extended her hand to Tara but Tara just walked away.

[ Screen Captures ] [ Digitals ]
Christy interviewed Tara, telling her that she could lose her title or get her spider back. She said TNA wants ratings and is using her to get them. "This entire thing is a joke," she said, adding that she's just going to "pin somebody's ass. Angelina Love said, "There's no such thing as fair in wrestling. Sometimes life is a bitch and you just have to deal with it. We all do." Love then predicted she'll walk out with the Knockouts Title. Tara said if that's how she wants to roll, let's roll. ODB walked up and said there's some PMSing going around. She said her box is going after the contract so she can wrestle anyone and go after A.J. Bootie-Bam. Christy then tried to interview Hamada. She spoke in Japanese calmly.
Knockouts Lock Box Challenge: Tara, Angelina Love, ODB & Hamada vs The Beautiful People & Daffney
Angelina starts with Madison Rayne, then tags out to Tara. Rayne kicks Tara down, then humps her head into the mat. Rayne goes up top, but Tara comes out with the Widow's Peak and eliminates Rayne. Tara wins the first key, leave the ring and we're down to 3-on-3 as we go to commercial.
During commercial, Daffney pinned Hamada to win a key. Back to the show, next Velvet Sky pins ODB after a DDT to win the third key. We are left with Angelina against Lacey Von Erich. Angelina hits Lacey with a Flatliner to win the final key.
Winners: Tara, Daffney, Velvet Sky, Angelina Love
As a reminder, each key unlocks one locked box which contain Tara's tarantula, the TNA Knockouts Title, an open contract for a match with anyone, and a contract to have to do a striptease.
Way later in the show, we see Tara backstage with her key, worried about what she may unlock in the box.
Final segment of the night. We're back, and it's time to reveal the contents of the Lock Boxes! Velvet opens hers first, and she gets the open contract! Tara's up second, and her prize is her tarantula! But unfortunately, this means she's no longer the Knockouts Champion. And it comes down to Angelina and Daffney. They open their boxes at the same time, and our new Knockouts Champion is… Angelina Love! So now Daffney has to go to the ring and strip. Daffney makes her way to the ring and looks none too happy. Daffney proceeds to do the least enthusiastic striptease but out comes Lacey Von Erich, who lays Daffney out with the ugly stick, then she starts stripping as Tara and Angelina start fighting up on the rampway over the Knockouts Title. They start fighting into the ring and brawl on the mat right in front of Lacey who keeps on stripping. Velvet Sky takes the mic and says that Lacey's turned up the heat, but rule #1 of the Beautiful People Club is that no Beautiful Person shall upstage another Beautiful Person, so Velvet's going to cash in her open contract next week against Angelina in a Leather and Lace match. Angelina makes mad faces at her as we go off the air.
Credit: PWInsider.com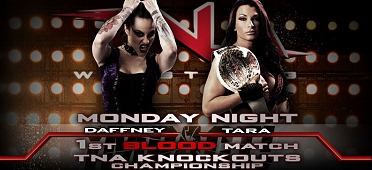 In a First Blood Match, it will be TNA Knockout Champion Tara vs. Daffney
On Monday, TNA Wrestling returns to SpikeTV at 9/8c for two hours of Total Nonstop Action!
Check out the TNA Photoshoot #16
TNAWrestling.com added 3 new photos from Tara's 16th Photoshoot set which is a St. Patrick's Day Theme again, but a different outfit. You can check them out by clicking on the link above.
Check out the TNA Photoshoot #15
TNAWrestling.com added 6 new photos from Tara's 15th Photoshoot set which is a St. Patrick's Day Theme. You can check them out by clicking on the link above.

[ Screen Captures ]
ANGELINA LOVE vs. DAFFNEY (w/the Beautiful People)
Daffney continued to be in control of the situation after the pre-match attack. She then tried to retrieve an object, but the ref reprimanded her. The action broke down at this point with Daffney leaving the ring for the BPs to inflict damage. They were looking to inflict more punishment on Angelina, but Tara ran out to the ring to make the save. She delivered a Widow's Peak and stood tall in the ring to close the segment.
WINNER: No Contest