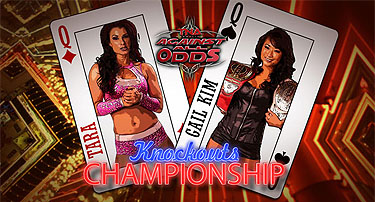 Knockouts Championship
Gail Kim vs. Tara
We get a quick video package detailing the history between these two women over the past couple of weeks. This leads into Mike Tenay giving us a couple of bullet points.
Tara is the first woman to make her way out to the ring, and she gets a warm reaction from the crowd. Gail Kim is the next woman to make her way out, with Madison Rayne in tow, and they don't seem too happy with each other, arguing on their way to the ring. They both get a poor welcome from the crowd.
The bell rings and Tara ambushes Kim in the corner, hitting her with chops and tossing her by the hair around the ring before picking her up by her hair and hanging her. Kim fights off Tara and continues to argue with Rayne, which allows Tara to get the upper hand. Tara sends Kim out to the apron, and Kim is able to hit a neckbreaker, hanging Tara up on the top rope. Kim heads back into the ring and hits Tara with a boot to the face before hitting her with a big right hand. Kim launches Tara into the middle turnbuckle, hard.
Kim sends Tara into the corner again and charges after her, clotheslining her hard. Kim heads to the top and hits a missile dropkick. Rayne yells something and walks away from the ring, waving to Kim on her way out. Kim sends Tara into the corner hard again, before jumping to the middle rope with a springboard cross body. Gail goes for the pin but only gets two. Gail locks in the stretch muffler, but Tara is able to fight her off.
Tara attacks, but Kim is able to lock in the octopus hold, bringing Tara to her knees. Tara struggles to the ropes, but she makes it, forcing Gail to break the hold. Kim kicks at Tara in frustration. Kim seats Tara on the top rope, heading up after her and hitting a hurricarana, but she gloats, takes too long, and turns around into a powerslam from Tara.
Tara fights off Kim with a series of rights, sending her into the ropes and hitting a big clothesline. Tara shoulders Kim and drops her down and out into a side slam for a two count. Kim rolls to the apron and heads to the top, but she's stopped by Tara. Tara heads up after Kim and back body drops her from the top down to the mat. Tara heads up and hits a moonsault from the top, but she's grabbing her knee in pain immediately.
Tara struggles to makes the pin, and when she does, she's only able to get a two count. Tara gets to her feet and picks up Kim, but Kim responds with a knee breaker, and then eat defeat. Kim pins Tara and gets the three count to retain her title.
Winner and STILL TNA Knockouts Champion: Gail Kim
Results from WrestlingInc.com