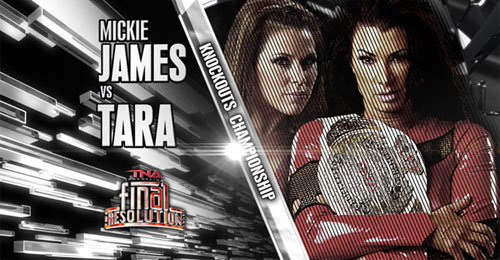 Jeremy Borash interviewed TNA Knockouts champion Tara. She said the focus should be on her win tonight, not her. They claimed all these celebs were congratulating Tara. Tara mocked Mickie James' medical problems and told her the big problem is going to be what Tara does to her. Tara was getting distracted by Jessie Godderz' body doing the promo.

TNA Knockouts champ Tara vs. Mickie James

They went back and forth working over each other's arm early. Tara grabbed at the arm and snapped it several times. Mickie almost scored the pin with the Backlund Bridge. Tara caught her in the corner with some elbows but was kicked off and James elevated herself into a rana.

James went for a DDT but Tara shoved her into the ropes. Godderz pulled Tara out and hugged her to save her. James hit a sliding kick on both. Tara cut off James on apron and sent her to the floor. Tara dropped her face-first on the apron.

Tara grabbed James by the hair, slammed her down and grabbed her in an over the shoulder backbreaker. James rolled through for a sunset flip but Godderz distracted the referee. Tara nailed a sidewalk slam for a two count and cinched in a body scissor.

Tara locked in a full nelson but James fought her way out. Tara went to snapmare her over but James landed on her feet. Tara yanked her to the mat by her hair but James kicked her away. James nailed a series of clotheslines and went for a kick. Tara grabbed her leg so Mickie turned it into an enziguiri. James covered her for a two count.

Tara went back to the floor but James hit a Thesz Press from the top to the floor. She rolled Tara back in the ring. Godderz tried to grab her on the apron but was kicked away. Tara used the distraction to nail Mickie and drill her with the Widow's Peak and score the pinfall.

Your winner and still Knockouts champion, Tara!

Mickie James came to the ring for a talking segment. Mickie thanked everyone for supporting her while she was at home recovering. Mickie did not identify what she was talking about, with the entire audience apparently expected to know that she recently had surgery, then vowed to become new Knockouts champion. Suddenly, Tara's music interrupted to bring out KO champion Tara and Jessie. Tara made sad noises to mock Mickie's story, then recapped her great year compared to Mickie's bad year.

Suddenly, the Beautiful People's music played, causing Taz to react. "Is this a joke?" he asked. Velvet Sky, making her TV return, emerged on-stage as the announcers wondered how long it's been since she was on Impact. Sky entered the ring to join the discussion, noting she's missed everyone. Sky thanked Brooke Hogan for bringing her back, then wished them luck at Final Resolution. Sky then put them on notice that 2013 will be the Year of Velvet Sky as Knockouts champion. Cue up Velvet's music to end the segment.

Check out the above video to see what Tara has to say about Gail being Honored by Pro Wrestling Illustrated as #1 of the top 50 female wrestler.

Eric Young and ODB are in the back again. The Robbies E and T aren't pleased with the turkey suit. Last year, the turkey challenge ruined Big Robbie's life. Robbie E wants Eric Young to call him out. Jessie Godderz walks by with Tara. He joins the conversation. Eric Young says he can call both of them out. The Ultimate Turkey Boy Extravaganza: Eric Young vs. Jessie Godderz vs. Eric Young. An instant classic.

Taeler Hendrix is out next with her Open Fight Night entry. She calls out Tara.

Taeler Hendrix vs. Tara

Hendrix offers her hand for a shake but Tara slaps it away. The ladies grapple with Tara sending Taeler to the canvas. They meet again, this time with Tara going behind and slamming Hendrix to the mat. Tara gets her shoulders massaged by Godderz before re-entering the fray with strikes to Hendrix. Bodyslam. Tara goes back and shares a kiss with Jessie. Tara tosses Hendrix, by her hair, across the ring. Tara positions Hendrix in front of the camera and asks her to smile. Tara hangs Taeler by her hair across her back. The referee Taryn Terrell commands her to stop. Hendrix tries to fire back but Tara slams her down to the mat. Tara kicks Hendrix in the stomach and retreats to her boytoy Jessie. Hendrix catches Tara off guard with a dropkick and has a quick rollup for two.

Hip toss from Hendrix. Hendrix dodges two punches and delivers the protobomb. Headbutt from Hendrix. Multiple jabs meet Tara's face. Crossbody. Hendrix covers but only gets a two. Jessie screams at Hendrix, causing the distraction. Tara tries to attack but Hendrix dodgers. Big roundkick to the back of the head for a two count for Hendrix. Tara stuns Hendrix by slamming her face first into her knee. Huge slap from Tara. Hendrix is taken out with the Widow's Peak for the Tara victory.

Winner: Tara

During the Triple Threat Turkey Suit Match Tara enters the ring but ODB takes her out. Jessie chokes Eric Young with the rope as Robbie E rests in the corner. Tara and ODB roll over the official and out of the ring. Eric Young takes Jessie out of the ring but he's caught by Robbie T. Robbie E tries an attack but EY gets out of the way and the Robbies collide. Jessie goes for his stunner but Eric Young counters into a rollup for the win. Winner: Eric Young. Jessie reluctantly takes the Turkey Suit as Tara re-assures him of his hotness. He puts the suit.

Tara and Jessie are out for Godderz's match. Taz and Tenay let us know the number one contender for Tara's title will be determined tonight in a battle royal. ODB and EY, still the Knockouts Tag Team Champions make their way to the ring.

Jessie versus Eric Young

The bell is rung and EY grapples with the ref. He's attacked from behind by Jessie. Body slam is followed up by a pin that gets a two count. Godderz elbows the chest of Young. He goes back to the maneuver. Jessie stomps the head. EY is up but whipped into a powerslam. Jessie admires his body for a bit before a legdrop. Two count.

More elbows from Godderz. He chokes EY with the ropes until the ref breaks it up. Young is punched into the corner. Godderz knocks him down and returns to using the ropes. Nice dropkick from Jessie to EY. He kisses Tara and returns to the match. He lands multiple blows into the face and whips Young into the apron. Young gets back into the ring but he's caught by an abdominal stretch. Godderz elbows Young in the ribcage until Young gets out with a hiptoss. Godderz lands a punch but EY no-sells. Another punch and another no-sell. Young takes his pants off and blocks a Godderz punch. Another block as the fans chant USA. Young lands a flying forearm and gets the fans into his offense. Tara distracts Young but she's taken out by an ODB spear. Godderz misses a clothesline and runs into an EY powerslam. Young is distracted by the ladies and sent into the rail by Jessie. Tara sends EY back in and he lands a modified stunner for the three count.

Winner: Jessie

Later on, Jessie and Tara are on the lookout for Brooke Hogan. They enter the room and we see Brooke and Bully Ray hanging out on a couch. Ray abruptly leaves as Tara screams at Brooke for the battle royal. Brooke says Tara should knock next time before she enters. Tara says Brooke should lock the door next time.
[ Photo Session #46 ] [ Photo Session #47 ] [ Photo Session #48 ] [ Photo Session #49 ]
Added some new photos of Lisa Marie doing some shoots for TNA. We got a set of her in some sexy Black Lingerie, a Title shoot set, a set of her in a sexy black outfit, and one photo from her Christmas shoot this year. Hopefully more from the Christmas shoot will be released soon! Click on the links above to check out each set. Enjoy!
[ View Photos of the Wildest Divas Matches of All Time Here ]
It takes a special type of woman to be a WWE Diva. Beauty, poise and the ability to stand back up after getting hit in the head with an ironing board are just a few of the qualities a lady must possess if she wants to hang with the predatory cats in the Divas locker room.
But WWE's Divas don't always get the credit they deserve for the toughness and tenacity they bring to the ring night in and night out. WWE Classics is all about equal opportunity, so we put together this collection of seven reckless, dangerous and destructive brawls that will leave you looking at the Divas in a whole new light.
Trish Stratus vs. Victoria in a Hardcore Match: Survivor Series (Nov. 17, 2002)
Trish Stratus wasn't handed anything. When the former fitness model arrived in WWE as a valet for the team of Test & Albert in 2000, she was looked at as a bit of eye candy. But by the time the Toronto native retired from WWE in 2006, she'd become a record seven-time Women's Champion and, arguably, the most popular female competitor in WWE history.
How'd it happen? Tenacity, mostly. Stratus was never afraid of a challenge, which she proved at Survivor Series 2002 when she defended her Women's Title against the dangerous Victoria in a Hardcore Match. Any WWE fan who dismissed Trish as little more than a bikini model was in for a shock as the Diva fought back against every trash can lid, kendo stick and baking sheet thrown her way.
Stratus ultimately lost that night, but she left with the WWE Universe's respect. It wasn't earned — it was taken.
Victoria vs. Molly Holly in a Hair vs. Title Match: WrestleMania XX (March 14, 2004)
There wasn't supposed to be a Divas match at WrestleMania XX. In the weeks leading up to The Show of Shows in 2004, the Women's Title became an afterthought as epic battles pitting Goldberg against Brock Lesnar and Eddie Guerrero versus Kurt Angle began to take shape. But Molly Holly refused to be ignored. Realizing she'd have to do something special if she wanted to be featured on the biggest event of the year, the talented competitor came up with a proposition — if Victoria put her Women's Title on the line, Molly would do the same with her hair.
The pitch worked and Molly went to the ring in New York City's Madison Square Garden with much more than just a title opportunity at stake. The tenacious grappler fought hard against her more powerful opponent, but she ultimately fell to an unexpected backslide. With that, Molly was strapped into a barber's chair and shaved bald in front of more than 20,000 fans.
Source:
// WWE.com

New TNA Knockouts Champion, Tara and her Hollywood boyfriend Jessie Godderz are in the back taking a photoshoot which shows Jessie military-pressing Tara for the shoot. Tara says Vanessa and Kobe are getting back together but they're still the hottest couple on the planet. They share a kiss. Up after the commercial break, ODB versus Tara.

After the commercial, Tara and Jessie Godderz appear on the ramp as Christy Hemme lets us know this match won't be for any titles. Taz tries to make Godderz out to be this big deal. ODB's music plays but she doesn't show up. She's backstage arguing on the phone with Eric Young. She runs to the ring, phone in one hand, flask in the other and Taz wonders where EY is.

Tara vs. ODB

Tara makes out with Godderz but ODB strikes her from behind. ODB takes Tara down with a shoulderblock. She puts her wedding ring in a pocket. ODB lifts Tara and takes her out with a powerslam. ODB returns to her phone. She tells Eric Young to stay on. ODB smothers Jessie's face in her chest and goes back to her phone. Taz drops some random Big Brother knowledge. Tara takes ODB down and slams her face into the mat screaming "that's my man." Tara grabs ODB by her hair and stretches her on her back. She follows that up with a kick to the back. ODB elbows out of Tara's grasp but Tara slams her across the ring. Tara pounds ODB in the back and twists her head.

ODB elbows out but Tara strikes her. Tara once again grabs ODB's hair and pulls it. ODB is sent to the mat and Tara goes back to Jessie. They make out while ODB grabs her flask. ODB takes a drink and nails Tara in the back. ODB picks Tara up, spits in Jessie's face and nails Tara with the TKO for the win.

Winner: ODB

Tessmacher approves of the results of the match from the ramp. Tenay lets us know Tessmacher and Tara will fight for the Knockouts title next week.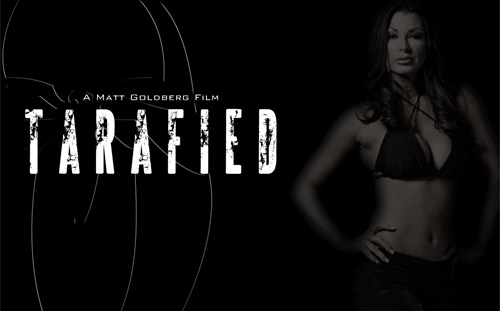 As revealed in a new Chicago Tribune article featuring Lisa Marie, she is taking part in a new documentary called "Tarafied" which is filmed by director Matt Goldberg. This film will be documenting what it's like to be a female in a mostly male industry. Matt had the following to say on his MBG Films Facebook page about the project in mid September:
Production for my new documentary, Tarafied, is coming along nicely! So far the interviews consist of Lisa Marie Varon, Brooke Tessmacher, Taryn Terrell, and Eric Bischoff. A few more interviews are scheduled for this week. Also made a trailer for it last night! Can't wait to share more with you guys as production continues. Keep an eye out for more news soon! Thanks!
Hopefully we will have more updates on this project soon!
Useful Links:
// MBG Films on YouTube
// MBG Films on Facebook
Pro wrestler opening pizza restaurant in Lincoln Park
Luis Gomez, About Last Night
9:34 am, October 18, 2012
Lisa Maria Varon — known as Tara in TNA Wrestling and Victoria during her WWE days — is getting back into the pizza business.
The 41-year-old professional wrestler previously owned a pizza restaurant in Kentucky in 2007 before selling it and now has plans to open another in the Lincoln Park neighborhood in January or February. The restaurant will be located at 2418 N. Ashland, which was previously Leon's Ribs.
"We're sticking with what we know, with where we've previously had success," Varon told me by email Wednesday. "We're focusing on artisanal brick oven pizza. Everything (will be) made on premise: the dough, a fifth generation sauce, fresh local ingredients. And then house blend burgers: hormone and antibiotic free beef, ground in house."
Varon won the TNA Women's Knockouts Championship Sunday at TNA's biggest pay per view of the year, Bound For Glory, and is scheduled to appear on MTV's "Made" this week. She also said she is the subject of a documentary currently being filmed by director Matt Goldberg. But even with her busy schedule, she insists you will be able to find her at her restaurant every week once it opens.
"This is not a pet project for me," Varon said. "This is my job. I will continue to travel a couple days a week for wrestling, but I will be in the restaurant several days a week."
And how much longer does the five-time TNA Knockouts Champion expect to wrestle?
"I get the 'how much longer' question in every interview nowadays," Varon said. "I get it. I'm 41 in an industry where girls breaking in are half my age. My perspective is, I feel great, I think I look great, I put on outstanding matches for the fans, I bring out the best in my opponents, and most importantly, I am having a blast."

Coach Lisa Marie Varon (AKA Total Nonstop Action Wrestling's "Tara") trains one aspiring wrestler on a BRAND NEW episode of MTV's MADE airing November 10th.

With no career path in sight, DeAnna Washington is just another 20-something still living at home with Mom and Dad. Now DeAnna wants to find some independence and settle on a profession that she will truly enjoy. With a love for fitness and performing, DeAnna wants to make her childhood dream come true by being MADE into a Pro Wrestler.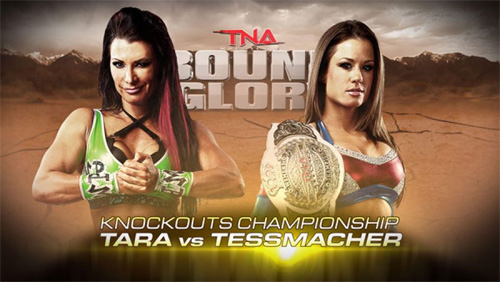 JB interviews Brooke Hogan. She predicts Tara vs. Miss Tessmacher will be really awesome. Tara walks up and wants to make sure her green room is right because her Hollywood boyfriend is here to celebrate with her. Tara calls her the worse boss ever and walks off.

TNA Knockouts Title Match: Tara vs. Miss Tessmacher

We go to the ring and out comes the challenger Tara. The TNA Knockouts Champion Miss Tessmacher is out next.

They start the match with an intense staredown. Taryn Terrell is the referee. Tessmacher shoves Tara and here we go. Tessmacher with an early pin attempt. Tessmacher drops Tara and pops her rear above her. More offense from Tessmacher as Tara goes to the floor to regroup. Tara turns it around and kicks Tessmacher out to the floor. They go at it at ringside now. Tara brings it back in the ring and keeps control. Tara chokes Tessmacher and throws her into the corner for shoulder thrusts now. Tessmacher counters with a roll up but Tara takes her back to the mat and mounts her. Tara rubs her face into the mat and pulls her hair now. 2 count for Tara.4

Tessmacher fights back and nails a DDT. Tara comes back and slams her face in the mat again. Tessmacher turns it around in her favor this time and slams Tara's face. More offense from the champ. She goes up top and hits a head scissors on Tara. Tara blocks a move and takes Tessmacher to the top. Tessmacher shoves her to the mat. Tara comes back and hits Widow's Peak for the win and the title.

Winner and New TNA Knockouts Champion: Tara

After the match, Tara takes the mic and says she has been so inspired lately. Tara says she didn't do this for the fans, she did it for her sweet, sexy, handsome and perfect Hollywood boyfriend, she says. She says we may have seen him on TMZ because he's kind of a big deal. She introduces her boo… Jessie Godderz from Big Brother. Out comes Mr. Pec-tacular and they make out in the ring. The fans chant "who are you?" Godderz puts the belt around Tara's waist before kissing some more.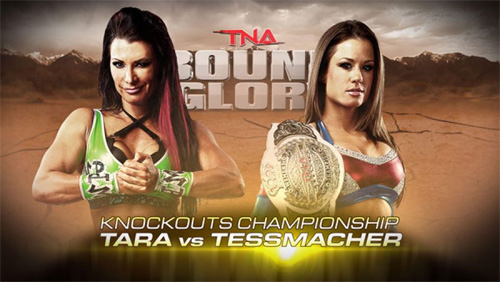 An entire year of dedication, pain, and perseverance will culminate on Sunday at "Bound for Glory." But our biggest event of the year transcends the hype and means more than just a night of competition. "Bound for Glory" represents legacies formed and memories made; and it is about friendships weathering the storm of adversity. More so than ever before, this year's card highlights the lasting value of friendship, but also recognizes just how fragile they can be. In one match, six men will enter the ring as tag teams rooted in the trust that friendship brings, while in another match, former friends and tag team partners will face off with such visceral animosity that a special enforcer needs to be present to intervene.

Another championship match pits former friends against each other, too. TNA Knockout Champion Miss Tessmacher will face her mentor Tara in a career-defining bout. Miss Tessmacher rose through the TNA ranks quickly from personal assistant to Eric Bischoff to Tara's tag team partner. The superstars known as TnT collected championships seemingly without difficulty, all the while humbly praising the efforts of the other tag team member. The veteran Tara continued to teach her new protégé how to compete on the biggest stage, resulting in a TNA Knockout Championship win for Miss Tessmacher just a few short years into her career. Still friends despite Tessmacher's sudden rise, TnT faced each other as opponents for the first time in September at "No Surrender" with mutual respect resonating throughout the match. But the feeling wouldn't last much longer.

As quickly as Miss Tessmacher's rise to prominence came, so, too, went her friendship with Tara. Both women look to the future, but the scars of TnT remain. Tessmacher (@BrookeTess) even told her #TESSFLOCKERS on twitter that she "had bad dreams about a wicked witch all night" and called Tara (@TARALiSAMARiE) a "psycho" last week. What will happen when these two competitors face off on TNA's biggest stage with all of the glory on the line? Watch us make history this Sunday, live from Phoenix, as Knockout Champion Miss Tessmacher takes on her former mentor, partner, and friend Tara, only at "Bound for Glory!"

Brooke Hogan and Taryn talk in the back about keeping things fair as Tara approaches and Brooke tells Taryn to give them a minute. Tara hands Brooke a list that her Hollywood boyfriend gave her to implement upon her title win this Sunday. She needs an A-list quality greenroom with Kisses. Brooke tears the list up and tells Tara to go earn it. Tara storms off and tells Brooke Kim and Khloe were so right about her.

Later in the show, Gail Kim was defeated by Brooke Tessmacher. Tara immediately runs-in after the match and attacks Tessmacher. Tessmacher counters out of the Widow's Peak and hits a faceplant on Tara as Taryn raises Tessmacher's arm in victory.
PWTorch Livecast – Wade Keller interviews TNA KO Tara
Fri, October 5, 2012
By PWTorch Staff
TNA Knockout Tara says she feels flattered that TNA selected her for the Knockouts Title match on TNA's biggest PPV of the year, Bound for Glory, next Sunday, but she also feels deserving of the slot.
"Everybody of course wants to be on the biggest show of the year," Tara said exclusively on the October 5 PWTorch Livecast with PWTorch editor Wade Keller. "It's really hard being competitive in this business. It's flattering, but I feel like it's well-deserved. Ya know, 13 years, I feel like I paid my dues."
In the same breath, Tara also advertised surprises on the PPV. "You're going to see a lot of good stuff from Miss Tessmacher. She's been working in the ring a lot, I hear," Tara said. "And, I'm excited – there's a lot of surprises there. I can't tell too much, but I'm really excited to be a part of it. Don't get me wrong, I like to be on every PPV, but this one (is special)."
Tara would likely not be in the same title match position if she were still with WWE. She said on the Livecast that WWE established a ceiling for her career, which prompted her to part ways with WWE in 2009. Tara eventually joined TNA, where she says she has not experienced the same restrictions.
"I'm never going to talk bad about them (WWE), (but) I wish I was told that I was used to train the new girls. I would have been okay with that," Tara said. "I blatantly asked, 'Do you ever see the championship belt in my future?' They said, 'No.' I was like, 'Really. If I'm that awesome out there, why isn't the title belt in my future?'
"I just think I reached the peak of where I was going to go there. Don't get me wrong, I am appreciative of what I did there, but it was time to close the book and move on. I really thought I was retired from wrestling. I really did." Tara then recalled TNA calling her after her 90-day no-compete clause expired and working out a favorable travel schedule to join TNA.
Tara also provided background on why she briefly parted ways with TNA in 2010 and 2011. Tara said she operates on a year-to-year contract so that she can determine how her body is holding up before deciding to re-up, but it led to contract issues in the TNA office.
"I signed for a year and they wanted to a three-year (contract), but I said, 'I just do year-to-year. I have to listen to my body, and I don't want to be locked into anything,'" Tara said. "Then, my contract expired (in 2010) and it was just negotiations. It was not that I wanted to leave, but it was the paperwork. I don't like that part of the business at all. Then, the next year (2011), it expired again and we had to go through it again."
Tara then updated her current status: "I just recently signed another year, so I'm pretty happy. I hope everyone knows the passion – I love what I do. I hope people see that love."
The interview concludes with Tara discussing the shift in tone for females on TNA's roster, notably the Knockouts being treated with more respect by TNA Creative as wrestlers "who can go in the ring" and perform at a high-level.
Tara's full 17-minute interview with PWTorch editor Wade Keller can be heard on Friday's PWTorch Livecast available at this link – HERE – or on iTunes or on the free PWTorch Livecast App available in your phone provider's App/Mobile store .

Backstage: Tara was on the phone with her Hollywood boyfriend. She talked about Stacy (Keibler) and George (Clooney) reportedly breaking up, then Gail Kim walked in and told Tara to get ready for their tag match. Tara mocked Gail's "cable star" husband, to which Gail replied that if Tara wins the Knockouts Title, she better watch her back. Gail stomped off, then Tara wondered what Torrie (Wilson) and A-Rod are up to.

KO champion MISS TESSMACHER & KO tag champion ODB vs. TARA & GAIL KIM — Taryn Terrell referee

Christy Hemme was standing by to introduce the second match of the show back from break. Out first was the heel duo of Tara and Gail Kim, leading to a video replay of Tara turning on Tessmacher three weeks ago. The face duo of Tessmacher and ODB was out next, leading to the opening bell. ODB got some early offense before Tara cut her off. Tara wanted a standing moonsault, but ODB blocked to bring in Tessmacher. Tessmacher couldn't put Tara away, though, as the action broke down. Tara then finished off Tessmacher for a clean pin. Afterward, Tara sold extreme confidence.

WINNERS: Tara & Gail Kim

Backstage: Brooke Hogan walked up to Tara, who told Brooke that she's late. Brooke was set to give Tara her consequences, but Tara had to take a call from her boyfriend in Hollywood. She referred to Stacy Keibler and George Clooney, then hung up. Brooke told Tara she has to earn a future Knockouts Title shot, then Tara got back on the phone to tell her boyfriend that Brooke is annoying. Brooke took the phone and told Tara's boyfriend that Tara has to wrestle next. Brooke walked off with the phone, prompting Tara to complain that she waited in line for that phone.

Christy Hemme was standing by to announce a #1 contender match to the Knockouts Title. Out first was a frustrated Tara having to go through the contendership process. Tara exchanged words with KO referee Taryn Terrell, then ODB came out with Eric Young to face Tara.

Tara vs. ODB

ODB drags Tara into the ring. The two ladies trade punches until Tara gets tossed across the ring by her hair. ODB repeats the move but Tara rolls out of the ring. ODB gives chase back into the ring. Shoulder block from ODB to Tara. Tara delivers multiple shoulder shots in the corner until Taryn Terrell breaks them up. Eric Young is on the apron asking for a tag. ODB with a splash to Tara as Eric Young leaves the apron. Bronco Buster from ODB. Eric Young rolls into another corner and asks for a Bronco Buster of his own but Terrell doesn't let it happen.

ODB connects with a baseball slide. She spanks Tara and follows that up by slamming Tara's face into the apron. ODB rolls Tara back inside and Tara asks for mercy. ODB tries to attack but Terrell holds her off. ODB with a short-arm clothesline. More clotheslines. ODB kicks Tara. Fallaway slam. ODB kicks Tara out of the ring and Terrell asks for space. Tara is holding her knee in pain and tries to use Eric Young to get up. ODB breaks that up and Eric Young says his pants are still on. Tara rolls back in and removes her knee brace. Taz asks if Tara can continue with her knee issues. Terrell and ODB check on Tara where Tara catches ODB with a sneak rollup for the win. She had her foot on the ropes too.

Winner: Tara

– Terrell assists Tara up the ramp but Tara looks in the ring with a smile. She mouths to the camera, "I did it for you, baby."

Tara's music played to bring out a heel Tara after she turned on Knockouts champion Miss Tessmacher last week. After a replay of Tara turning on Tessmacher last week, Tara took the mic in the ring and said the people disgust her for even asking about her actions. She said everyone uses her, including a guy with a sign. Tara said her new boyfriend, who lives in Hollywood, California, opened her eyes to remind her that she is the best female wrestler there is. "Boring!" chant. Tara called out Brooke Hogan, saying she used her, too.

Tara then called out her victim for tonight, Christy Hemme. Off-stage, Hemme wondered what's going on here. Tara told Hemme to get in the ring now. Tara mockingly told "saddle bags" not to let her fans down. Hemme entered the ring and told Tara she's an announcer, which Tara shot down. She told Hemme to show her some respect. Asked who her favorite Knockout is right now, Hemme replied it's Tessmacher. Tara slapped Hemme, so Tessmacher hit the ring to make the save.

Late in the show, backstage: Brooke Hogan, called out Tara in the hallway. Brooke asked Tara what she was thinking calling out Christy Hemme, who isn't even a wrestler. Brooke said she respects Tara, but she doesn't like her right now. Brooke said there will be consequences next week.