Vintage Vixen: 3 Years Ago Today – Impact May 19, 2011


Tara, Ms. Tessmacher & Mickie James vs Sarita, Rosita, & Madison Rayne. Sarita and Rosita are already in the ring as the show comes back. Madison Rayne's entrance is shown as she comes to the ring with a huge crown on her head. As she comes to the ring, it shows her match with Mickie this past Sunday. Mickie, Tessmacher and Tara come out as the same time. Before the match, Mexican America come out, Hernandez and Anarki and go to the announcer's table. The bell rings and Rayne started but tagged in Rosita. Mickie starts for her team. Rosita takes off her earings and then gets ready for battle. Mickie just pushes Rosita to the mat. She gets up, but Mickie puts an armbar and then a headlock. Rosita pushes Mickie to her corner and Rayne tags in. Rayne gets in and chokes Mickie with her foot. She then talks trash to Tara. Mickie comes up and goes after Madison with an armlock. She tags in Tara while it's still locked, but Madison gets out of it and tags Sarita in as she runs out of the ring. Sarita comes in and Tara her battle it out. Tara hits a closeline and then stomps on Sarita. She gets her up by the hair and then tags in Tessmacher. She comes in and does an elbow drop, a cover, but only gets a two. Both get up and Tessmacher does an armbar takedown. She gets distracted by her opponent's corner, which gives Sarita time to get up and go after her. She tags in Madison and she goes to Tessmacher. Tessmacher tags in Tara, but Madison tags in Rosita and slides out of the ring again. Tara gets Rosita and hits a spinning powerslam. She does a cover, but it's broken up. Sarita comes in but she gets thrown out of the ring. Madison comes in and goes behind Tara, but Tara turns around. Madison backs off and throws Rosita to Tara. Tara slams her and picks up the win. Winners: Mickie James, Tara, and Ms. Tessmacher. After the match, Madison is up on the ramp and yells, "What are you going to do, Tara?"

Check out the May 19, 2011 Impact Screen Captures
Vintage Vixen: 4 Years Ago Today – Impact February 18, 2010


Tara vs Daffney in a Non-Title Match. Tara and Daffney lockup and the referee separates them as they brawl into the ropes. Daffney goes for a clothesline but Tara ducks and then hits a big right hand followed by a series of rights and then a front kick. Tara grabs Daffney and hits the Spider's Web for a nearfall. Tara puts Daffney in a wristlock but Daffney hits a Knee Strike to the gut followed by a forearm. Daffney then lights up Tara's chest with a chop and follows it up with an attempt at an Irish Whip, but Tara reverses it and then goes for a clothesline. Daffney ducks but eats a backdrop from Tara. Tara charges at Daffney in the corner but Daffney levels her with a big spinning heel kick! Daffney grabs Tara and slams her to the mat by her hair and then hits a Snapmare using Tara's hair to throw her down. Daffney hits the Hair Snapmare two more times and then kicks Tara in the face. Daffney puts the boots to Tara and kicks her out of the ring. Daffney grabs Tara and slams her into the guardrail. Daffney goes for a right hand but Tara blocks it and hits one of her own followed by a chop. Daffney reaches under the ring and grabs a tool box and blasts Tara with it which leads to a DQ and Tara is declared the winner of the match. After the match Daffney hits Tara with the tool box again and then talks trash to her as she drags Tara and slams her into the guardrail. Daffney screams at the referee and then throws her near the announce booth and slams the guardrail on her! Daffney grabs a chair and slams it into the guardrail that is laying over Tara repeatedly! Stevie Richards runs out and takes the chair from Daffney and then drags her to the back. Referees and officials come out to check on Tara.

Check out the February 18, 2010 Impact Screen Captures



Check out the February 18, 2010 Impact Show Digitals
Vintage Vixen: 2 Years Ago Today – Impact February 16, 2012


Battle Royal for the #1 Contender Spot for the Knockout Title. ODB eliminated Winter and Brooke Tessmacher. ODB eliminated Rosita and threw her on top of Winter/Tessmacher. ODB eliminated Mickie James. Sarita, Velvet, Angelina Love and Tara eliminated ODB. Angelina Love eliminated Tara. Sarita eliminated Angelina Love. Velvet Sky eliminated Sarita then Madison Rayne dumped Velvet Sky. Gail Kim was at ringside to watch the match.


Check out the February 16, 2012 Impact Screen Captures

Vintage Vixen: 10 Years Ago Today – RAW February 16, 2004


Divas Tag Team Match. Victoria (with Stevie Richards) & Trish Stratus vs Jazz & Molly Holly. Victoria gets the win by pinning Molly Holly. After the match, Test runs down to the ring and attacks Stevie Richards, Victoria, and Trish until Christian comes to make the save.


Check out the February 16, 2004 RAW Screen Captures

Vintage Vixen: 11 Years Ago Today – Heat February 16, 2003


Victoria (w/ Steven Richards) vs. Jacqueline. Jacqueline takes control early with a spinning heel kick early on. Powerslam by Victoria for a two count. Springboard Slingshot by Jackie, tried a second time but reversed into a back body drop by Victoria. Jacqueline up to the top rope, with a high cross body onto Victoria and Richards on the outside. Steven enters the ring and Jacqueline takes him down. Victoria hits the Widow's Peak for the win.


Check out the February 16, 2003 Sunday Night Heat Screen Captures
This is what TNA had posted on ImpactWrestling.com today in regards to Tara's release.
IMPACT Wrestling has released Tara. We thank Tara for all her contributions and wish her the best of success in the future.
In case anyone is wondering about the future for this site, I have no intention of closing. So stick around!

Celebrate the Fourth of July and and Independence Day with a special TNA Knockouts photo shoot video – featuring the lovely ladies of TNA Wrestling

Tara and Jessie come out on the stage and make their way to the ring. Their love relationship continues. Gail Kim's music plays and she meets up with them in the ring. ODB is in the ring refereeing this match. Mickie James' music plays and she gets in the ring and taunts from the corner. Velvet Sky comes out with the Knockout Title over her shoulder. She gets right in the ring.

Tara and Gail Kim vs. Mickie James and Velvet Sky

Mickie and Gail start the match. Gail was talking to Tara, but Mickie turns her around and starts punching her in the face. She whips her in the ropes and continues the attack. Gail is able to whip Mickie in the ropes. As Mickie bounces off, Jessie trips her. Gail goes right after Mickie. She tags Tara. She enters and they both lift Mickie up and drop her back first on the mat. Tara then pounds Mickie's face into the mat. She gets her up and has her upside down in the corner. Tara runs and does a baseball slide into Mickie's face. She then does a little kiss session with Jessie. Gail tags in and she goes after Mickie. She continues with punches and elbows to the face. Mickie is in the corner and Gail does a splash. Gail turns around and it gives Mickie time to fight back. She punches Gail and then does a big kick to knock Gail down. Both crawl to their corner. Both tag their partners. Sky goes right after Tara. She hits her with clotheslines and then a mid-section kick and a kick to the face. She bounces off the ropes and knocks Tara right down. She covers but Tara kicks out. Gail enters. Sky attacks her and then tosses her right into Jessie as he was on the apron. Tara gets up and is worried about Jessie. She turns around and Sky kicks her in the gut and does the In Yo Face! She pins and wins.
Winners: Velvet Sky and Mickie James

Gail gets in the ring and starts yelling at Tara. Tara gets up and is too banged up to even know what is going on. She goes to walk away, but Gail grabs the arm of Tara, pulls her forward and does a huge clothesline. She drags her to the corner and does the figure four to the steel post. ODB comes to the aid and Gail breaks it.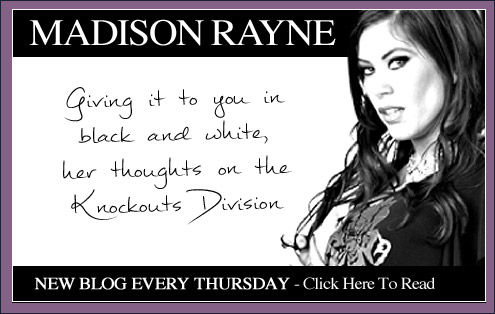 ImpactWrestling.com posted Madison Rayne's new Knockout Blog in which Madison has the following to say about Tara and the other Knockouts.
So I bet you think this blog is going to be about me being pregnant, sitting at home happily waiting for the arrival of my little angel with the love of my life and "baby daddy", well, while all of this is true and you will get baby updates from your resident Knockout Queen Bee… you are soooo WRONG!!!

I am shocked at what has been happening in the Knockout's locker room and on Impact Wrestling while I have been at home, … and I have a thing or two to say about it!

First of all, while all the Knockouts are happily going about their business and moving on without me, ahem Gail Kim, they are seriously forgetting that I know things. I know things they would NEVER want anyone to know. Walls are thin, people talk and I have friends on the inside that no one knows about. So "girls" might want to think about what comes out of their mouths and who they are buddying up with, ahem, Gail Kim… BFF.

Secondly on that note, Tara, please don't forget that I personally handed you your job back in this company (you're welcome, by the way!) So taking my best friend is probably the stupidest thing you could do to someone like me when the dirt I have on you would RUIN you. And ps, your gear is on the fashion "don't" list. The '80's called, and they want their g-string booty shorts back! Ugh!

Thirdly, Christy Hemme, I understand you put this photo shoot together with all of the girls. Not surprising since you're sooo over the top with your "super snuggly, happy, all the girls should be besties and have sleepovers" crap, however, you're missing the most important and gorgeous Knockout to ever set foot into the division, me! And while the "sweet spring" photos are really sexy and all, this is wrestling! I really don't think wearing tiny bikinis screams "Knockouts Division" (even though I could rock a bikini better than half those girls, baby bump and all! Have you SEEN my bikini competition pictures?!)

This blog is a "friendly" warning. A warning to the entire Knockout locker room, that I am ready to spill every dirty, hidden, behind the scenes secret on all of you and position myself for the comeback of a life time… Madison Rayne will NEVER be forgotten!

But until then, I will continue to gather and release information on a weekly basis. I will also be an official correspondent for Impact Wrestling, tweeting as the show happens. So follow me at @MRayneTNA . I would love to hear your perspective, tweet with you and include you in my blog as well,… I will be your voice, tell me what you think!
PS. for all of you who have been continuing to reach out and show your support for the Queen Bee via Twitter and fan mail, thank you. I'm doing absolutley wonderful! More than halfway to mommyhood and I couldn't be more excited! We've got a Knockout in the making coming this fall and she's already got a mean dropkick working! Lucky me!!! :)
Gail Kim and Tara (w/Jessie) defeated Velvet Sky and Taryn Terrell with Joey Ryan as special referee. Ryan had several sleazy moments gawking at the girls. Gail flirted with Joey and he fast counted a rollup on Taryn to give the heel team the win. After the match, Velvet distracted Joey and Taryn delivered a low blow.

Taryn Terrell pops out of the women's locker room to tell the Mystery Cameraman that she's excited to be making her debut as a Knockout. She knows what she's going to wear, and she also has a good idea who she's going to call out.

We look back at last week when Brooke Hogan fired Taryn Terrell as a referee before rehiring her as a Knockout, and then Terrell comes out to the ring to tell us how excited she is to have her first official night as a Knockout. Brooke said she can get physical with whoever she wants, and since it's Open Fight Night, there's a girl who has ridiculed her, physically assaulted her, and cost her her job as a referee. No secret here, she's calling out Gail Kim. Gail comes out looking as if she's not taking this too seriously, takes a microphone from the back of So Cal Val's head, and tells Terrell that she's making a rookie mistake by calling out the greatest female wrestler who ever lived. She doesn't think Terrell wants to embarrass herself like that on national television, but she's not the only one Terrell has rubbed the wrong way. There's someone else who wanted to call Terrell night, someone who happens to be a former Knockouts Champion, and she asks Tara to come down to the ring. Gail suckerpunches Terrell during Tara's entrance, and the two of them lay a beating on Terrell until Velvet Sky's music hits and she runs out with her Bruiser Brody boots on to make the save. Tara and Gail backpedal and yell angrily at Velvet and Terrell on their way out.

Velvet and Taryn Terrell are backstage and talking about what just happened out in the ring, but Terrell sees Gail and Tara walking by and attacks them, tossing them a beating until Velvet drags her off. Taz asks if she's got anger problems or something.
TNA filmed a match for Xplosion during yesterday's One Night Only taping. An air-date has yet to be determined.
– Miss Tessmacher defeated Tara.
The following contains spoilers for the upcoming Knockouts Pay Per View, Knockouts Knockdown. The pay per view is apparently being shown sometime in May.
– Tara w/Jessie Godderz defeated Mia Yim via Widow's Peak.
– Battle Royal. Rules were wrestlers entered every two minutes. Over the rope eliminations but the final two face off in a match. Gail Kim won the match to become the "Queen of the Knockouts."
Entrants
1) Hannah Blossom
2) Gail Kim
3) Lei'd Tapa
4) Tara
5) Mickie James
6) Brooke Tessmacher
7) Jackie Moore
8) ODB
9) Velvet Sky
Eliminations
1) Hannah Blossom
2) Lei'd Tapa
3) Jackie
4) ODB
5) Velvet
6) Tessmacher
7) Tara
When it came down to Gail and Mickie, Gail faked an injury and rolled up Mickie for the win. Winner, Gail Kim. Madison Rayne then came out to the ring with a crown and put it on Gail's head. Gail forced Madison to leave the ring and posed for the crowd. Norah's interviewed her after the match.

We look back at this past Sunday when Taryn Terrell "accidentally" cost Gail Kim the Knockouts Title match by attacking her, then we get comments from Gail Kim from earlier tonight. Her heart goes out to Brooke Hogan, but she made the right decision by putting Taryn Terrell on probation and tells Terrell she better not ever put her hands on her again.

Knockouts Champion Velvet Sky & Mickie James vs Tara & Gail Kim

Gail and Velvet start us off and trade takedowns, Velvet snaps Gail to the mat by the hair and nearly drags her over to Tara by accident before realizing her error and dragging her completely back across the ring to Mickie. Micie comes in and goes to town on Gail with punches and kicks, hits an enzigiuri, and covers for 2 as we go to commercial.

We're back as a very patriotically-attired Tara is working Mickie over and tying her up in the ropes with a tarantula. Tara stops to argue with Taryn Terrell while Gail dishes out punishment on the DL, then Tara covers for 2. Gail and Tara hit a double slingshot suplex on Mickie and Gail covers for 2. Gail gets in Terrell's face again, but wastes too much time on that side work and takes a flying headscissors from Mickie. Gail and Mickie wipe each other out with a double clothesline and make simultaneous tags, then Velvet starts running Tara over with clotheslines before jabbing a boot at Gail on the floor. Gail breaks a cover at 2, then goes back to arguing with Terrell and dares Terrell to hit her. Terrell doesn't, so Gail piefaces her and shoves her down to the mat. Terrell really should disqualify her for that, but instead she opts to slap her, stunning her long enough for Mickie to hit a flying crotch off the top rope. Tara swoops in and hits Mickie with the Widow's Peak, but Velvet comes in and hits In Your Face for the win.

Winners: Velvet Sky & Mickie James

Gail Kim was shown joining Tenay and Keneley at the broadcast position. Tenay noted that Gail gets to face the Sky-Tara winner for the KO Title at Lockdown.

Knockouts champion VELVET SKY vs. TARA (w/Jessie) — Knockouts Title match — winner defends against Gail Kim at Lockdown — Taryn Terrell referee

Tara, along with Jessie, was introduced first before TNA replayed events from last week when Gail pinned Tara during the four-way elimination match for the KO Title. But, Gail was unable to pin Velvet Sky, who captured the KO Title in the four-way. Velvet Sky was introduced to the ring as Gail had to watch Velvet Sky win the title last week. Gail noted she's sick of KO referee Taryn, claiming biased officiating. Once the bell sounded, Tara angrily attacked Velvet Sky to take the early advantage. Early in the match, Taryn became involved when Jessie tried to get involved, as usual. Chaos ensued, then Tara turned around and took Sky's finisher for the pin and the win.

WINNER: Velvet Sky

Jessie is backstage giving Tara a pep talk as she prepares to defend the Knockouts Title…NEXT!

Knockouts Title Match: Tara vs Velvet Sky vs Brooke Tessmacher vs Gail Kim

Brooke Hogan is at ringside to make sure nothing screwy happens.

Okay, we're back and it's elimination rules as Jessie is ejected from ringside. Tara hits an electric chair on Tessmacher as Brooke and Gail go at it, but Tara joins Gail in a 2-on-1 against Velvet. Tara hits a twisting side suplex on Velvet, but Gail breaks it up at 2 and she argues with Tara over who gets to beat Velvet. This progresses to a shoving match and then a slugfest that ends in Tara backdropping Gail into next week. Gail dodges a charge in the corner and gets yanked to the floor by Tessmacher, but Gail gets ahold of her and goes for an atomic crotch on the ringpost. Tessmacher kicks off the post and bulldogs Gail on the floor, then she joins Velvet in a double team on Tara. Tara gets knocked out to the apron and hangs Velvet up on the top rope, then rolls back in and drops Tessmacher's throat on the ropes as well. Tara goes for a moonsault on Tessmacher and connects, but she seems to hurt herself on the way down and Velvet hits her with In Your Face. Gail comes in and dumps Velvet to the floor and cradles Tara for 3.

Tara is eliminated.

So we're guaranteed a new champion tonight as Gail and Tessmacher battle on the top rope. Velvet comes over and grabs Gail in a powerbomb as Gail tries to suplex Tessmacher and it's the Tower of Doom! Velvet covers Gail for 2, then covers Tessmacher for 2. Tessmacher tries an O'Connor roll on Velvet, but Velvet reverses and catches a fall on Tessmacher.

Miss Tessmacher is eliminated.

Gail whips Velvet to the corner, but Velvet gets her feet up on a charge by Gail and comes out strong with a pair of clotheslines and a flying headscissors. Gail with a dropkick to Velvet and she tries a cradle while holding the ropes, but Taryn Terrell catches her and stops counting. Gail gets in Terrell's face, then goes back after Velvet with kicks to the ribs. Gail charges Gail in the corner, Velvet tries a Jack Brisco sunset flip, Gail holds the ropes, and Terrell kicks Gail off the ropes and flat on her ass. Velvet hits In Your Face on Gail, and we have a new Knockouts Champion!

Winner and NEW Knockouts Champion: Velvet Sky

Party Marty & The Blossom Twins vs. Gail Kim and Tara & Jessie

Jessie takes control of Marty early and gloats. Marty fights back and gets the crowd behind him. Marty charges but stops and slaps Jessie in the corner. Marty hits a springboard moonsault as we go to commercial.

We're back as Tara tags in. Marty tags one of the Blossom Twins. One of them is Hannah and one is Holly and nobody knows which is which. Gail Kim is in now and almost gets pinned by a Blossom. Gail is pinned again but Taryn the ref has to get Jessie off the apron. Tara kicks the Blossom Twin in the back from the apron and Gail takes over. Gail tags Tara who slams the Blossom by her hair. Gail and Tara take turns on the girl and Gail gets 2. The Blossom Twin continues to kick out. The crowd tries to get behind her as Tara scoop slams her. Tara goes for a standing moonsault but Blossom gets her knees up and tags her fresher Blossom sister. She takes it to Tara and Gail and the sisters hit tandem offense on Kim but she kicks out.

Marty hits a missile dropkick to Jessie and knocks him out of the ring. Marty launches himself through the ropes but overshoots it and crashes more into the rail than Jessie. Gail hits Eat DeFeet in the ring for the win.

Winners by pin: Gail Kim, Tara & Jessie

Gail cuts an in-ring promo and tells Tara she wants her title back. Gail tells Brooke to come out and give her the match. Brooke comes to the ramp to 'boos' from the crowd. Brooke says Gail has her match but Miss Tessmacher will also be in the match. Tessmacher comes to the ramp but Brooke is not done. Velvet Sky comes out in her classic look. Brooke says it is a 4-Way Elimination and Brooke will be ringside watching. She wishes them all luck.

Tara and Jessie Godderz come into Brooke's office to complain about the cold and the crappy accomodations, but Brooke freaks out on them for being petty and selfish. Tara doesn't want to wrestle Tessmacher, but Brooke says she's wrestling and Jessie is barred from ringside and can get her coffee instead.

Knockouts Champion Tara vs Brooke Tessmacher

Tara brutalizes Tessmacher right from the start, pounding on her with forearms and taking her down with a side headlock. Tessmacher sweeps the ankle and hits a dropkick, then wheelbarrows into a facebuster for 2. Tara is very distracted and out of her game without Jessie at ringside as Tessmacher stinkfaces her clear out to the entry ramp. Tessmacher goes after Tara and dumps her back into the ring, but Tara catches her up top and hits the Spiderweb for 2. Tara tosses Tessmacher across the ring by the hair and then puts her in a full nelson. Brooke tries to fight her way out, but Tara yanks her down by the hair and chokes her. Tara covers for 2 and then grinds her ass into Tessmacher's face, but Tessmacher reaches up and rolls Tara into a rollup for 2. Tara quickly nails Brooke and puts her in a chinlock. Brooke starts mounting a comeback against Tara, hitting a flying headscissors before climbing on her in the corner and grinding her crotch into Tara's face. Tara takes her out with a clothesline, but Tessmacher hits an atomic facebuster for the win.

Winner: Brooke Tessmacher

Velvet Sky is upset she isn't the Knockouts Champion and calls out the two people responsible for that, Jessie and Tara. The pair come out, assuming it's a handicap match when they finally arrive. Sky says she has a partner and introduces James Storm.

Velvet Sky and James Storm vs. Tara and Jessie

Jessie and Storm kick the match off. Godderz shoves Storm but Storm shoves him back. He lands multiple blows to Jessie's face and takes him out with a shoulder block. He hip tosses Jessie across the ring and whips him into the corner. Jessie tries to counter but Storm catches him and drops him on the top rope. Godderz is taken out by Storm but Tara distracts the Cowboy. This allows Jessie to attack from behind. Jessie corners Storm and attacks him with kicks. He goes for a cover, gets a one count.

Jessie works over Storm's elbow. Jessie snapmares Storm to the mat and connects with a legdrop. The cover gets two. He tries another cover, gets another two count. Jessie tries to send Storm over his head but the Cowboy escapes and lands closing time.

The women are tagged in and Velvet connects with multiple clotheslines. She spins Tara with a headscissors takedown and lands a russian legsweep for a two count. Tara knees Sky and sends her into Jessie. She rolls Tara up and gets a two count. Jessie tries to interfere in the match but Storm takes him out with Closing Time. Tara argues with Storm but Velvet Sky kicks her. Double underhook facebuster on Tara gets the victory.

Winners: Velvet Sky and James Storm
[ View 582 January 31, 2013 Screen Captures Here ]
[ View 1 January 31, 2013 Digital Here ]
Taped for January 31, 2013
– Velvet Sky calls out Tara and Jessie. James Storm comes down to make it a tag match. Storm gets a great reaction and it's a shame TNA can't get out of Orlando more with live crowds Like tonight. There is a pedigree by Sky for the win.
Taped for February 14, 2013
– Blossom Twins & Party Marty (Scurll) vs Gail Kim, Tara and Jessie. Match was way longer than it needed to be, with a mild response to the British Boot Camp trio at best. Gail Kim pinned one of the Blossoms seconds after Marty scarily overshot a dive to Jessie on the floor, getting nothing but the guard rail. Post match Gail talked down to Tara and set up a title match for impact next week… Out came Brooke who was booed, who arranged Gail vs. Tara vs. Tessmacher vs. Velvet Sky for the title instead. Marty got up after the Brooke promo and got a good reaction.
Taped for February 21, 2013
– Gail Kim vs. Tara vs. Tessmacher vs. Velvet Sky for the Knockouts title. Tara came out to Brooke's music in another in a list of production botches. Jessie was thrown out at the start of the match. This was announced on the prior show as an elimination match but there was a load of broken up pins in front of a dead crowd. Gail pinned Tara after Velvet hit her sit out pedigree so we'll get a new champion. It was an elimination so the match continued. Very little reaction – why break up pins if it's elimination rules?? Tessmacher eliminated after her attempt to roll up Velvet from another sit out pedigree failed, leaving us with Gail vs. Velvet – Velvet Sky wins the title with another sit out pedigree.

Backstage Tara was shown preparing for her Knockouts Title match before Jessie introduced a Velvet Sky action figure. Jessie said it's motivation to remind Tara that Velvet is nothing and they are TNA's power couple.

Knockouts Title Match: Tara vs Velvet Sky

Velvet is very aggressive at the start, going after Tara as the bell rings and going for several pinfall attempts. Velvet misses a shoulderblock, but follows up with several clotheslines and a Russian legsweep. Tara rolls out to the floor to catch a break, but Velvet grabs her by the hair and drags her back inside before taking Tara out with a basement dropkick to the chest and another kick that sends Tara to the floor. We're at commercial.

We're back, and Velvet is still on the offensive as she rams shoulderblocks into Tara's midsection in the corner. Velvet goes for a monkey flip, but Tara holds onto the corner ropes and Velvet crashes hard. Tara tries a cover for 2, then rams Velvet's face into the mat and follows up with a snap suplex for 2. Tara gets a rear chinlock, then picks Velvet up and tosses her across the ring by the hair. Tara goes up top, but takes too long and Velvet is able to get up and toss her off the corner. Now they're on their knees trading right hands, then they get up and Velvet connects with several clotheslines and a flying headscissors. Velvet with a rolling facebuster, but Jessie distracts the referee as Velvet tries a cover. Velvet goes after Jessie, Tara tries to backjump her, but Velvet moves and rolls her up for 2. Velvet tries a suplex, but Jessie trips Velvet from the floor and holds onto her ankle while Tara pins Velvet with her feet on the ropes.

Winner: Tara
[ View 7 January 24, 2013 Digitals Here ]

We go to the Impact Zone where Jessie is gorilla pressing Tara, leading us into…

Tara & Jessie Godderz vs Robbie T & Miss Tessmacher

Jessie tries to cheapshot T, but T no-sells Jessie's shots and just starts tossing him aruond like a ragdoll. Jessie tags out to Tara, and she slowly comes into the ring as Brooke comes in to take her out with a series of clotheslines and a charging forearm. Brooke mounts Tara in the corner and humps her face, then stinkfaces her in the corner. Tara crawls to the safety of her corner and tags in Jessie, who promptly get chokeslammed into the corner and powerbombed. T covers Jessie and gets an easy win.

Winners: Robbie T & Miss Tessmacher
[ View 2 January 10, 2013 Digitals Here ]