Backstage we Gail Kim and Miss Tessmacher were shown warming up backstage. TNA cut to Jessie watching on a monitor before KO champion Tara got him to focus on her. TNA then cut to Mickie James also warming up, exciting Taz.

Christy Hemme was standing by to introduce a Knockouts tag match. Out first was Gail Kim. Knockouts champion Tara, joined by Jessie, was out second for the heel duo. The face duo started with Mickie James, followed by Miss Tessmacher.

Knockouts Champion Tara (with Jessie) & Gail Kim vs Mickie James & Miss Tessmacher

Gail and Tessmacher go at it as we start, with Tessmacher taking Gail out with a flying clothesline and a crossbody. Tara cheapshots Tessmacher from the outside and then tags in so she can grind her eyes across the top rope. That's cold, man. Tessmacher makes a blind tag and snapmares Tara so Mickie can come charging in with a running knee before dropkicking Gail out to the floor. Tara and Gail try to escape to the floor, but Mickie and Tessmacher go outside and give them a double noggin knocker. Taryn Terrell, being the high end official she is, blocks Tessmacher from coming back inside and pays no attention to Tara and Gail beating Mickie up 2-on-1 as we go to commercial.

We're back, coincidentally JUST as Mickie takes out both Gail and Tara and makes a hot tag to Tessmacher. Tessmacher comes in and goes nuts on Tara humping her face and setting up for the stinkface before Tara slips out to the floor so Gail can come in and nail Tessmacher from behind. Tara comes back in and blatantly chokes Tessmacher before using a hair Beell. Tessmacher gets double teamed in teh corner while Mickie distracts Terrell, and Gail hits a version of Go To Sleep for 2. Gail hits a running clothesline for 2, but misses a charge and hits the post. Gail falls out to the floor and now Tessmacher is crawling to make a tag, but Gail pulls Mickie off the apron just before Tessmacher gets to her corner. Mickie comes in AGAIN and distracts the referee while Tara tags in with a slingshot legdrop and covers for 2. Looks like Tara accidentally popped her on that one. Tara goes to a surfboard and then tries for the ass-shaking moonsault, but Tessmacher gets her knees up and then bulldogs Tara before finally making it to the corner and tagging in Mickie. Mickie takes Gail out with a Thesz Press and dropkicks Tara to the floor. Mickie with the swinging headscissors out of the corner and gets a neckbreaker for 2. Tessmacher takes Tara out, Tara rolls out to the floor to be comforted by Jessie, but Tessmacher takes them both out with a dive off the top rope. Mickie hits the implant DDT on Gail and gets the win.

Winners: Mickie James & Miss Tessmacher

The Robbies came to the ring in matching cardigans before Robbie E. called out Jessie for the Bro-Off. Jessie emerged on-stage with Knockouts champion Tara to make their way to the ring for the Open Bro-Off challenge.

ROBBIE E. (w/Rob Terry) vs. JESSIE (w/KO champ Tara) — Bro-Off

In the ring, Jessie reminded Robbie that he's actually Mr. Pec-tacular. Robbie said there are three rules to a Bro-Off. (1) Every bro for himself. (b) Everything you do has to end in a "bro." In the background, Terry looked like he was smelling something bad in the ring. Robbie then asked for his music to play. Robbie did some exercise moves passing as dance moves before telling Pec to top that. Jessie then did a dramatic pose for Tara, who enjoyed Jessie's portion of the Bro-Off as Taz provided play-by-play. Upon completion, Jessie said that's how you Bro-Off, dude.

Robbie quipped that it wasn't as bad as he thought it was, but noted in a Bro-Off that it's bros before hoes (pointing to Tara). And, the other problem is that Jessie ended his sentence with "dude," not "bro." So, Robbie declared himself the winner. But, Rob Terry interrupted and said there is one more bro to go. Terry removed his sweater, then did his own pose to show up Jessie. The music suddenly changed to a dance theme that led to Terry doing the splits, some sort of drop-down, then a one-arm push-up. Terry hopped to his feet, then threw his fist in the air, stunning Robbie, Jessie, and Tara. "Bro," Terry declared. Terry then left the ring, leaving the trio in the ring with their jaws hanging down to the mat. On-stage, Terry just shrugged his shoulders for the punchline.

WINNER: Terry

Brooke Hogan is backstage and decides that Mickie James will get the title shot. She tells Velvet to watch Tara since she might be next in line to get a title shot, but Velvet doesn't seem satisfied for some odd reason.

Knockouts Title Match: Tara vs Mickie James

Mickie catches Tara with several rollups right off the bat, but fails to put Tara away. Jessie trips Mickie from the floor and Taryn Terrell misses it completely, counting 2 as Tara makes a cover. Tara tosses Mickie across the ring by her hair and goes for a couple of pinfall attempts, but can't put Mickie away just yet. Tara gets Mickie in a surfboard and Mickie escapes and gets another rollup, but Jessie distracts Terrell and Tara manages to recover and powerslam Mickie. Mickie gets her knees up on the ass shaking moonsault, and they trade right hands on their knees until they get to their feet and Mickie gets an advantage. Mickie gets a DDT and tries a cover, but Jessie again interjects himself and drags Tara out to the floor. Mickie wipes Jessie out with a dive off the top rope and then rolls Tara back inside. Jessie hold her ankle on the way in and distracts Mickie just long enough to hit what looked like an inverted atomic drop except that Mickie's jaw came down on Tara's knee. Tara makes a cover and gets the win.

Winner: Tara
[ View 4 December 20, 2012 Digitals Here ]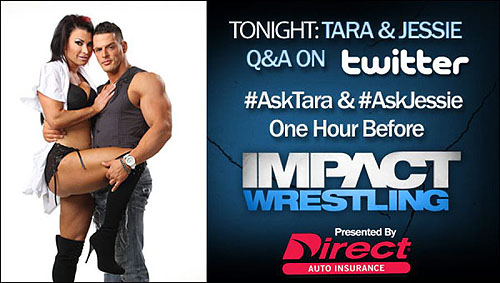 Just an hour before the Knockouts Champion Tara walks into the unknown and defends her title on Championship Thursday, Tara and her Hollywood Boyfriend Jessie will be taking your questions! When the Knockout Champion heard that Velvet Sky trended worldwide last week with #AskVelvet, Tara demanded this Q and A session so the power couple could speak with their fans! Ever wanted to know what Hollywood spots they recommend, workout tips from Mr. Pectacular – this is your chance! Send your questions to @TaraLisaMarie with #AskTara and @MrPec_tacular with #AskJessie and starting at 7pm Eastern tonight (Thursday) they will begin answering!
And don't forget to tune into to Spike TV at 8/7c to find out who Tara will defend her Knockout Championship against. Brooke Hogan has the choice between Miss Tessmacher, ODB, Velvet Sky, or Mickie James! The only way to find out and see the match is to watch Impact Wrestling!

Video package: Mickie James was shown in-tears after failing to win the Knockouts Title Sunday at Final Resolution. The video transitioned to how the Tara vs. Mickie title match unfolded. Mickie talked on-camera about being disappointed that she didn't have all her bases covered. Mickie declared herself the best female wrestler in the world and called her loss bullsh*t.

Brooke Hogan's Office: Back in Orlando, Tara and Jessie walked in to talk with Brooke. Tara noted their boyfriends are wrestling tonight, so they need to stick together. Brooke ignored Tara kissing up to her, then told Tara that she'll find out who she's defending the Knockouts Title against next week, just like everyone else. Tara, upset, told Brooke that her boyfriend (Bully Ray) is going to lose to Jessie.

Championship Thursday hype: Miss Tessmacher, ODB, Velvet Sky, or Mickie James will face Knockouts champion Tara and Kurt Angle will challenge Devon for the TV Title.

Impact Zone: The announcers said up next is the main event, sponsored by Five Hour Energy. Out first was Jessie, flanked by Tara. Taz noted he fears for Jessie after seeing how fired up Ray was in the previous segment with Hogan. Taz told him to stop playing grab-ass and get ready. Ray then marched out to the ring and chased Jessie out of the ring, then chased Tara around ringside, then chased Jesise back into the ring. Bully Ray vs Jessie (w/Tara). Ray lit up Jessie once the bell sounded. Ray continued the assault, then Jessie tried to comeback with chops, but Ray no-sold and ran over Jessie with a boot to the face. Ray threw up the Horns Stan Hansen-style, then took Jessie into the corner to destroy his chest with an open-hand strike. Ray quieted down the crowd one more time, then popped Jessie's chest again. The crowd wanted it one more time, but Tara entered the ring to plead with Ray to spare Jessie. Instead, Ray spanked Tara out of the ring. Jessie, fired up, attacked Ray from behind before angrily striking Ray with strikes and blows. Jessie followed with a dropkick. Ray was shown bleeding from the cut at Final Resolution, then Jessie continued the assault after seeing Ray's blood. Jessie knocked down Ray numerous times, then shoved his boot into Ray's mouth in the corner. "Make him pay!" Tara shouted from ringside. Jessie went back to a dropkick, then examined the welts covering his chest. But, Jessie posed too long, which allowed Ray to come back with a Bubba Cutter. Ray pinned Jessie for the win.

Here are the spoilers for the December 27th, 2012 episode of Impact. Here are also the spoilers for an episode of Xplosion Click on Continue Reading to see them.

Here are the spoilers for the December 13th & 20th, 2012 episodes of Impact. Click on Continue Reading to see them.

Mickie James came to the ring for a talking segment. Mickie thanked everyone for supporting her while she was at home recovering. Mickie did not identify what she was talking about, with the entire audience apparently expected to know that she recently had surgery, then vowed to become new Knockouts champion. Suddenly, Tara's music interrupted to bring out KO champion Tara and Jessie. Tara made sad noises to mock Mickie's story, then recapped her great year compared to Mickie's bad year.

Suddenly, the Beautiful People's music played, causing Taz to react. "Is this a joke?" he asked. Velvet Sky, making her TV return, emerged on-stage as the announcers wondered how long it's been since she was on Impact. Sky entered the ring to join the discussion, noting she's missed everyone. Sky thanked Brooke Hogan for bringing her back, then wished them luck at Final Resolution. Sky then put them on notice that 2013 will be the Year of Velvet Sky as Knockouts champion. Cue up Velvet's music to end the segment.

Eric Young and ODB are in the back again. The Robbies E and T aren't pleased with the turkey suit. Last year, the turkey challenge ruined Big Robbie's life. Robbie E wants Eric Young to call him out. Jessie Godderz walks by with Tara. He joins the conversation. Eric Young says he can call both of them out. The Ultimate Turkey Boy Extravaganza: Eric Young vs. Jessie Godderz vs. Eric Young. An instant classic.

Taeler Hendrix is out next with her Open Fight Night entry. She calls out Tara.

Taeler Hendrix vs. Tara

Hendrix offers her hand for a shake but Tara slaps it away. The ladies grapple with Tara sending Taeler to the canvas. They meet again, this time with Tara going behind and slamming Hendrix to the mat. Tara gets her shoulders massaged by Godderz before re-entering the fray with strikes to Hendrix. Bodyslam. Tara goes back and shares a kiss with Jessie. Tara tosses Hendrix, by her hair, across the ring. Tara positions Hendrix in front of the camera and asks her to smile. Tara hangs Taeler by her hair across her back. The referee Taryn Terrell commands her to stop. Hendrix tries to fire back but Tara slams her down to the mat. Tara kicks Hendrix in the stomach and retreats to her boytoy Jessie. Hendrix catches Tara off guard with a dropkick and has a quick rollup for two.

Hip toss from Hendrix. Hendrix dodges two punches and delivers the protobomb. Headbutt from Hendrix. Multiple jabs meet Tara's face. Crossbody. Hendrix covers but only gets a two. Jessie screams at Hendrix, causing the distraction. Tara tries to attack but Hendrix dodgers. Big roundkick to the back of the head for a two count for Hendrix. Tara stuns Hendrix by slamming her face first into her knee. Huge slap from Tara. Hendrix is taken out with the Widow's Peak for the Tara victory.

Winner: Tara

During the Triple Threat Turkey Suit Match Tara enters the ring but ODB takes her out. Jessie chokes Eric Young with the rope as Robbie E rests in the corner. Tara and ODB roll over the official and out of the ring. Eric Young takes Jessie out of the ring but he's caught by Robbie T. Robbie E tries an attack but EY gets out of the way and the Robbies collide. Jessie goes for his stunner but Eric Young counters into a rollup for the win. Winner: Eric Young. Jessie reluctantly takes the Turkey Suit as Tara re-assures him of his hotness. He puts the suit.

Tara and Jessie are out for Godderz's match. Taz and Tenay let us know the number one contender for Tara's title will be determined tonight in a battle royal. ODB and EY, still the Knockouts Tag Team Champions make their way to the ring.

Jessie versus Eric Young

The bell is rung and EY grapples with the ref. He's attacked from behind by Jessie. Body slam is followed up by a pin that gets a two count. Godderz elbows the chest of Young. He goes back to the maneuver. Jessie stomps the head. EY is up but whipped into a powerslam. Jessie admires his body for a bit before a legdrop. Two count.

More elbows from Godderz. He chokes EY with the ropes until the ref breaks it up. Young is punched into the corner. Godderz knocks him down and returns to using the ropes. Nice dropkick from Jessie to EY. He kisses Tara and returns to the match. He lands multiple blows into the face and whips Young into the apron. Young gets back into the ring but he's caught by an abdominal stretch. Godderz elbows Young in the ribcage until Young gets out with a hiptoss. Godderz lands a punch but EY no-sells. Another punch and another no-sell. Young takes his pants off and blocks a Godderz punch. Another block as the fans chant USA. Young lands a flying forearm and gets the fans into his offense. Tara distracts Young but she's taken out by an ODB spear. Godderz misses a clothesline and runs into an EY powerslam. Young is distracted by the ladies and sent into the rail by Jessie. Tara sends EY back in and he lands a modified stunner for the three count.

Winner: Jessie

Later on, Jessie and Tara are on the lookout for Brooke Hogan. They enter the room and we see Brooke and Bully Ray hanging out on a couch. Ray abruptly leaves as Tara screams at Brooke for the battle royal. Brooke says Tara should knock next time before she enters. Tara says Brooke should lock the door next time.

New TNA Knockouts Champion, Tara and her Hollywood boyfriend Jessie Godderz are in the back taking a photoshoot which shows Jessie military-pressing Tara for the shoot. Tara says Vanessa and Kobe are getting back together but they're still the hottest couple on the planet. They share a kiss. Up after the commercial break, ODB versus Tara.

After the commercial, Tara and Jessie Godderz appear on the ramp as Christy Hemme lets us know this match won't be for any titles. Taz tries to make Godderz out to be this big deal. ODB's music plays but she doesn't show up. She's backstage arguing on the phone with Eric Young. She runs to the ring, phone in one hand, flask in the other and Taz wonders where EY is.

Tara vs. ODB

Tara makes out with Godderz but ODB strikes her from behind. ODB takes Tara down with a shoulderblock. She puts her wedding ring in a pocket. ODB lifts Tara and takes her out with a powerslam. ODB returns to her phone. She tells Eric Young to stay on. ODB smothers Jessie's face in her chest and goes back to her phone. Taz drops some random Big Brother knowledge. Tara takes ODB down and slams her face into the mat screaming "that's my man." Tara grabs ODB by her hair and stretches her on her back. She follows that up with a kick to the back. ODB elbows out of Tara's grasp but Tara slams her across the ring. Tara pounds ODB in the back and twists her head.

ODB elbows out but Tara strikes her. Tara once again grabs ODB's hair and pulls it. ODB is sent to the mat and Tara goes back to Jessie. They make out while ODB grabs her flask. ODB takes a drink and nails Tara in the back. ODB picks Tara up, spits in Jessie's face and nails Tara with the TKO for the win.

Winner: ODB

Tessmacher approves of the results of the match from the ramp. Tenay lets us know Tessmacher and Tara will fight for the Knockouts title next week.

Brooke Hogan and Taryn talk in the back about keeping things fair as Tara approaches and Brooke tells Taryn to give them a minute. Tara hands Brooke a list that her Hollywood boyfriend gave her to implement upon her title win this Sunday. She needs an A-list quality greenroom with Kisses. Brooke tears the list up and tells Tara to go earn it. Tara storms off and tells Brooke Kim and Khloe were so right about her.

Later in the show, Gail Kim was defeated by Brooke Tessmacher. Tara immediately runs-in after the match and attacks Tessmacher. Tessmacher counters out of the Widow's Peak and hits a faceplant on Tara as Taryn raises Tessmacher's arm in victory.

Backstage: Tara was on the phone with her Hollywood boyfriend. She talked about Stacy (Keibler) and George (Clooney) reportedly breaking up, then Gail Kim walked in and told Tara to get ready for their tag match. Tara mocked Gail's "cable star" husband, to which Gail replied that if Tara wins the Knockouts Title, she better watch her back. Gail stomped off, then Tara wondered what Torrie (Wilson) and A-Rod are up to.

KO champion MISS TESSMACHER & KO tag champion ODB vs. TARA & GAIL KIM — Taryn Terrell referee

Christy Hemme was standing by to introduce the second match of the show back from break. Out first was the heel duo of Tara and Gail Kim, leading to a video replay of Tara turning on Tessmacher three weeks ago. The face duo of Tessmacher and ODB was out next, leading to the opening bell. ODB got some early offense before Tara cut her off. Tara wanted a standing moonsault, but ODB blocked to bring in Tessmacher. Tessmacher couldn't put Tara away, though, as the action broke down. Tara then finished off Tessmacher for a clean pin. Afterward, Tara sold extreme confidence.

WINNERS: Tara & Gail Kim

Backstage: Brooke Hogan walked up to Tara, who told Brooke that she's late. Brooke was set to give Tara her consequences, but Tara had to take a call from her boyfriend in Hollywood. She referred to Stacy Keibler and George Clooney, then hung up. Brooke told Tara she has to earn a future Knockouts Title shot, then Tara got back on the phone to tell her boyfriend that Brooke is annoying. Brooke took the phone and told Tara's boyfriend that Tara has to wrestle next. Brooke walked off with the phone, prompting Tara to complain that she waited in line for that phone.

Christy Hemme was standing by to announce a #1 contender match to the Knockouts Title. Out first was a frustrated Tara having to go through the contendership process. Tara exchanged words with KO referee Taryn Terrell, then ODB came out with Eric Young to face Tara.

Tara vs. ODB

ODB drags Tara into the ring. The two ladies trade punches until Tara gets tossed across the ring by her hair. ODB repeats the move but Tara rolls out of the ring. ODB gives chase back into the ring. Shoulder block from ODB to Tara. Tara delivers multiple shoulder shots in the corner until Taryn Terrell breaks them up. Eric Young is on the apron asking for a tag. ODB with a splash to Tara as Eric Young leaves the apron. Bronco Buster from ODB. Eric Young rolls into another corner and asks for a Bronco Buster of his own but Terrell doesn't let it happen.

ODB connects with a baseball slide. She spanks Tara and follows that up by slamming Tara's face into the apron. ODB rolls Tara back inside and Tara asks for mercy. ODB tries to attack but Terrell holds her off. ODB with a short-arm clothesline. More clotheslines. ODB kicks Tara. Fallaway slam. ODB kicks Tara out of the ring and Terrell asks for space. Tara is holding her knee in pain and tries to use Eric Young to get up. ODB breaks that up and Eric Young says his pants are still on. Tara rolls back in and removes her knee brace. Taz asks if Tara can continue with her knee issues. Terrell and ODB check on Tara where Tara catches ODB with a sneak rollup for the win. She had her foot on the ropes too.

Winner: Tara

– Terrell assists Tara up the ramp but Tara looks in the ring with a smile. She mouths to the camera, "I did it for you, baby."

Tara's music played to bring out a heel Tara after she turned on Knockouts champion Miss Tessmacher last week. After a replay of Tara turning on Tessmacher last week, Tara took the mic in the ring and said the people disgust her for even asking about her actions. She said everyone uses her, including a guy with a sign. Tara said her new boyfriend, who lives in Hollywood, California, opened her eyes to remind her that she is the best female wrestler there is. "Boring!" chant. Tara called out Brooke Hogan, saying she used her, too.

Tara then called out her victim for tonight, Christy Hemme. Off-stage, Hemme wondered what's going on here. Tara told Hemme to get in the ring now. Tara mockingly told "saddle bags" not to let her fans down. Hemme entered the ring and told Tara she's an announcer, which Tara shot down. She told Hemme to show her some respect. Asked who her favorite Knockout is right now, Hemme replied it's Tessmacher. Tara slapped Hemme, so Tessmacher hit the ring to make the save.

Late in the show, backstage: Brooke Hogan, called out Tara in the hallway. Brooke asked Tara what she was thinking calling out Christy Hemme, who isn't even a wrestler. Brooke said she respects Tara, but she doesn't like her right now. Brooke said there will be consequences next week.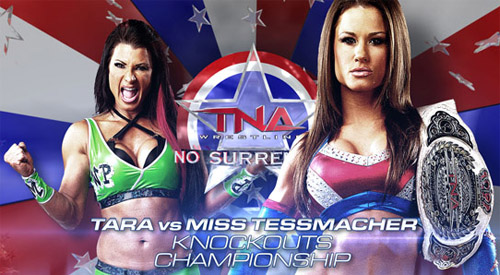 Backstage: JB brought in Knockouts champion Miss Tessmacher for a good-length interview discussing her desire to beat her "teacher," Tara, with the Knockouts Title on the line tonight after Tara beat her on Impact last month.

Knockouts champion MISS TESSMACHER vs. TARA — Knockouts Title match — Taryn Terrell referee

Before the match, Tenay reviewed the Tale of the Tape for this title match. Tara was out first, followed by the Knockouts champion ready for her "test" against her teacher. Tessmacher wanted to be friendly early on, but Tara slapped her, indicating it's time to wake up and wrestle. The match turned into a back-and-forth with multiple stalemates to sell an even match-up. Tara took control, then went for the Widow's Peak, but Tessmacher rolled through for a decisive pinfall to "prove herself" against Tara.

WINNER: Tessmacher to retain the Knockouts Title.

Backstage: Brooke Hogan talked to Tara. She made the Knockouts Title match between Tara and Miss Tessmacher official for No Surrender. Gail Kim then jumped into the conversation and complained about Taryn Terrell being brought in as referee. Brooke waited out Gail's complaints, then booked Gail vs. Tara tonight. Gail and Tara argued going to break.

TARA vs. GAIL KIM — Taryn Terrell special referee

Taryn was already in the ring back from break. Gail, then Tara made her way to the ring to start tonight's Knockouts match. Gail took control early on and taunted Taryn by using full five-counts while wearing down Tara. Tara then made a comeback and finished off Gail with a clean pinfall.

WINNER: Tara. Fine tune-up for Tara ahead of her Knockouts Title shot against Tessmacher on Sunday.

Broke Tessmacher makes her way to the ring. She says that she thanks Brooke Hogan for righting a wrong last week. But tonight is personal, she wakes up every day and looks in the mirror, can she beat the one person that has taught her everything in wrestling. Her mentor and best friend. So tonight, she challenges Tara.

Non-Title Match: Broke Tessmacher vs. Tara with Taryn Terrell as guest referee

And here we go, lock up to begin and Tessmacher with the arm drag. Lock up, and an arm drag by Tara. Another, and then a botched one from Tessmacher. Headlock by Tara, rights by Tessmacher, off the ropes and a shoulder block by Tara. Hip toss by Tessmacher, then one by Tara. Slam by Tara, into a cover for 2. To the corner they go, and as we get a break forearms by Tessmacher. Big right by Tara drops Tessmacher. Back elbow by Tessmacher, and then a clothesline. Another, and then a dropkick. Tessmacher holds up on corner rights, and then delivers shoulder blocks. Facebuster out of the corner by Tessmacher, and then heads up top. Tara up to stop that, follows her up and gets a superplex and covers for the win. That was not good.

WINNER: Tara

Tara and Tessmacher hug after the match. But Tessmacher leaves upset.

Gut Check: Tara vs Taeler Hendrix

Taeler extends her hand to Tara, Tara slaps it away so Taeler takes a swing and Tara ducks, takes Taeler down with a waistlock, and fired forearms across her nose. Tara with a snap suplex and stands over Taeler to talk trash, but Taeler gets a sunset flip for 2. Tara quickly regains control with a clothesline and then gets the hanging choke in the corner. Taeler kicks up over her head and cartwheels up the corner to give Tara a top rope Frankensteiner. Joseph Park is moving around in the crowd as Taeler gets Tara with a series of clotheslines, then takes Tara down with a waistlock drop and crossfaces Tara like Tara did to her earlier. Taeler goes for a high kick, Tara ducks and gets Taeler up in the Widow's Peak and hits it for 3.

Winner: Tara

Tara helps Taeler back to her feet, then we go to the back where we see the remaining competitors in the BFG Series.

Gail Kim, Rosita, Sarita, & Madison Rayne vs. Brooke Tessmacher, Tara, Mickie James, & Velvet Sky

Velvet starts off as the other team tags in and out. Velvet dominates. She gets attacked in the enemy corner as Gail tags in and takes control. Gail plays to the fans and Velvet catches her with kicks. Gail escapes and tags Madison. Mickie tags in and takes control. She goes to the top but is thrown off by Sarita. Madison drags Mickie to the corner and tags Rosita.

Rosita hits some moves and makes a cover for a 2. Mickie counters and makes her way to her corner and tags Tara who slams Rosita and backflips on top of her for a near fall. The action continues as Brooke face- plants Sarita into a pin attempt that is broken up by Madison. Gail tags in as Brooke dominates and makes another cover which is again broken up by Madison.

All 8 women brawl in and out of the ring. Gail attempts to pin Brooks with her feet on the ropes but Velvet quickly pushes them off. Brooke rolls Gail up for the pin.

Winners by pin: Brooke Tessmacher, Tara, Mickie James, & Velvet Sky