Vintage Vixen: 2 Years Ago Today – Impact February 16, 2012


Battle Royal for the #1 Contender Spot for the Knockout Title. ODB eliminated Winter and Brooke Tessmacher. ODB eliminated Rosita and threw her on top of Winter/Tessmacher. ODB eliminated Mickie James. Sarita, Velvet, Angelina Love and Tara eliminated ODB. Angelina Love eliminated Tara. Sarita eliminated Angelina Love. Velvet Sky eliminated Sarita then Madison Rayne dumped Velvet Sky. Gail Kim was at ringside to watch the match.


Check out the February 16, 2012 Impact Screen Captures

Vintage Vixen: 10 Years Ago Today – RAW February 16, 2004


Divas Tag Team Match. Victoria (with Stevie Richards) & Trish Stratus vs Jazz & Molly Holly. Victoria gets the win by pinning Molly Holly. After the match, Test runs down to the ring and attacks Stevie Richards, Victoria, and Trish until Christian comes to make the save.


Check out the February 16, 2004 RAW Screen Captures

Vintage Vixen: 11 Years Ago Today – Heat February 16, 2003


Victoria (w/ Steven Richards) vs. Jacqueline. Jacqueline takes control early with a spinning heel kick early on. Powerslam by Victoria for a two count. Springboard Slingshot by Jackie, tried a second time but reversed into a back body drop by Victoria. Jacqueline up to the top rope, with a high cross body onto Victoria and Richards on the outside. Steven enters the ring and Jacqueline takes him down. Victoria hits the Widow's Peak for the win.


Check out the February 16, 2003 Sunday Night Heat Screen Captures
Victoria was one of WWE's most unique Divas. 30-Second Fury takes a look back at her devastating finishing move: The Widow's Peak! Victoria ain't the Diva to mess with!
Check out the original Black Widow, Victoria, as she decimates Mickie James, Torrie Wilson, and more Divas with the Widow's Peak in the video below!
The wicked witches of WWE
BY Ryan Murphy
#9 Victoria
Her Nicki Minaj-rapped entrance theme warned, "I ain't the lady to mess with." That wasn't just an empty threat for the physically imposing Victoria — a rare Diva brawler who was at her best in high-risk Chicago Street Fights and Hardcore Matches.
As attractive as she was — like Trish Stratus, Victoria was a fitness model in her pre-WWE days — this powerful female didn't wince at broken nails as she bashed Trish Stratus with garbage cans and battered Lita in the first-ever Divas Steel Cage Match. A two-time Women's Champion, Victoria rarely stooped to humiliation or degradation like many of the names on this list. Instead, she let her brutality speak for itself.
View Photos Here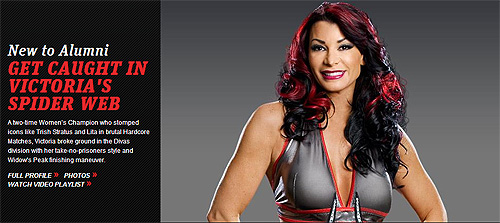 GET CAUGHT IN VICTORIA'S SPIDER WEB
A two-time Women's Champion who stomped icons like Trish Stratus and Lita in brutal Hardcore Matches, Victoria broke ground in the Divas division with her take-no-prisoners style and Widow's Peak finishing maneuver.
View 51 Photos Here
[ View Photos of the Wildest Divas Matches of All Time Here ]
It takes a special type of woman to be a WWE Diva. Beauty, poise and the ability to stand back up after getting hit in the head with an ironing board are just a few of the qualities a lady must possess if she wants to hang with the predatory cats in the Divas locker room.
But WWE's Divas don't always get the credit they deserve for the toughness and tenacity they bring to the ring night in and night out. WWE Classics is all about equal opportunity, so we put together this collection of seven reckless, dangerous and destructive brawls that will leave you looking at the Divas in a whole new light.
Trish Stratus vs. Victoria in a Hardcore Match: Survivor Series (Nov. 17, 2002)
Trish Stratus wasn't handed anything. When the former fitness model arrived in WWE as a valet for the team of Test & Albert in 2000, she was looked at as a bit of eye candy. But by the time the Toronto native retired from WWE in 2006, she'd become a record seven-time Women's Champion and, arguably, the most popular female competitor in WWE history.
How'd it happen? Tenacity, mostly. Stratus was never afraid of a challenge, which she proved at Survivor Series 2002 when she defended her Women's Title against the dangerous Victoria in a Hardcore Match. Any WWE fan who dismissed Trish as little more than a bikini model was in for a shock as the Diva fought back against every trash can lid, kendo stick and baking sheet thrown her way.
Stratus ultimately lost that night, but she left with the WWE Universe's respect. It wasn't earned — it was taken.
Victoria vs. Molly Holly in a Hair vs. Title Match: WrestleMania XX (March 14, 2004)
There wasn't supposed to be a Divas match at WrestleMania XX. In the weeks leading up to The Show of Shows in 2004, the Women's Title became an afterthought as epic battles pitting Goldberg against Brock Lesnar and Eddie Guerrero versus Kurt Angle began to take shape. But Molly Holly refused to be ignored. Realizing she'd have to do something special if she wanted to be featured on the biggest event of the year, the talented competitor came up with a proposition — if Victoria put her Women's Title on the line, Molly would do the same with her hair.
The pitch worked and Molly went to the ring in New York City's Madison Square Garden with much more than just a title opportunity at stake. The tenacious grappler fought hard against her more powerful opponent, but she ultimately fell to an unexpected backslide. With that, Molly was strapped into a barber's chair and shaved bald in front of more than 20,000 fans.
Source:
// WWE.com
Check out the WWE Tough Cookie Photoshoot
WWE.com has released 8 wonderful photos of Victoria in her "Tough Cookie" Photoshoot! Be sure to check out the full set by clicking the link above!

Victoria and Beth Phoenix vs. Kelly Kelly and Mickie James. Kelly and Victoria started it off and Kelly ate a headlock take down before grabbing a head scissors. Kelly showed some nice chain wrestling stuff that was punctuated with a roll up but then she got punched in the face. Victoria got all mean and what not and ripped Kelly up over her shoulders by her hair a few times before slamming her to the mat. Kelly had enough and Mickie tags in. Mickie started doing her fun old head scissors and a hangman's neck breaker. Mickie went to the top rope but Beth wiggled her off shaking the rope. Beth came in and began tossing Mickie all about but almost got tapped on a nice guillotine choke. The hell ensued shortly thereafter though as Beth tossed Mickie to the corner. She tagged Victoria who dumped Kelly to the outside. Beth was still dazed on the outside and Victoria taking her eye off the proverbial ball cost her, as Mickie hit the implant DDT for the win. Winners: Mickie James & Kelly Kelly
Check out the February 4, 2008 WWE RAW Screen Captures
Check out the February 4, 2008 WWE RAW Digitals


Victoria's new make-over inspired WWE.com to make over her profile slightly! She's got a new bio photo (I can't wait for this photoshoot to be released) and a new bio right along with it, which you can read below.
Armed with one of the most devastating finishing maneuvers in all of professional wrestling, the Widow's Peak, Victoria is one of the most vicious Divas in WWE history. Don't let her impeccable good looks fool you. She may be one of the hottest Divas around, but the vicious vixen's beauty is only matched by a mean streak that has helped drive her to two Women's Championships.
Victoria has also been a pioneer in the Women's Division. At WrestleMania XX she defeated Molly Holly in the first-ever Women's Division Hair vs. Championship Match. After defeating Holly to retain her gold, Victoria humiliated Molly in front of a sold-out crowd at Madison Square Garden by shaving her head.
Outside of the ring, Victoria has been involved in various programs,speaking on behalf of WWE's Smackdown! Your Vote program, encouraging the youth of America to exercise their right to vote. While Victoria has always stressed the importance of children to be physically active, she believes it is also imperative to get a good education. Victoria studied biology at several colleges: Riverside Community, Loma Linda University and UCLA. She worked at the Inland Eye and Tissue Bank in Redlands, Calif., for three years.
Victoria has also shown over the years that she feels that success should only come from hard work. She's a strong believer that nothing should be handed to you in life.
"I want little girls to look at me as, yeah, I'm a T-and-A, but I can freakin' kick your a**, too. And I have some smarts behind me," she once said. "So I'm a well-rounded individual. I want little girls to look up to me and say, You know what? I could do that,' and believe in themselves."
Credit: WWE.com