Uniquely Chicago: Lisa Marie Varon. Posted on January 24, 2013. She's shut down opponents left and right in the ring, and now wrestling champ Lisa Marie Varon is sharing her story of how it all came about.
Brian FINALLY watched the CM Punk DVD and you can hear his glorious praise of the DVD on this week's episode! Speaking of which, CM Punk successfully defended his WWE Title in just about 10 minutes AND had to go beard-to-eyebrow with The Rock right after. Talk about pressure!
Also, the guys go over the week's news including TNA cutting back on the amount of yearly pay-per-views; Sarita, Rosita, and D'Angelo Dinero being released from TNA , and also a spoiler alert straight from WWE.com!
This week, current TNA Knockout Champion Tara joins the guys on the show! This interview covers her upcoming documentary by Matt Goldberg, her TNA career, business ventures, and much more in this great interview!
All this and more on Running The Ropes, the official podcast of the Unchained Wrestling Network and a part of the SNS Radio Network!
The Interview with Tara starts at the 1 Hour 16 minute mark.
Listen to the interview here: http://archive.org/download/RunningTheRopes1-10-13/Rtr1-10-11.mp3
// Useful Links
Headlock2Headlines.com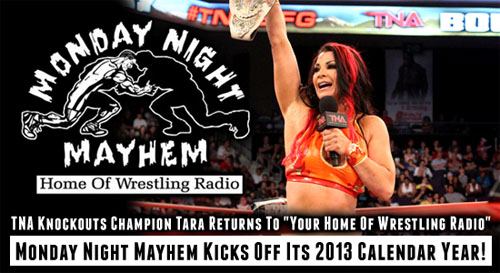 TNA Knockouts Champion Tara was the featured guest on this week's edition of Monday Night Mayhem, hosted by The Big Mosh, Todd Vincent, and "Wild" Bill Brown. Here are interview highlights courtesy of WWEDVDNews.com's Aaron Carnevale, MNM's National Correspondent:

The experience of teaming up with "Mr. PEC-Tacular" Jessie Godderz in iMPACT Wrestling: "I love to manage. It is so much fun working and bouncing stuff off of each other, being goofy, and being able to entertain. At the same time, I can still wrestle. It also allows me to get my body a little bit of a rest while watching him wrestle. It is so much fun. I can't express how much fun I'm having."

Why she believes the current WWE Divas should not receive the criticism that they do: "It's not their fault. They have some great talent over there (in the WWE), but you cannot tell a story in four minutes with two entrances. We're lucky to have that much time on television to do it. I hope they get more time in the future, because they aren't getting their opportunity."

The direction of the TNA Knockouts division and where she sees things headed for the Knockouts in the new year: "I love where we are going. I think we're going to see some new faces, new feuds, and maybe a new style of wrestling. We have an awesome creative department that are huge fans of the Knockouts division. You'll be seeing a good year, honestly."

Much more is contained in Tara's interview with Monday Night Mayhem, including her candid thoughts on just how close she was to retiring from professional wrestling, her current reign as TNA Knockouts Champion, why she believes the future is very bright for her man in iMPACT Wrestling, what her fans can expect to see from the release of her new documentary ("Tarafied") and more. You can download and listen to the full interview by clicking here.

6:00 – TNA Knockouts Champion Tara on her last interview with The Mayhem on a golf cart
9:45 – Tara on why she had planned on retiring after leaving WWE and getting the call from TNA
13:33 – How she got her start in pro wrestling and already having relationships with pro wrestlers
29:00 – Why the current state of women's wrestling in WWE is not the fault of the Divas talent
44:00 – Closing the podcast with what is coming up for the show in 2013 going forward

Useful Links
// Monday Night Mayhem
// WrestlingINC.com
More on Lisa Marie Varon's Wrestling Project
Wednesday, December 26, 2012, by Daniel Gerzina
The pizzeria and bar helmed by TNA Impact wrestling champion Lisa Marie Varon and her husband Lee now has a name, and Varon has shared more details on the space. The Squared Circle (wrestling slang for the ring) will start with a soft opening in late-February/early-March. The space holds 60 seated-patrons plus standing-room, which will be adorned with wrestling decor like autographed memorabilia and TVs screening wrestling pay-per-view and other live sports. Varon says wrestlers will swing by, so practice your choke holds and chair throws.
Nashville chef Chris Mason will run the kitchen, featuring his house-ground burgers. A custom-built brick oven will crank out New York-style pies. There will also be a full bar.
Varon says she wants to bring the wrestling environment and energy to The Squared Circle. "I want people to come back for the amazing food, not just the wrestling aspect," the former South Beach bartender says. She talked about professional wrestling's "pre-determined outcome," she's hoping The Squared Circle will have a pre-determined positive outcome too.
Source:
// Chicago Eater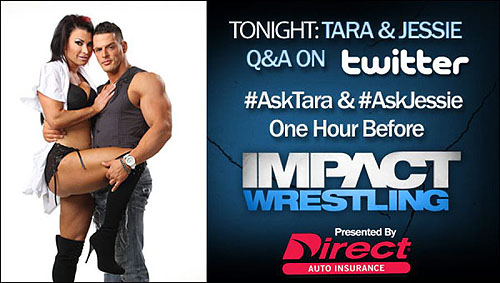 Just an hour before the Knockouts Champion Tara walks into the unknown and defends her title on Championship Thursday, Tara and her Hollywood Boyfriend Jessie will be taking your questions! When the Knockout Champion heard that Velvet Sky trended worldwide last week with #AskVelvet, Tara demanded this Q and A session so the power couple could speak with their fans! Ever wanted to know what Hollywood spots they recommend, workout tips from Mr. Pectacular – this is your chance! Send your questions to @TaraLisaMarie with #AskTara and @MrPec_tacular with #AskJessie and starting at 7pm Eastern tonight (Thursday) they will begin answering!
And don't forget to tune into to Spike TV at 8/7c to find out who Tara will defend her Knockout Championship against. Brooke Hogan has the choice between Miss Tessmacher, ODB, Velvet Sky, or Mickie James! The only way to find out and see the match is to watch Impact Wrestling!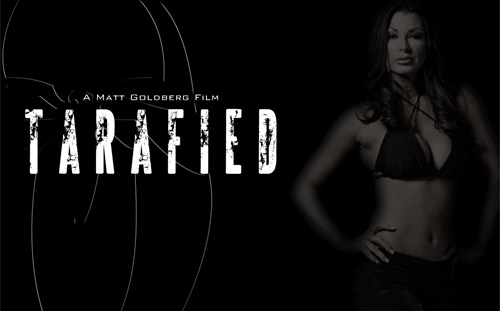 As revealed in a new Chicago Tribune article featuring Lisa Marie, she is taking part in a new documentary called "Tarafied" which is filmed by director Matt Goldberg. This film will be documenting what it's like to be a female in a mostly male industry. Matt had the following to say on his MBG Films Facebook page about the project in mid September:
Production for my new documentary, Tarafied, is coming along nicely! So far the interviews consist of Lisa Marie Varon, Brooke Tessmacher, Taryn Terrell, and Eric Bischoff. A few more interviews are scheduled for this week. Also made a trailer for it last night! Can't wait to share more with you guys as production continues. Keep an eye out for more news soon! Thanks!
Hopefully we will have more updates on this project soon!
Useful Links:
// MBG Films on YouTube
// MBG Films on Facebook
Pro wrestler opening pizza restaurant in Lincoln Park
Luis Gomez, About Last Night
9:34 am, October 18, 2012
Lisa Maria Varon — known as Tara in TNA Wrestling and Victoria during her WWE days — is getting back into the pizza business.
The 41-year-old professional wrestler previously owned a pizza restaurant in Kentucky in 2007 before selling it and now has plans to open another in the Lincoln Park neighborhood in January or February. The restaurant will be located at 2418 N. Ashland, which was previously Leon's Ribs.
"We're sticking with what we know, with where we've previously had success," Varon told me by email Wednesday. "We're focusing on artisanal brick oven pizza. Everything (will be) made on premise: the dough, a fifth generation sauce, fresh local ingredients. And then house blend burgers: hormone and antibiotic free beef, ground in house."
Varon won the TNA Women's Knockouts Championship Sunday at TNA's biggest pay per view of the year, Bound For Glory, and is scheduled to appear on MTV's "Made" this week. She also said she is the subject of a documentary currently being filmed by director Matt Goldberg. But even with her busy schedule, she insists you will be able to find her at her restaurant every week once it opens.
"This is not a pet project for me," Varon said. "This is my job. I will continue to travel a couple days a week for wrestling, but I will be in the restaurant several days a week."
And how much longer does the five-time TNA Knockouts Champion expect to wrestle?
"I get the 'how much longer' question in every interview nowadays," Varon said. "I get it. I'm 41 in an industry where girls breaking in are half my age. My perspective is, I feel great, I think I look great, I put on outstanding matches for the fans, I bring out the best in my opponents, and most importantly, I am having a blast."

Coach Lisa Marie Varon (AKA Total Nonstop Action Wrestling's "Tara") trains one aspiring wrestler on a BRAND NEW episode of MTV's MADE airing November 10th.

With no career path in sight, DeAnna Washington is just another 20-something still living at home with Mom and Dad. Now DeAnna wants to find some independence and settle on a profession that she will truly enjoy. With a love for fitness and performing, DeAnna wants to make her childhood dream come true by being MADE into a Pro Wrestler.
PWTorch Livecast – Wade Keller interviews TNA KO Tara
Fri, October 5, 2012
By PWTorch Staff
TNA Knockout Tara says she feels flattered that TNA selected her for the Knockouts Title match on TNA's biggest PPV of the year, Bound for Glory, next Sunday, but she also feels deserving of the slot.
"Everybody of course wants to be on the biggest show of the year," Tara said exclusively on the October 5 PWTorch Livecast with PWTorch editor Wade Keller. "It's really hard being competitive in this business. It's flattering, but I feel like it's well-deserved. Ya know, 13 years, I feel like I paid my dues."
In the same breath, Tara also advertised surprises on the PPV. "You're going to see a lot of good stuff from Miss Tessmacher. She's been working in the ring a lot, I hear," Tara said. "And, I'm excited – there's a lot of surprises there. I can't tell too much, but I'm really excited to be a part of it. Don't get me wrong, I like to be on every PPV, but this one (is special)."
Tara would likely not be in the same title match position if she were still with WWE. She said on the Livecast that WWE established a ceiling for her career, which prompted her to part ways with WWE in 2009. Tara eventually joined TNA, where she says she has not experienced the same restrictions.
"I'm never going to talk bad about them (WWE), (but) I wish I was told that I was used to train the new girls. I would have been okay with that," Tara said. "I blatantly asked, 'Do you ever see the championship belt in my future?' They said, 'No.' I was like, 'Really. If I'm that awesome out there, why isn't the title belt in my future?'
"I just think I reached the peak of where I was going to go there. Don't get me wrong, I am appreciative of what I did there, but it was time to close the book and move on. I really thought I was retired from wrestling. I really did." Tara then recalled TNA calling her after her 90-day no-compete clause expired and working out a favorable travel schedule to join TNA.
Tara also provided background on why she briefly parted ways with TNA in 2010 and 2011. Tara said she operates on a year-to-year contract so that she can determine how her body is holding up before deciding to re-up, but it led to contract issues in the TNA office.
"I signed for a year and they wanted to a three-year (contract), but I said, 'I just do year-to-year. I have to listen to my body, and I don't want to be locked into anything,'" Tara said. "Then, my contract expired (in 2010) and it was just negotiations. It was not that I wanted to leave, but it was the paperwork. I don't like that part of the business at all. Then, the next year (2011), it expired again and we had to go through it again."
Tara then updated her current status: "I just recently signed another year, so I'm pretty happy. I hope everyone knows the passion – I love what I do. I hope people see that love."
The interview concludes with Tara discussing the shift in tone for females on TNA's roster, notably the Knockouts being treated with more respect by TNA Creative as wrestlers "who can go in the ring" and perform at a high-level.
Tara's full 17-minute interview with PWTorch editor Wade Keller can be heard on Friday's PWTorch Livecast available at this link – HERE – or on iTunes or on the free PWTorch Livecast App available in your phone provider's App/Mobile store .

A Dream Match will come true! On September 21st 2012 at Centre Pierre-Charbonneau, the Super Hardcore Anime LuFisto will have the opportunity to face a former WWF Women's champion and former TNA Knockout champion in veteran TNA Knockout Tara!

This match will take place in Montreal, Quebec for TOW X Stardom, presented by Top of the World Wrestling. People are already taking about a "Mainstream Veteran Vs Independent Veteran" confrontation… And you don't want to miss it!!

You can get your tickets by contacting LuFisto by visiting her website at Lufisto.com
Q. Compare and contrast working with TNA and WWE, your thoughts on leaving WWE and at the time you talked about leaving pro wrestling. How seriouswere you about that and what changed your mind?
A. The only comparison between TNA and WWE are that they are both based on pro wrestling. They are different in every possible way. I could spend a day contrasting the two. All I will say is that they each have their pros and their cons.
I left WWE for two reasons. First, I was fried. I really needed time off. I had pretty much been on the road for seven years straight. Don't get me wrong, it was incredible. But for those seven years, I was either on the road or getting ready to be on the road. It gets exhausting. The fact that I was able to do it that long is a testament to how much I loved it.Second, once you are in the spotlight, it's hard to play a supporting role. I was tired of waiting for an opportunity to be the focus again. So if you combine being worn out, and not being happy with my role, I just felt like it was time to go. After my final match, I bawled little girl tears. I thought that was it.But you can't go from being busy non-stop to having nothing to do. After a couple weeks, I was stir crazy. I started MMA training on a more regular basis. But after a few months, I was contacted by TNA. They sold me on the idea of wrestling part time, 3-5 days a month. Plus they had some girls I really wanted to work with. Especially Kong. And by that point, I really missed wrestling.
TNA did not have to work hard to sell me.
Chicago Personal Trainers and Owners of Morph Personal Training LLC Marcus Warren (Mr. Natural Australia 2001) and Joey Thurman (WBFF fitness model) show how to work your triceps feauturing pro wrestler Lisa Marie Varon TNA Knockout and former WWE star. Stay tuned for more videos! Visit us on Facebook at Morph Personal Training LLC or on Twitter @GetMorphedNow
Chicago Personal Trainers Joey Thurman and Marcus Warren feauturing TNA Impact knockout and former WWE star Lisa Marie Varon, demonstrate different ways to hit your biceps inside and outside of the gym.
Check us out on twitter @GetMorphedNow, www.Morphpersonaltraining.com
More videos to come, Terrific Triceps on the way!
This video features Lisa Marie Varon current pro wrestler with TNA Impact Wrestling Tara, and former WWE Diva Victoria! Watch as Lisa demonstrates and Joey describes a proper lunge and progressions of the lunge form the most basic to most difficult. Stay tuned for more videos!!
www.Morphpersonaltraining.com
Twitter: @GetMorphedNow
Are YOU up for taking the Geek Fit Challenge?
BY GEEKTOME · Monday, February 27, 2012 3:30pm
TAKE THE GEEK FIT CHALLENGE!
Whenever the seasons start changing from winter to spring, I start thinking about what I'm going to be wearing as the weather gets warmer. Since I'll no longer be able to hide my considerable girth under layers of clothing, I always resolve to shed a few pounds so I don't look like I'm smuggling a beach ball under my Green Lantern tee shirt. Of course, finding the motivation to lose weight is always a challenge. Since it never hurts to have some friends to help you out, I asked female pro-wrestler – and Chicago resident – Lisa Marie Varon to act as my trainer. After she graciously agreed to put me through my paces, we both thought, why not put the challenge out to other geeks and nerds in Chicago? So to that effect, we present to you the GEEK FIT CHALLENGE!
Here's how Lisa puts it:
Hello everyone! I'm Lisa Marie Varon, but you may know me as "Tara" on SpikeTV's TNA Impact Wrestling, or formerly as WWE Diva "Victoria." When Elliott asked if I would help him get "geek fit" I thought it was a great idea! I'm a fan of geeky things myself, especially video games, and the idea of living a fit lifestyle is a real passion of mine.  And, as a former Professional Fitness Competitor; former Nationally Recognized Personal Trainer; former Medical Industry Professional; and 7 Time World Champion Professional Wrestler, who better to lead the GEEK FIT CHALLENGE?
The thing that I want you all to know is that there are many ways to be "fit." You don't have to be buff like a pro-wrestler, or have six-pack abs to be fit. Everyone is different and there are lots of ways you can feel "fit" and happy with yourself.
Elliott and I are looking for a 'few good geeks' who want to get into 'geek fit' shape! Over the next 3 months we'll be working out together and getting active. I'll even be sharing tips for things you can do to enjoy all the geeky-fun things you like while living a healthy lifestyle.
To be a part of the Geekfit Challenge you must:
Live in the Chicago area (group meetings will be held in a Chicago facility)
Be approved by your physician to undergo an exercise regimen
Be willing to complete the full program (3 months)
Be ready and willing to keep a diary of your progress and share it with Geek To Me readers.
At the end of the 3 months, we'll be awarding a prize to the one who's made the most progress, but everyone is sure to be a winner!
We're looking for 3 guys and 3 gals to take the challenge. Do you think you're up for it? If so, drop us a line at geekfitchallenge@gmail.com!
UPDATE: The deadline to submit yourself as a candidate is Monday, March 5th, 2011.
You can also follow Lisa on Twitter!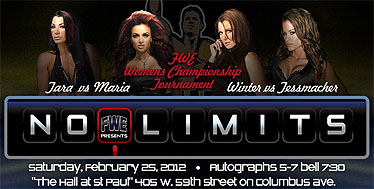 FWE Women's championship Tournament: Maria Kanellis vs. Tara
This is Maria's first match since leaving WWE. Tara said that she said it was a huge honor to see that Maria wanted to wrestle her in her comeback match since WWE. She noted that it was also Maria's birthday and sanf Happy Birthday to her, then attacked her. That was great. Tara worked her over in the corner and drilled her with shoulderblocks.

Maria came back with a series of armdrags and a twisting headscissors. Maria nailed her with the Bronco Buster in the corner. Tara rolled out of the ring to clear her head. Maria followed her to the floor. Tara took the mic and ripped on NYC. She returned to the ring and kicked Maria, who was on the apron, hard in the gut and Maria flew off to the floor. Back in the ring, she covered Maria for a two count.

Tara mocked her, telling Maria to smile as she worked her over. She used an over the shoulder backbreaker. Tara locked her in a side chinlock, trying to force a submission. Maria fired back with several elbows but was nailed and sent back to the mat. She whipped Maria into the ropes and went for a clothesline but Maria nailed one at the same time, so they both landed on the mat, out of it. The referee began counting them both out but they returned to their feet and began battling back and forth.

Maria got the better of the exchange, nailing several clotheslines. She went to the top and nailed a flying bodypress for a two count. Tara cut her off and nailed a TKO for a two count. Tara went the Widow's Peak but Winter ran out and grabbed Maria's leg, preventing the move. Tara and Winter had a faceoff and Winter backed out of the ring. Maria rolled up Tara for the pin.

Your winner, Maria Kanellis!

Later on during the show, it was the FWE Women's Championship Tournament Final match with Winter vs. Maria Kanellis. During the match, Brooke Tessmacher came out and distracted the referee, which allowed Tara to hit the ring and nail The Widow's Peak on Winter. Kanellis covered her for the pin to become the first-ever FWE Women's champion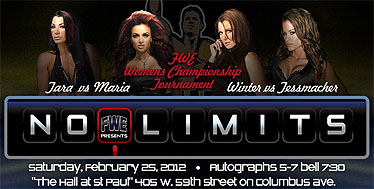 TARA vs MARIA
FWE Wrestling
February 25, 2012

If you are in the NY area, don't miss your chance to see Tara in action against Former WWE Diva Maria at the FWE No Limits Wrestling Event.

For more info and to order tickets, check out http://www.fwewrestling.com/

If anyone attends the show, please feel free to send in your photos for the site at dani@victoria-web.org and I will gladly add them to the gallery!
TNA Knockout Tara on Getting into Wrestling, Tarantulas and MMA
by Joshua Modaberi
Tara, also known as as Victoria during her time with the WWE, is one of the most decorated women's wrestlers of all time and is a six-time Women's Champion, winning the title twice with the WWE and four-times in TNA.
The 41-year-old has been in the business for 12 years now, having made her debut for the WWE at WrestleMania XVI, but it was a chance meeting that got her into wrestling in the first place.
Sportsvibe.co.uk caught up with Tara to discuss how she got into the wrestling industry, wrestling over in the UK and tarantulas, plus much more.
Q. How did you first get into wrestling?
I was a fitness competitor back in the '90s. Torrie Wilson and myself used to take part in fitness competitions together. Torrie was working at WCW at the time and she brought be backstage and she was walking a guy out to the ring. I said to her 'you get paid to walk a guy out there, that must be awesome'…